Deeper Learning Digest: Professional Learning Strategies for Deeper Learning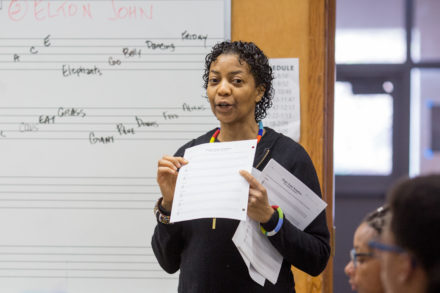 When teachers work collaboratively to identify specific student skill gaps, they can improve learning for all students more quickly.
Today's digest highlights a professional learning strategy that encourages teachers to intentionally uncover student learning gaps, steps to help students share their learning in public, a whole school approach to professional learning, and a new podcast on preparing teachers for deeper learning.
Professional Learning Strategy: Strategic Inquiry
It's powerful for teachers to work together to identify gaps in student learning and test strategies, and then to collectively assume responsibility for moving students forward. After using this process to improve teaching and learning at New Dorp High School on Staten Island, Nell Scharff Panero has been bringing the method of Strategic Inquiry to teachers for over fifteen years, writes Katrina Schwartz in MindShift KQED.
Although Strategic Inquiry may sound like a standard professional learning community (PLC), Scharff Panero explains that it is actually different at its core and is an effective method for transforming the way teachers are able to improve student learning in their classrooms.
"It's easy to list all the things students can't yet do," writes Schwartz. "Teachers get overwhelmed by all the ways their kids are struggling. And that makes it hard to move from talking about the problem to action." Instead, Strategic Inquiry trains teachers to look at where students are struggling and identify patterns in order to find solutions.
Helping Students Share Their Work in Public
We can all agree that presenting and speaking about your work to others is a vital skill for the workplace. Why not start teaching it to K-12 students?
Jorge Valenzuela, education coach and national faculty of Buck Institute for Education, shares how teachers can help their students develop the skills and build their capacity for performing and presenting in low- to high-stakes settings.
In project-based learning, "the public product holds great significance and is genuinely an opportunity for you and your kids to show others outside the four walls of your classroom the great work being done," explains Valenzuela. He provides four steps to help students explain their work in public.
Professional Development for Whole School
When it comes to professional learning, "there's very little that works to allow individuals and schools to learn together," Lydia Dobyns, president and CEO of New Tech Network, explains at the annual iNACOL Symposium. Instead, professional development is focused on the individual level, not at the school level.
"Most schools don't know how to learn as a school," she says, despite the fact that "schools get better by actually identifying and working together as a collective."
Podcast: How Can We Prepare Teachers for Deeper Learning?
Preparing teachers to shift their teaching to support deeper learning is a critical part of creating deeper learning opportunities for all students. On this episode of The TeachThought Podcast, host Drew Perkins talks with Maria Hyler of the Learning Policy Institute about their new book, Preparing Teachers for Deeper Learning.
Deeper Learning in Action
Twitter can be a great place to see what's happening to promote deeper learning outcomes in (and out!) of classrooms across the country. Here are a few examples. Be sure to follow @DeeperLearning and check out #DeeperLearning for more!
MY BRAIN MATTER IS ALL OVER THE FLOOR after attending a session on @hpreveal and @oculus VR from @CochranElem! WOW. This is #deeperlearning! These #edtech tools allow kids to have experiences and visit places I NEVER thought possible. #KYGoDigital changes lives. pic.twitter.com/3Nq1ud1hBt

— Maddie Shepard (@MaddieShep_KY) July 30, 2019
Fam… I need y'all to pause for a moment and watch this. Young people leading young people. Look at the brilliance of this room. We don't have a conference to Talk about students. They lead the conversation. Period. #weconferencedifferent #thebang2019 #edchat #deeperlearning pic.twitter.com/L4uB5UydKW

— Sonn Sam, Ed. D (@drsonnsam) July 23, 2019
#summeracademy is wrapping things up! We finished #3dprinting stu creations and explored @bloxels today! 💜 watching kids create animations and telling stories! #esinnovate #kidswhocode #creativity #criticalthinking #deeperlearning #hlp #lifeready #3Cs pic.twitter.com/BLJaxynUYh

— Elem_InnovaSHAN (@Elem_InnovaSHAN) July 31, 2019
"Think of your students as apprentices," try more whole-game learning. Make room for depth over breadth. And, give up some control." Check out more of Dr. Jal Mehta's podcast on this #WisdomWednesday #deeperlearning https://t.co/1eNiNLqWcd pic.twitter.com/yZ6CNxgAES

— ShareYourLearning (@ShareYourLearn) July 31, 2019
The 'Deeper Learning Digest' is a bi-weekly roundup of articles, blog posts, and other content around deeper learning. Be sure to follow @deeperlearning on Twitter, @deeper.learning on Instagram, and like Deeper Learning on Facebook to stay up to date on all deeper learning news.
Featured Photo By Allison Shelley/The Verbatim Agency for American Education: Images of Teachers and Students in Action.