Deeper Learning Digest: Preparing Students for Careers and Life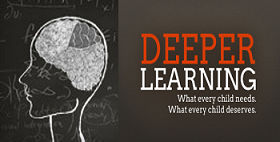 This week's digest features policy news on career and technical education, career prep in action, the skills gap in Maine, and more about the new Profile of a Graduate campaign.
High-Quality Career and Technical Education
Several organizations working in the deeper learning space shared recommendations with the House Education and Workforce Committee as they marked up the Strengthening Career and Technical Education for the 21st Century Act, a bipartisan proposal to reauthorize the Carl D. Perkins Career and Technical Educational Improvement Act (Perkins), the nation's largest federal investment in secondary and postsecondary career and technical education (CTE).
The recommendations, which are evidence-based and informed by high-quality research, aim to ensure that students are provided deeper learning experiences to prepare them to become critical thinkers, complex problem-solvers, effective communicators and collaborators, and self-directed learners, that will position them to succeed in postsecondary education endeavors.
Learn more and see the recommendations.
Beginning Career Prep Early in Wisconsin
Speaking of career and technical education, Wisconsin is working to better prepare students for the workforce by offering hands-on, real-world experience and laying the groundwork in some cases as early as kindergarten.
According to the Milwaukee Journal Sentinel, next school year all Wisconsin school districts will be required to provide students in grades six through twelve with academic and career planning. The idea is to give students the opportunity to assess their interests and skills, explore paths to the workplace, and to see a connection between the classroom and potential careers.
"It used to be you were either in academics or career and tech-ed. But it shouldn't be an either/or," said Laura Schmidt, a former technology and leadership consultant in the Journal Sentinel. "If all you're doing is focusing on the academics, you're not effectively preparing students for life after high school."
Read the full article.
Closing the Skills Gap in Maine
Proficiency-based education is key to the closing the skills gap in Maine, writes Steven Pound, former chairman of the Maine State Board of Education.  By combining rigorous academic standards and assessments aligned to a curriculum that focuses on core subjects, proficiency-based learning helps prepare Maine students for the future, Pound explains.
But proficiency-based learning also brings in another critical element to ensure students receive the "executive-functioning" skills to produce and succeed in a competitive workforce: deeper learning. "Deeper learning combines traditional academics with career and technical education and other practical learning exercises that bridge the gap from classroom to workplace," Pound writes. "Through deeper learning, students learn how to harness the knowledge they've acquired in one subject area and adapt it to ever-changing situations, the same talent they'll need to know to prosper in the modern job market."
Read the full article on centralmaine.com
Profile of a Graduate
Valerie Greenhill, president and co-founder of EdLeader21, explains their recently launched Profile of a Graduation (PoG) campaign in the terms a vision vs. eyesight sports analogy in Education Week. Without diving into the analogy (which is definitely worth reading), here's some details on the PoG from Greenhill's article.
PoG provides an "explicitly stated vision for what students should know and be able to do to succeed in college, life, career and citizenship by the time they leave the school or district." So how does it work? Once a school or district adopts a PoG, the elements within can be measured. See below for an example.
"One school district prioritized creative problem solving in their PoG. When a Science or ELA teacher designs a performance task, they use the district's creative problem solving design templates to ensure the task and scoring rubric is aligned to the PoG. Educators regularly reflect on student performance data from these tasks to strengthen creative problem solving instructional practices throughout the system."
Learn more about how the PoG works and it's benefits here.
Deeper Learning in Action
Twitter can be a great place to see what's actually happening to promote deeper learning outcomes in (and out!) of classrooms across the country. Here are a few examples. Be sure to follow @DeeperLearning and check out #DeeperLearning for more!
Student Consultants like Jimena, 7th, share critique with Ts to take ownership of their education #studentconsulting #edchat #deeperlearning pic.twitter.com/GFZ7eraZ1B

— Willow Bird Baking (@julieruble) May 8, 2017
We are excited about #deeperlearning. We have a responsibility to help Ss become aware, engaged & AWAKE –@Sifill_LDF YES YES YES ✔️🙌💥💚pic.twitter.com/ztsDouSEML

— Dr. Kaleb Rashad (@kalebrashad) May 17, 2017
The 'Deeper Learning Digest' is a bi-weekly roundup of articles, blog posts, and other content around deeper learning. Be sure to follow @deeperlearning on Twitter and like Deeper Learning on Facebook to stay up to date on all deeper learning news.