Deeper Learning Digest: Positive Change and Deeper Learning

September 30, 2016 03:25 pm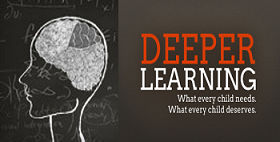 A Denver Public Schools initiative enables students to develop solutions to real-world issues ranging from race, restorative justice, and building healthy relationships with the police department, to water conservation. As part of the DPS Challenge 5280, students work to improve their communities through engaging with each other and local leaders. The program fosters creativity and collaboration and helps students to strengthen their leadership skills. The Denver Post has more.
New Tech Comes to Virginia
A Franklin County, Virginia school will adopt the New Tech Network project-based learning model to help create an "innovative, forward-thinking educational environment" for middle school students. Students who sign up for the program would have the option to continue in high school. After viewing the documentary "Most Likely to Succeed," the Roanoke Times reports the district superintendent looked for ways to develop twenty-first century learners right there at home.
"We had to examine how are we preparing students for life after high school," said Brenda Muse, the county's director of curriculum and instruction. "Are we giving them the skills they need to be successful? Are they leaving high school being able to problem solve and think critically and work collaboratively with others and to accept other viewpoints?" Read the full article.
Ambassadors for the Flipped Classroom
Who better to promote a style of learning than a dedicated ambassador? The Flipped Learning Global Initiative (FLGI) has designated fifty ambassadors from different countries to advocate for flipped classrooms, which involves some version of having students watch videos before entering class and then using classroom time to discusses or engage in activities about the video content. One secondary school teacher, who is also a PhD student in the flipped classroom and director of the Centre for Deeper Learning in Australia, commented on the culture around the flipped classroom, noting that the community is "young and vibrant and is gaining traction." A United States based "flipped mastery teacher" discussed the benefits of this style in her classroom and how she is working to expand this method. Check it out: https://thejournal.com/articles/2016/09/26/flipped-learning-organization-recruits-ambassadors.aspx.
Reimaging Math Class
Will Haase, a mathematics teacher at High Tech High International walks through a "multidimensional math classroom" in a post on Education Week's Learning Deeply blog. In his description, he shares the high level of collaboration occurring between students as they come together to discuss math questions that they had been working on independently. The emphasis in the classroom is on sharing, questioning, creativity, and problem-solving.
"Students take turns sharing their thinking as group members challenge their logic and offer additional ideas," he writes. "The energy and excitement in the room surprises you and for a while you lose track of whether there is even a teacher there at all."
It's worth a read: http://blogs.edweek.org/edweek/learning_deeply/2016/09/solving_the_project-based_math_conundrum_the_multidimensional_math_classroom.html.
Deeper Learning in Action
Twitter can be a great place to see what's actually happening to promote deeper learning outcomes in classrooms across the country. Here are two examples. Be sure to follow @DeeperLearning and check out #DeeperLearning for more!
Mr. Burgess' students practicing mind mapping for The Legacy Project!! What will their legacy be!! @dukeswhs @IWCSchools #deeperlearning pic.twitter.com/2rUkExusNy

— Tracy Ferguson (@tferguson53) September 26, 2016
Innovative portable speakers by @OfficialSHSPack Ss. #deeperlearning @IWCSchools @VAEducatorCMR @vafozzils pic.twitter.com/qstjRQsfGi

— Darnelle Carr (@IWCSCoach) September 19, 2016
The 'Deeper Learning Digest' is a bi-weekly roundup of articles, blog posts, and other content around deeper learning. Be sure to follow @deeperlearning on Twitter and like Deeper Learning on Facebook to stay up to date on all deeper learning news.