Deeper Learning Digest: Pathways to More Deep Learning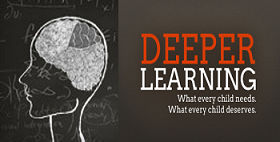 The 'Deeper Learning Digest' is a bi-weekly roundup of articles, blog posts, and other content around deeper learning. Make sure to add High School Soup to your RSS feed to stay up-to-date on all deeper learning news. Please be sure to follow @deeperlearning on Twitter for more on deeper learning.
---
In  an opinion piece for The Hechinger Report, senior fellow at the Alliance Robert Rothman said that while debates over the rewrite to the Elementary and Secondary Education Act (ESEA), currently known and No Child Left Behind (NCLB) continue, a provision to create a pilot program that would allow up to seven state to develop and implement assessment systems could lead to one of the biggest impacts on states and schools.
New Hampshire provides an object lesson into how to make sure performance-based assessments provide valid and reliable information across schools and districts. Jennifer Davis Poon, Innovation Lab Network director at the Council of Chief State School Officers (CCSSO) examines the state's model, concluding that on a national scale, "If districts and states are to successfully invent the next paradigm for state assessments… they must be able to understand and monitor student performance not just on one assessment but across an entire system."
What if school wasn't steeped in the importance of test scores? What if students were allowed to fail? Those are some questions Tim Monreal, co-founder of the project-based learning company CrowdSchool, asked readers in a piece for Medium. Monreal contests that, "If we really cared about what students were learning, schools would look a lot different. There would be less standardized tests used for rankings. There would be less rote memorization. There would be more problem solving. There would be more deep learning."
Ashley N. Morales-Garcia, a 2015 graduate of Springfield Renaissance School in Springfield, Massachusetts, is no longer the "strange girl" and she attributes it to her school's focus on a broad set of knowledge and skills. Morales-Garcia told her story in a blog for Learning Deeply, saying, "I am thankful that my school was devoted to focusing on things beyond the academic content because it made me who I am today: a successful, deep learner and a student with confidence."
Setbacks are not setbacks at Springfield Renaissance School, according 2014 graduate Marlina Brown. Brown said that after leaving and returning to Springfield then facing failing grades and college rejection did not stop her from achieving her high school degree, because her school taught her that "The point of school is not just to learn academic content: it is to help us overcome failure to become the kind of person we hope to be."
"Collaboration is not the only solution to building capacity, but it is a sound, research-based option," writes Joey Hunziker, a senior associate with the Innovation Lab Network at CCSSO. In his Learning Deeply post, Hunziker examines collaboration by explaining an initiative to build individual and collective capacity of state leaders to help transform state accountability systems.
Tom Vander Ark, CEO of Getting Smart said in his most recent book that "Great leaders…realize the connection between talent and outcomes." In a recent Getting Smart podcast, Vander Ark explains why an ability to identify talent matters when it comes to supporting more personalized, next-generation schools.