Deeper Learning Digest: New Reports Focus on High-Quality Deeper Learning Experiences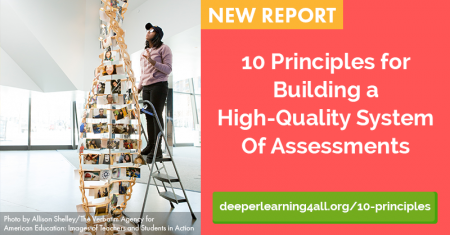 This week's digest features a new guidebook on building high-quality assessment systems, a framework for project-based learning, lessons on deeper learning from Olympic athletes, and more.
How Many of These Ten Principles Can You Name?
No single assessment or piece of student work can capture the array of student knowledge and skills needed for success. That's where a high-quality system of assessments comes in.
Nearly twenty organizations and individuals in the deeper learning space came together to release 10 Principles for Building a High-Quality System of Assessments, a new guidebook to help state and district leaders at the forefront of designing, implementing, and overseeing assessment efforts.
Grab a piece of paper and try to come up with your own ten principles. Then click the link below to see how you did.
Want More? We've Got Additional Assessment Resources!
 Measuring student readiness for success in college, career, and life requires assessments that go beyond content knowledge and enable students to demonstrate deeper learning skills. Learn what it takes to assess for deeper learning on an all new webpage on the deeperlearning4all.org site.
What Does High-Quality Project-Based Learning Look Like?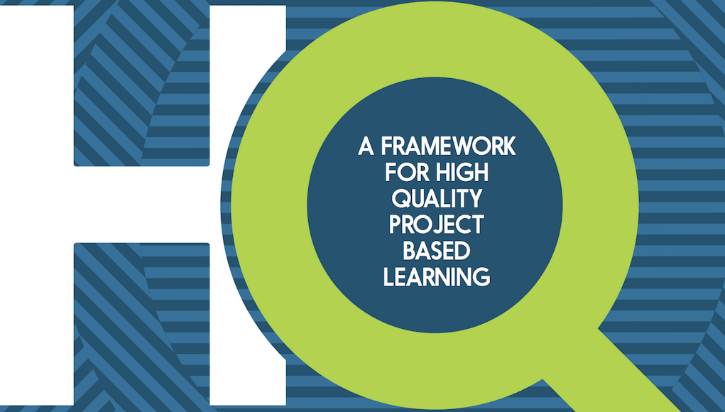 Getting Smart recently introduced a new framework for high-quality project-based learning (PBL) featuring six criteria that serve as a baseline for educators, organizations, parents, and students around PBL. The criteria and accompanying questions center around topics including intellectual challenge, authenticity, collaboration, and more.
"Until now, there has not been a common guidepost and language for describing what high quality PBL student experiences look like," explain Tom Vander Ark and Emily Liebtag in a blog post about the new framework. Although there's a wealth of resources for educators planning for PBL, Vander Ark and Liebtag say that these do not articulate criteria for the resulting student PBL experience.
Olympians Know the Value of Deeper Learning Skills
The 2018 Winter Olympics may be over, but the lessons learned by athletics will have a lasting impact. What does that have to do with deeper learning, you ask?
Champions for America's Future, an arm of Council for a Strong America, asked several Olympians how deeper learning skills, including communication, collaboration, and problem solving, have factored in to their athletic success.
Here's a video of U.S. Olympic women's hockey gold medalist Hilary Knight discussing the importance of communication and creative problem-solving.
See more videos on collaboration, self-directed learning, and goal setting, and check out @Champs4Future on Twitter.
How to Embrace "I Don't Know"
 Being able to embrace not knowing and seek out answers is just as important to solve problems in life and work as it is during school explains Ryan MacDonald, Program Associate with the CCSSO's Innovation Lab Network. MacDonald writes in Education Week's Learning Deeply blog that as his team has adopted an inquiry-driven process to help states build policies and practices around personalized learning.
"As states move to build student-centered learning systems, with a focus on personalized learning and deeper learning outcomes, it is important that each level of the system can acknowledge the unsolved questions they need to know more about and develop an inquiry process explore answers to those questions."
Engaging Students in Deeper Learning Through Literacy and Math Assignments
A new report from the Southern Regional Education Board explores the impact of professional development for teachers in the instructional strategies of the Literacy Design Collaborative (LDC) and the Mathematics Design Collaborative (MDC).
The SREB report found that with guided instruction combined with classroom coaching and feedback, teachers "engaged students in more challenging assignments and used more questioning and feedback strategies to address students' deeper understanding of literacy-based assignments and mathematical concepts."
Deeper Learning in Action
 Twitter can be a great place to see what's happening to promote deeper learning outcomes in (and out!) of classrooms across the country. Here are a few examples. Be sure to follow @DeeperLearning and check out #DeeperLearning for more!
Wr are on a design sprint to #RethinkHighSchool with @SXSWEDU participants – 2 hours packed with leaders, teachers and more! Start with students @XQAmerica – who are your s's, what are their facing & what are their aspirations @NellieMaeEdFdn @deeperlearning pic.twitter.com/k7UUaLR2Dq

— Monica R. Martinez (@drmonie) March 6, 2018
Giving kind, helpful, and specific feedback as we critique our work using TAG. #PBL #deeperlearning #hopewellmagic @SoTECHcellent @MistyKassebaum @HopewellSchools pic.twitter.com/e0KMajwLq5

— Susannah Bishop (@wiseowltech) March 5, 2018
200 educators met today in Louisville to learn more about Deeper Learning. If you are one of the 200 tweet an aha moment using #KASA2018 for chance to win prizes pic.twitter.com/7eN8LD7mQP

— KASA Kentucky (@KASAEdLeader) March 5, 2018
The 'Deeper Learning Digest' is a bi-weekly roundup of articles, blog posts, and other content around deeper learning. Be sure to follow @deeperlearning on Twitter, @deeper.learning on Instagram, and like Deeper Learning on Facebook to stay up to date on all deeper learning news.