Deeper Learning Digest: New Image Gallery Shows Students Engaging in Deeper Learning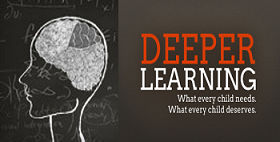 This week's digest features a new image gallery depicting teachers and students in action, examines why deeper learning competencies are critical for career success, offers examples of college readiness pathways, and demonstrates how to decode deeper learning.
How can we show what an engaging classroom looks like if all of today's education stock images feature traditional classroom settings of students sitting in rows of desks? The Alliance hopes to remedy the situation with a brand-new photo gallery of nearly 300 original print-quality, royalty-free images of teachers and K–12 students of all ages and backgrounds. The images are being released as openly licensed stock photos, meaning educators, journalists, non-profit organizations, and others can use the photos in their work.
See the full gallery at deeperlearning4all.org/images.
"Building Competencies for Careers"
Center on Education Policy (CEP) recently released a report demonstrating the value of deeper learning competencies in the labor market. The report finds that students will be better prepared for today's jobs if they have mastered the deeper learning competencies including developing academic mindsets, communicating effectively, and problem solving.
By drawing on information from the U.S. Department of Labor's Occupational Information Network (O*NET), the report links deeper learning competencies with the important characteristics and requirements of hundreds of occupations. Learn more in the infographic below and check out the report here.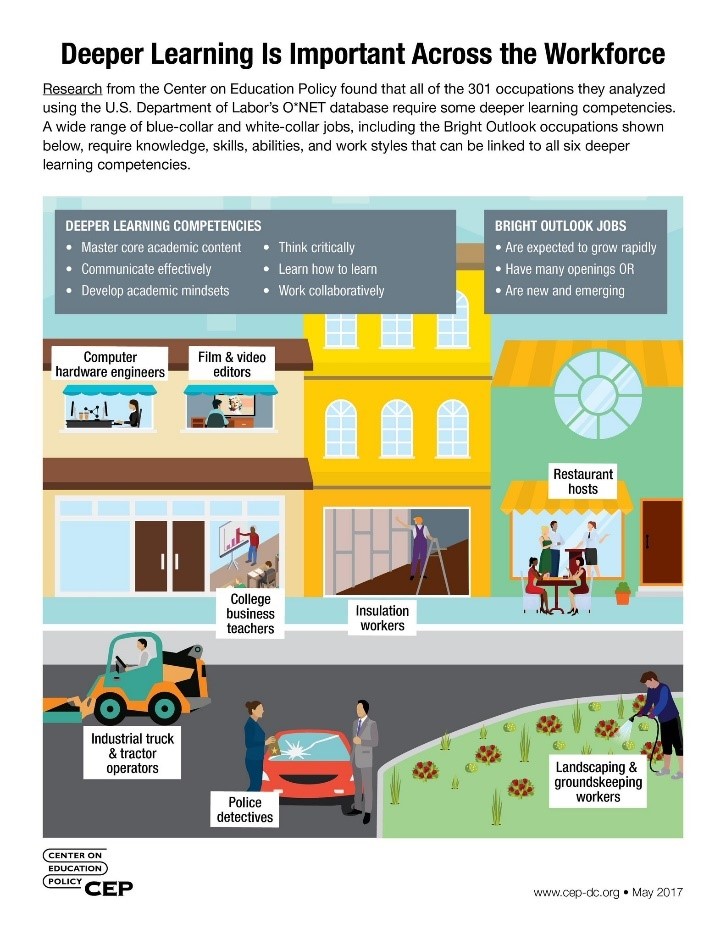 Pathway to College Readiness in Pittsburgh
Remake Learning has created badge-enabled pathways and playlists that showcase six projects bringing connected learning experiences to students in the Pittsburgh area. In one project, the Homewood Children's Village, YMCA Lighthouse Project, and Higher Achievement collaborate to create support structures to prepare students for what comes after high school graduation. Click the video below to learn more.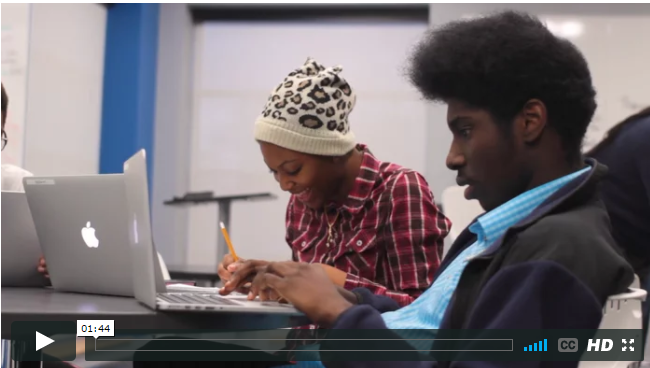 Teacher Professional Development for Deeper Learning
For students to develop deeper learning competencies, teachers must engage in effective teaching strategies, says the Learning Policy Institute in a new report. The report examines what constitutes effective professional development that changes teaching practice and ultimately improves student learning outcomes. The report also examines the opportunities and challenges of creating conditions for effective professional development, and implications for policy and practice.
Read the report.
Decoding Deeper Learning
What does deeper learning look like in the classroom? The Hewlett Foundation and Education Writers Association have developed a guide to help decode the deeper learning classroom, including what to look for, what questions to ask, and how to figure out what students are learning. Check it out here.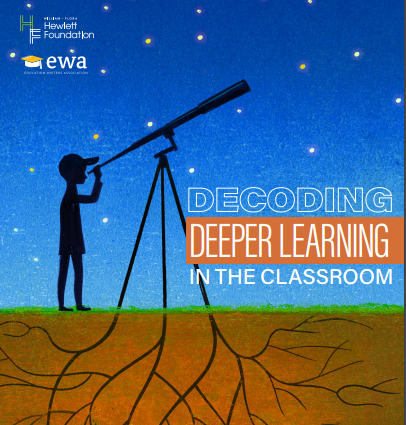 Deeper Learning in Action
Twitter can be a great place to see what's actually happening to promote deeper learning outcomes in (and out!) of classrooms across the country. Here are a few examples. Be sure to follow @DeeperLearning and check out #DeeperLearning for more!
Making learning REAL! Meaningful connections with Crabbe: wilderness survival. #CSCFN #GrowthMindset #DeeperLearning @CanadianEcology pic.twitter.com/3K3RwQefAy

— Emily Weiskopf-Ball (@MsWeiskopfBall) June 1, 2017
The redesign of the am high school can have teachers meet students where they are to graduate w/deeper learning skills #EWA2017@BobWise48

— Krista Clark (@KristaMclark) June 1, 2017
The 'Deeper Learning Digest' is a bi-weekly roundup of articles, blog posts, and other content around deeper learning. Be sure to follow @deeperlearning on Twitter, @deeper.learning on Instagram and like Deeper Learning on Facebook to stay up to date on all deeper learning news.