Deeper Learning Digest: Meeting Students' Basic Needs Before Deeper Learning

October 26, 2018 08:32 am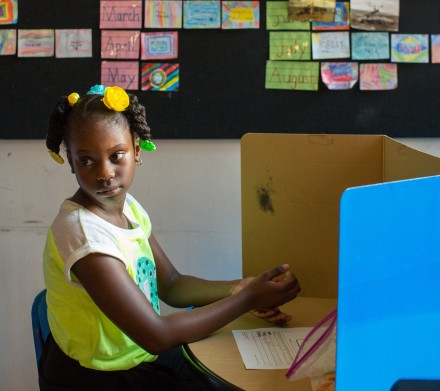 It's tempting to jump right to advocating for all students to have deeper learning experiences. But as our friends at the Buck Institute for Education remind us, there are other basic needs that must be met for students to learn deeply.
This digest highlights what else students need to learn deeply. It also shares how to measure social-emotional learning, why adolescence is a prime time for deeper learning skills, and a call for workshop proposals for Deeper Learning 2019.
Meeting Students' Basic Needs Before Deeper Learning
Students have the moral right to be provided with an education that prepares them for their futures, write John Larmer and Bob Lenz from the Buck Institute for Education. This includes not only basic literacy and math skills, but also the skills that make up the deeper learning competencies: content mastery, effective communication, critical thinking and problem solving, collaboration, self-directed learning, and developing an academic mindset.
But there's a foundation of basic needs that must be met so that students can truly experience deeper learning. "Students can't learn if their overcrowded classroom is too cold or too hot or vermin-infested, or if they lack resources like books and pencils. Or if their teachers come and go and are not adequately prepared," write Larmer and Lenz. They present this pyramid, based somewhat on psychologist Abraham Maslow's "hierarchy of needs," to demonstrate the support students need to learn deeply.
Image from Getting Smart
"In advocating for equitable outcomes through [project-based learning] PBL, we cannot only work at the top of Maslow's hierarchy," they write. "We also need to be a loud and consistent voice for all students to have safe schools, caring and prepared teachers, and researched based instructional strategies to become literate and proficient in math."
Measuring Social-Emotional Learning
How can districts measure social-emotional learning (SEL) progress when the results can be far less black and white than the outcome of a math test?
A school district in Cape Cod, Massachusetts turned to SEL assessments to measure progress on their new SEL initiative, and to learn what students are doing well or where they need more support, reports District Administration. One such assessment, called the Devereux Students Strengths Assessment (DESSA), is used to help flag any potential student crisis before they happen.
DESSA starts with teachers filling out an eight-question online screener for their students. If a student is flagged as needing an intervention by this screener, the teacher is prompted to fill out a more in-depth survey. Often this will eliminate concerns, but if the student is still marked as needing assistance, a group of educators will make a plan that can include working with the student in a small group, individually, or matching the student with an adult mentor.
Spread the Word! Adolescence is a Critical Window for Learning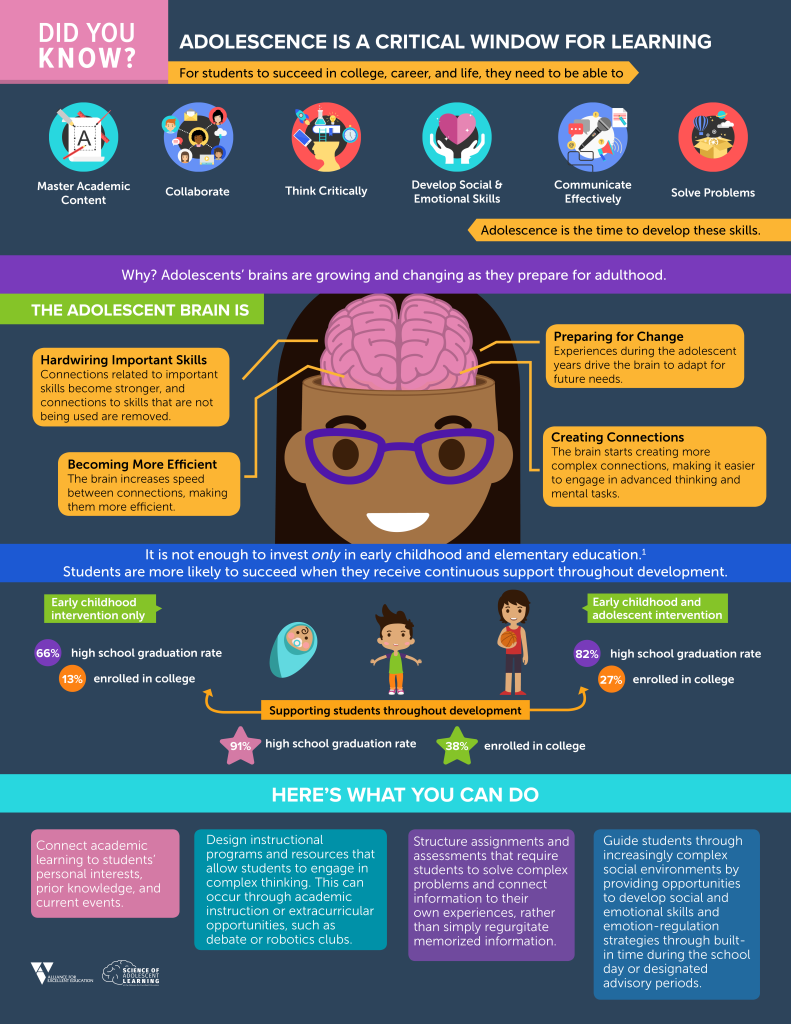 Adolescents' brains are growing and changing as they prepare for adulthood, creating a window of opportunity for developing deeper learning skills like critical thinking, problem solving, collaboration, communication, and more.
So how can educators and school leaders take advance of this critical time to advance student learning? Find out in this new infographic from All4Ed's Science of Adolescent Learning (SAL) team.
While you're at it, pass this information along to help us spread the word by sharing the tweet below.
Click to Tweet: Adolescence is a critical window for student learning. Here's why. Learn more from @All4Ed at http://all4ed.org/SAL #ScienceofLearning
Submit Your Workshop Proposal for Deeper Learning 2019!
If you haven't heard, Deeper Learning 2019, an annual gathering of powerful educators focused on creating more opportunities for students to learn deeply, is happening in sunny San Diego in March.
Do you have a great idea for an interactive workshop? DL2019 is accepting proposals for interactive, 90-minute workshop sessions that model and embed equitable teaching practices. Proposals are due by November 30.
Not sure if this fits your bill? Check out the questions below, and if your answer is "yes!" why not give it a shot
Are you embracing and advancing equity in your school and/or classroom?
Are you ready to showcase a deeper learning project to others?
Are you designing hands-on learning experiences for students and/or adults?
Are you a leader who is cultivating the next deeper learning equity leaders of tomorrow?
Are you spreading and sustaining deeper learning work in your local community?
Are you re-imagining schools so that all students are able to achieve, succeed and thrive?
Deeper Learning in Action
Twitter can be a great place to see what's happening to promote deeper learning outcomes in (and out!) of classrooms across the country. Here are a few examples. Be sure to follow @DeeperLearning and check out #DeeperLearning for more!
Deeper Learning Equity Fellows on the move in Baltimore! @deeperlearning @EquityFellows @hs_woods pic.twitter.com/NLCEWNNUlp

— @ermartin89 (@ermartin89) October 23, 2018
This is why we shouldn't teach to a test but rather teach kids for their future. Powerful graphic from @deeperlearning.#PBLchat @RWScholars @BIEpbl @NatGeoEducation pic.twitter.com/0irzPBRIIm

— Jim Bentley (@Curiosity_Films) October 23, 2018
Our focus for our classroom! #deeperlearning #iteachfourth #iteachfifth #designthinking @5thGrade_Lit pic.twitter.com/TmigLkn23m — Jason Zimmerman (@mrzimmerman131) October 24, 2018
PC Third Graders conduct research and plan for their Foster Care PSA. #PBL #empathy #deeperlearning@@ProudCardinals @HopewellSchools pic.twitter.com/yfbFFxsaQw — cheryl williams (@reach4excellen1) October 23, 2018
Students collecting data and journaling. Taking note of what they notice & wonder about how their plants are growing. #InquiryMindset#DataCollection#CapturingThinking@EL3Rocks@rlars7@studiowalters#EPSEdenLakepic.twitter.com/N70sN4bF8T

— Tova Loddigs – Werlinger (@WerlingerTova) October 23, 2018
The 'Deeper Learning Digest' is a bi-weekly roundup of articles, blog posts, and other content around deeper learning. Be sure to follow @deeperlearning on Twitter, @deeper.learning on Instagram, and like Deeper Learning on Facebook to stay up to date on all deeper learning news.
Photo By Allison Shelley/The Verbatim Agency for American Education: Images of Teachers and Students in Action.