Deeper Learning Digest: Making Sure Every Child Is Known

November 30, 2018 03:13 pm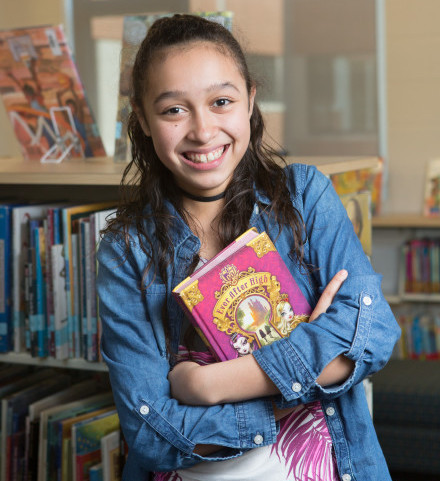 Every student deserves to be known. Today's digest features a school that is taking action to make sure that every student is taken care of and has a positive relationship with the adults in the building. It also explores the power of putting students and student interests at the center of learning, plus a tool that makes it a bit easier to keep track of student-led projects.
This Powerful Method Ensures All Students Are Known
The educators at Cold Springs Middle School in Reno, Nevada are taking matters into their own hands to ensure that every student is known by name and face, and that no students are overlooked. These teachers have a strategy to foster teacher-student connections and form positive relationships with each individual student.
A video by edutopia demonstrates this process in action and shares the perspectives of teachers on their method.
"The students here should be seen as people and not just pupils," explains Chris Ewald, a seventh grade teacher at Cold Springs. "The more valued they are for their individuality, the more successful they will be in the classroom and the more risks they will be willing to take."
School Should Belong to the Students
This is a core belief of PSI High School in Seminole County, Florida. Part of the XQ's Super School pilot program, PSI High is a "problem-solving incubator," and features a student-centered learning environment that gives students agency over their learning experiences, writes educator Angela Daniel on Medium.
At PSI, students are "making 'smart mirrors' for defense contractors, upending decades-old marketing campaigns for established businesses, and designing educational feeders for zoo animals." They work on collaborative teams with their peers to address issues that businesses face and pitch their solutions to business's decision makers. Students also create individual projects on something that inspires them.
"Even with all of these incredible choices, it turns out a much simpler project may end up making the most significant impact on our students' permanent achievement," writes Daniel. At PSI High, that simple project is a student-led skill session.
The Power of Peer-to-Peer Learning
What are effective strategies for having students teach their classmates and other peers? Educators provide answers to this question in Education Week's Classroom Q&A blog.
Amber Chandler, a national-board-certified ​8th grade English/language arts teacher, explains how she facilitates peer teaching and learning in a way that allows students to "magnetize" learning for their peers. By allowing students to conduct a project that focuses on their interests and talents, she finds that natural curiosity leads students to seek and receive feedback from their peers. "Word travels quickly when someone does something 'cool,'" she explains. This creates an external motivation to showcase their own learning.
Related, watch Dr. Anne Dealy, principal of Brookside Elementary School in New York describe how the school has used a "Dos Voices" peer-to-peer program to lift up the voices of its Spanish-speaking students and use them as a resource.
"Rather than be subtractive about students receiving English as a new language services that they participated in dual language which they would be Spanish models for English studnts trying to learn Spanish or English-speaking students served as English models," Dealy says in the video. "And in that way, it wasn't seen as Spanish as less or something to subtrack to be abel to be successful in school but it actually could be a linguistic resource to access schooling … I think it positioned our Spanish-speaking students in a new way."
Hint: Here's a Great Project-Based Learning Tool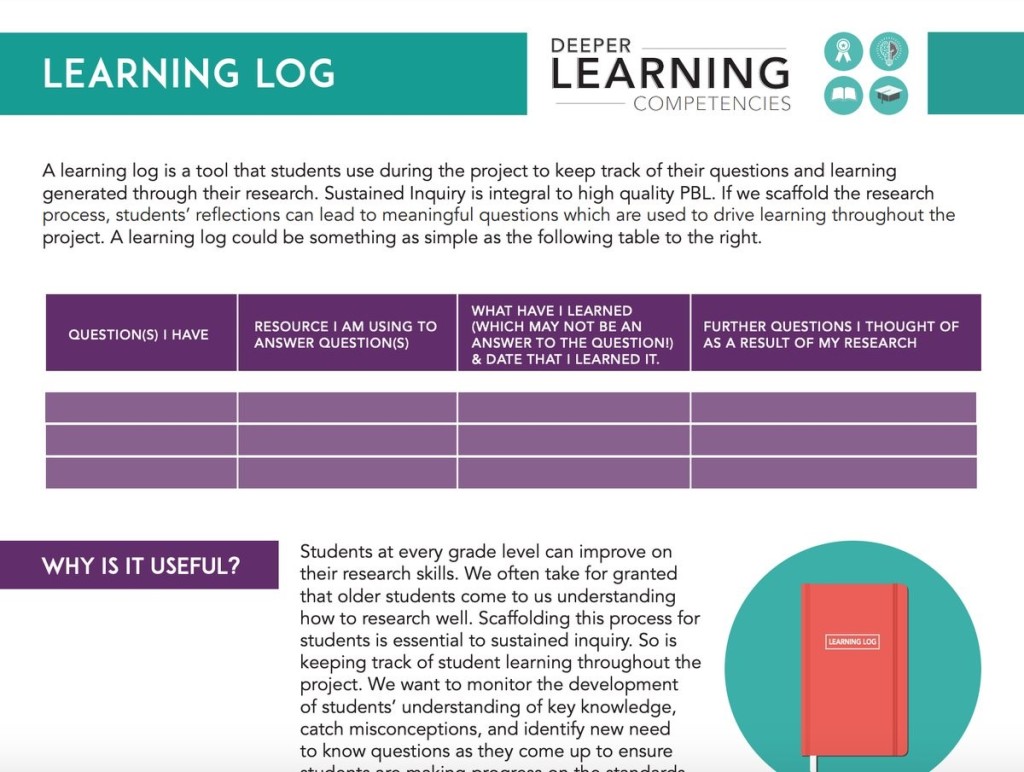 Have you been looking for ways to support your students' inquiry process? This learning log from Buck Institute for Education is a useful tool that students can use during a project to record their questions and learnings from their research.
Deeper Learning in Action
Twitter can be a great place to see what's happening to promote deeper learning outcomes in (and out!) of classrooms across the country. Here are a few examples. Be sure to follow @DeeperLearning and check out #DeeperLearning for more!
It's been an amazing week in Algebra as we kicked off our Take a Stand Case Study. Students have been digging deep into research around the topic of HW and student achievement. Can't wait to hear more about their findings. #takeastand @mgmgators @eleducation pic.twitter.com/AADhkRMU0N

— Jennifer Cook (@jencook80) November 29, 2018
5th graders communicated, collaborated, and problem solved to create videos of their ozobots travelling the ocean floor! #deeperlearning #communicators @Greenwood_Elem pic.twitter.com/VjRuNvOYqU

— greenwoodeslibrary (@greenwoodeslib1) November 20, 2018
#Deeperlearning for Ts & Ss @Tolbert_ES Ts are studyingconferring & smallgroup work across a Unit of study in reading #crowdsourcing #lifetimelearners #stronginstructionalleadership #Pathwayslabsites @PathwaysLCPS @Susan_M_Mullen @JeDallas @elainelayman @finn_teri @MikeMartin956 pic.twitter.com/3PAwiXpwXu — EviHickman (@evihickman1) November 20, 2018
Questioning skills for #makers of #deeperlearning with Grade 1/2 guest speaker @bowriverteacher for #pbl@CalgaryAcademy@paulaemunoz@BIEpblpic.twitter.com/9RaRKfMm6M — Maureen Kelly-Gibson (@MaureenKellyGi1) November 28, 2018
  The 'Deeper Learning Digest' is a bi-weekly roundup of articles, blog posts, and other content around deeper learning. Be sure to follow @deeperlearning on Twitter, @deeper.learning on Instagram, and like Deeper Learning on Facebook to stay up to date on all deeper learning news. Photos By Allison Shelley/The Verbatim Agency for American Education: Images of Teachers and Students in Action.