Deeper Learning Digest: Looking at Equity in the Deeper Learning Movement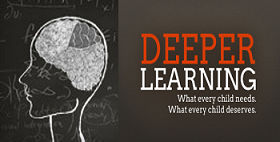 A new study shows that there is a graduation advantage for students in deeper learning network high schools. The updated findings from the Study of Deeper Learning: Opportunities and Outcomes by American Institutes for Research show that students in schools that are part of the "deeper learning" network graduate in four years at rates about 8 percentage points higher than their peers. The new analysis includes graduation data from spring and summer 2014, therefore adding an additional cohort of students, and also includes data for two more pairs of deeper learning network schools and comparison high schools that were not in the original study. Learn more: http://www.air.org/system/files/downloads/report/Graduation-Advantage-Persists-Deeper-Learning-Report-March-2016.pdf.

Alliance for Excellent Education staffers Donique Reid and Abner Oakes explore Open Educational Resources (OER) as a way to reach deeper learning outcomes in a blog post on deeperlearning4all.org. Citing the U.S. Department of Education (ED)'s commitment to OER, through the #GoOpen campaign, Reid and Oakes say this is a "pivotal time" for supporters of the OER movement. "ED's #GoOpen campaign is a powerful call to states, districts, and educators to support OER for equity, access, and deeper learning," they write.
Reid and Oakes say expand upon OER, which are free and accessible materials available to educators, as a path to equity. At the Hewlett Foundation annual meeting on OER, Louisiana state superintendent John White expressed that "the only way to get to equity [and perhaps deeper learning] is through sharing." White went on to explain that "the use of these open resources in his state connects to equity, giving high-quality and no-cost academic resources to a statewide student body that is about 53 percent students of color and 68 percent students from low-income families." Read the full post: http://deeperlearning4all.org/deeper-learning/sharing-the-way-to-deeper-learning-outcomes-the-potential-of-oer.
On Education Week's Learning Deeply blog, two recent pieces continue on the theme of equity, discussing two separate groups that are each bringing together great leaders to focus on equity in the deeper learning world. Thinking Deeply About Equity explores the Deeper Learning Equity Fellowship, supported by the Hewlett and ECMC foundations, with ten leaders who are developing methods to increase accesses to deeper learning, especially for underserved students. Another post discusses the Deeper Learning Leadership Forum (DLLF), a project of Envision Learning Partners, which is exploring ways to incorporate equity issues and priorities into the overall deeper learning movement. Learn more about how the DLLF is "doing something a little different."
Also on Learning Deeply, Ben Kornell, Executive Director of Envision Learning Partners, discusses Five Secrets to Operationalize Deeper Learning. He explains that even though high schools are adopting deeper learning pedagogy, curriculum, and assessments, "operational practices often fall short of supporting long-term success." To have a successful and sustainable deeper learning transformation, he argues, there must be operational shifts, including structural and functional changes.
He shares five recommendations that "help deeper learning flourish in any high school environment," including to:
Invest in an advisory period.
Shift to block periods.
Organize teacher collaboration in grade-level teams.
Build in flex days for demonstrations of learning.
Develop a low-budget online document-management system.
Check out the full post for more on each: http://blogs.edweek.org/edweek/learning_deeply/2016/03/five_secrets_to_operationalize_deeper_learning.html
Lastly, Digital Promise has announced a Deeper Learning Micro-credential Challenge, where participants can win up to $10,000. Micro-credentials, a digital form of certification, can be earned by educators who demonstrate skills and competencies. Deeper learning micro-credentials support educators as "they design learning experiences that support students as they develop critical skills such as collaboration, effective communication, and critical thinking." There are more than forty deeper learning micro-credentials created by Digital Promise. Find more information on entering the challenge here: http://www.digitalpromise.org/initiatives/educator-micro-credentials#challenge.