Deeper Learning Digest: Looking Ahead With Deeper Learning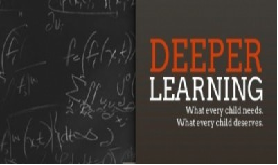 The 'Deeper Learning Digest' is a bi-weekly roundup of articles, blog posts, and other content around deeper learning. Make sure to add High School Soup to your RSS feed to stay up-to-date on all deeper learning news. Please be sure to follow @deeperlearning on Twitter for more on deeper learning.
---
Robert Rothman, senior fellow at the Alliance, discussed in a recent blog two new reports that provide evidence "to confirm what many teachers have suspected: most curriculum materials, at least in elementary and middle school mathematics, do not match the expectations in the Common Core State Standards." EdReports and William Schmidt, director of the Center for the Study of Curriculum at Michigan State University, revealed that textbooks used in schools aren't up to par to with new standards. Rothman concludes that the new "standards themselves would not transform instruction and lead to better student outcomes. Curriculum is a vital piece of the puzzle."
The California State Board of Education is seizing the chance to redefine student achievement and reframe how schools are held accountable for performance. It is in the throes of replacing the Academic Performance Index, the three-digit number that has been California's narrow gauge of school progress for a decade and a half. EdSource
Deeper Learning – like all learning – takes time. Journalist and Educator Kathleen Cushman noticed during observations of schools across the country that "the most striking instances of deeper learning happen when teachers dare to spend more time on fewer areas." Cushman added that by reinforcing "key habits in depth, they create powerful leverage to push all learning deeper." Learning Deeply
The Alliance will host a webinar Tuesday, March 10 focusing on how innovative schools can use performance assessment and project-based learning to transform education and improve learning for all students. "Transforming Schools Using Project-Based Learning, Performance Assessment, and Common Core State Standards" will feature students and educators from Envision Education as well as Alliance Senior Fellow Robert Rothman. Register for the webinar here: https://all4ed.org/webinar-event/mar-10-2015/
While the idea of competency-based education is intriguing to about 89 percent of educators, only half as many have taken action in their schools or districts to promote it. The reason why, according to two education organizations that have studied the issue: policy obstacles "that make implementation challenging." THE Journal
In the latest entry in the Alliance's "Core of the Matter" blog series, Tina Dove, senior policy associate at the Alliance, discusses the confusion between education equality and education equity and how a child's capability to learn does not necessarily mean that the child has what he or she needs to succeed. Dove lists several criteria that every student needs in order to be truly ready for college, career, and life which include rigorous learning opportunities and the systemic structures focused on moving our students from high school into college, career, and citizenship.
Are students actually engaged in learning? According to a Gallup poll, nearly half of American students report that they are not engaged or actively disengaged from schools. National Association of State Boards of Education (NASBE) most recent study group is exploring the question: How could we ensure our students were meaningfully engaged in their learning so that they are ready to face the challenges and opportunities before them? Learning Deeply
Summit Public Schools' charter school network brings all of its teachers together for a week of intensive professional development, working collaboratively to improve competency-based curriculum while also giving attention to skills-based instruction. And the practice is yielding great results. Learning Deeply