Deeper Learning Digest: Listening to Improve Student Outcomes

January 20, 2017 11:16 am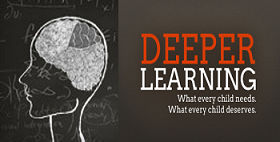 The Deeper Learning movement is thinking about how to involve more and more educators in the national, state, local, and dinner table conversations centered on teaching and learning, writes Monica Alatorre in Education Week's Learning Deeply blog. She reminds everyone to be sure student voices are part of the conversation, and specifically asking "What do students think about education, and about how to best reach them, engage them, and motivate them?"
 Alatorre shares the thoughts of two high school students on why education is important to them and specifically how their education is preparing them for the future. The highlights? Students want to learn and improve. Students also understand the connection between academic skills and future success.
Miles, an eleventh grade student from Oakland exemplifies this and the importance of deeper learning skills, saying:
"My school has taught me about leadership, and about the importance of collaborating productively, communicating powerfully, and thinking critically. Because I am learning these skills early in life, by the time I am ready to work, I will have had practice in these skills and will be prepared.
Read more: http://blogs.edweek.org/edweek/learning_deeply/2017/01/dear_decision_makers_listen_to_what_students_have_to_say.html
Engaging Students to Combat Inequity 
Pedro Noguera, a professor in the Graduate School of Education at UCLA, discussed inequities in education during a recent lecture at the University of Washington, reports the school's newspaper, The Daily. 
"In education, we have been focused on the scale," he said. "That's why we haven't nearly begun to figure out how to create schools that not only make it possible for kids to come away better prepared for life as adults, but begin to address these huge gaps, these huge disparities, that correspond to race and class that are contributing to the inequities in our society."
The article notes that in particular inequities are created in the classroom around students' perceived abilities. "Inequity, and the fact that we dumb down the material for the kids we think are not so smart and don't have the ability, leaves us [confusing] how well a child does on a test with how much intellectual ability they actually have," said Noguera.
The Daily explains that Noguera presents deeper learning as a strategy to combat this inequity by enabling students to utilize high order thinking skills as well as a method to increase student engagement and improve student outcomes.
Learn more: http://www.dailyuw.com/news/article_d9171f82-d87f-11e6-8491-1775ba2711de.html
Visualizing Deeper Learning
Focus 2 Achieve has developed an infographic to help visualize how deeper learning unfolds in the classroom. A key area within the image is collaborate, including prompts to share and discuss ideas, as well as receiving and using feedback. Take a look at the full graphic by clicking on the image below.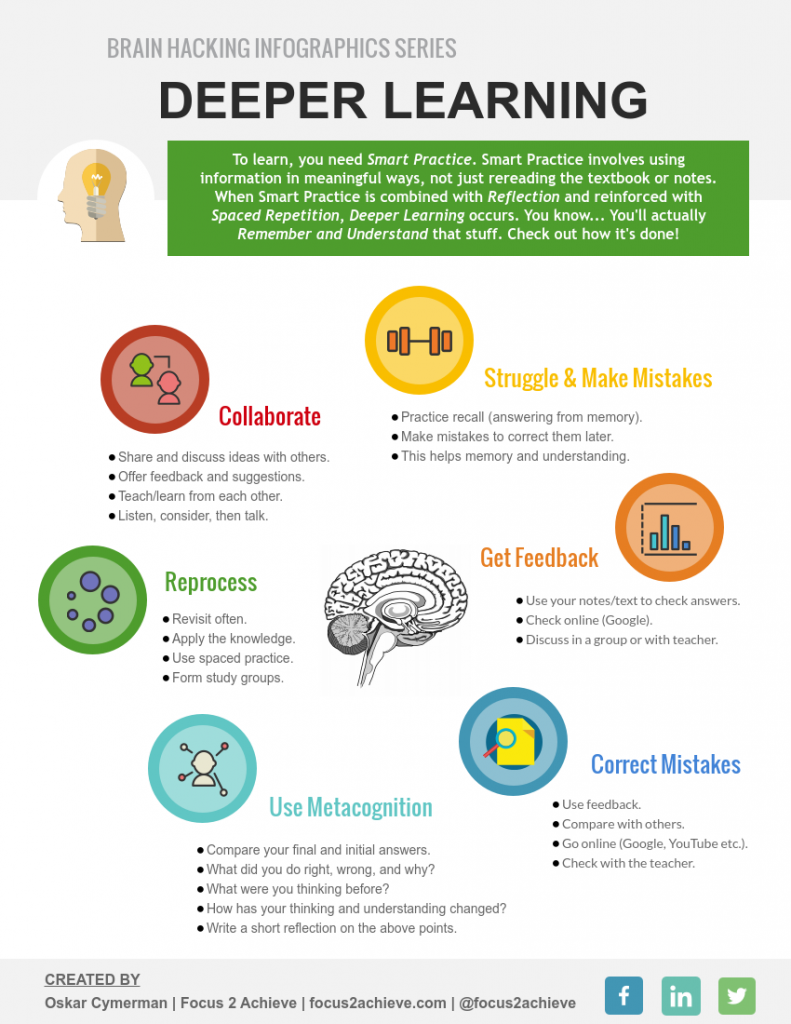 Deeper Learning in Action
Twitter can be a great place to see what's actually happening to promote deeper learning outcomes in (and out!) of classrooms across the country. Here are a few examples. Be sure to follow @DeeperLearning and check out #DeeperLearning for more!
Creating our own graphics to show multiplication. 😀💯✖️➕#deeperlearning #mathstrategies @EJJaguars @Fulton_TitleI pic.twitter.com/oJIcNjna2c

— Leslie Scarpa (@LeslieScarpa) January 18, 2017
.@schoolretool cohort members selecting behavior goals to promote #deeperlearning in their schools. #RemakeLearning pic.twitter.com/AyGLje1807

— CenterForCreativity (@cntr4creativity) January 18, 2017
New Semester @hightechhigh !! Ss discuss composition and subjects of @nytimes photos of #2016 @POTUS#photography is #deeperlearning#pblpic.twitter.com/L29YpvXkrQ — Mike Strong (@MrStrong3rd) January 17, 2017
The 'Deeper Learning Digest' is a bi-weekly roundup of articles, blog posts, and other content around deeper learning. Be sure to follow @deeperlearning on Twitter and like Deeper Learning on Facebook to stay up to date on all deeper learning news.