Deeper Learning Digest: Lessons in Deeper Learning

February 16, 2018 03:18 pm
This week's digest features lessons in deeper learning from a special education teacher, expansion of career and technical education opportunities in Memphis, guiding steps to move to competency-based education, and an upcoming Twitter chat.  

Lessons in Deeper Learning from a Special Education Teacher 
Wendi Sussman, a special education teacher from STRIVE Prep – Federal in Denver, Colorado, understands the need for a more personalized learning experience. Her students each have a unique set of needs and learning styles, which requires vison setting, instructional planning, and support from other staff members.  
But Sussman doesn't limit lessons to academics. She is also incorporating life skills to prepare students for what comes next. "Teaching life skills requires skills to transfer from the school setting to the real world," Sussman writes.  
"My number one goal for the students in my classroom is to give them authentic practice that sets them up with the skills they need to have options in their lives and to have an independent future." 
Read more in Chalkbeat Colorado.  
Workforce Training Boost in Memphis Schools 
What's happening with workforce training programs in Memphis schools? Career and technical education classes could get a big boost as a part of a revamp of the district's program. Chalkbeat Tennessee reports that there may be an increase in classes focused on in-demand industries including health care and information technology.  
Business leaders in the area are also getting involved to improve pathway between high school and high demand jobs.   
Read more in Chalkbeat Tennessee.  
Five Steps to a Competency-Based Education System 
A new report from iNACOL shares five policy steps that can help guide a move into competency-based education. The report "offers specific action steps, policy strategies, and recommendations for enabling personalized, competency-based education," says eSchool News.  
The five steps each include policy action items and recommendations, and tackle issue areas such as qualifications, capacity, and accountability.   
Learn more in eSchool News.  
Twitter Chat: Rotation Stations for Blended and Personalized Learning Classrooms 
The Learning Accelerator is hosting a Twitter chat on how to explore station rotation models in blended learning and personalized learning classrooms. Tune in on February 21 at 8:00pm ET and join in the discussion using #TLABLTalks.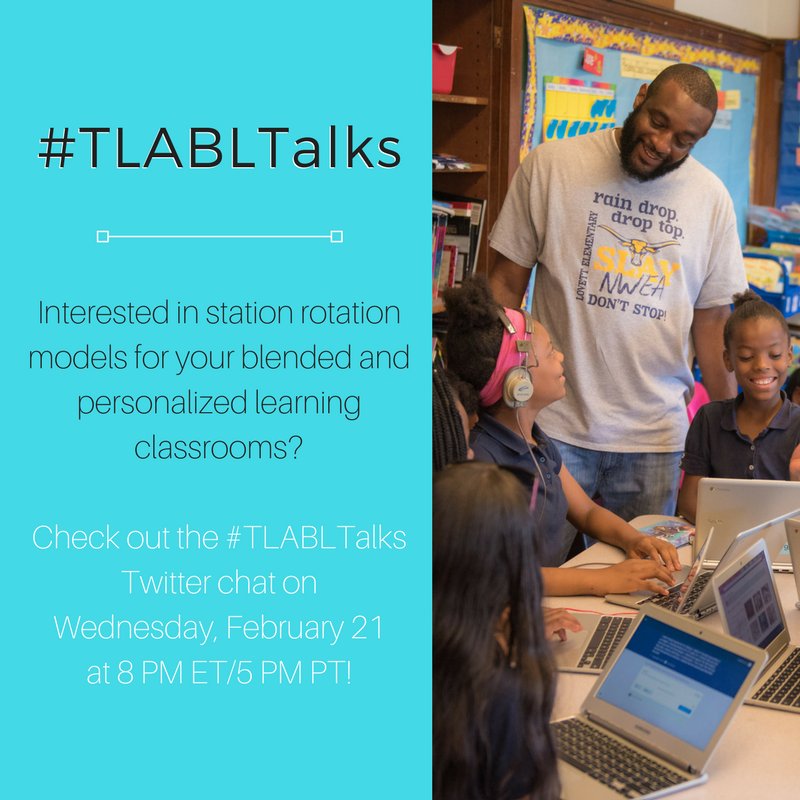 Deeper Learning in Action 
Twitter can be a great place to see what's actually happening to promote deeper learning outcomes in (and out!) of classrooms across the country. Here are a few examples. Be sure to follow @DeeperLearning and check out #DeeperLearning for more! 
Don't miss your chance to attend the Deeper Learning 2018 conference in March! Check out the opening keynote speakers and register now – it could be your last chance! https://t.co/hnBIpZ3CAN #deeperlearning

— Deeper Learning (@deeperlearning) February 12, 2018
#equitythrudeeperlearning @Carlos_Moreno06 "Secret sauce" to #deeperlearning 1) pay attention to whole child 2) Focus on students' strengths, not weaknesses 3) Create opportunities to learn outside school walls 4) Shift thinking on how students demonstrate what they've learned

— Learning Policy Inst (@LPI_Learning) February 15, 2018
Investigating how inclined planes create beautiful artwork @WheelerElem#simplemachines#scienceartandwriting#deeperlearning#jcps@AssistSupArea4@CoachMeredithpic.twitter.com/VEnOXW3vfb

— The Barker-Finck Crew (@BarkerFinckCrew) February 8, 2018
The 'Deeper Learning Digest' is a bi-weekly roundup of articles, blog posts, and other content around deeper learning. Be sure to follow @deeperlearning on Twitter and like Deeper Learning on Facebook to stay up to date on all deeper learning news.