Deeper Learning Digest: Learning to Learn Deeply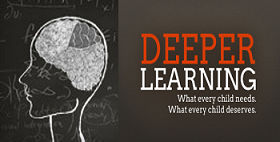 The 'Deeper Learning Digest' is a bi-weekly roundup of articles, blog posts, and other content around deeper learning. Make sure to add High School Soup to your RSS feed to stay up-to-date on all deeper learning news. Please be sure to follow @deeperlearning on Twitter for more on deeper learning.
---
In the June edition of State Innovations by the National Association of State Boards of Education (NASBE), Sammi Plourde outlines New Hampshire's use of deeper learning to demonstrate how such a systemic approach can work under the pillars of effective implementation. Those pillars  include: competency-based standards, strong assessment and accountability, and educator support.
While you're reading that, be sure to check out NASBE's May report from state education leaders on Deeper Learning in the 21st century, to learn more about how "many states—and state boards in particular—have articulated and supported policies to enable deeper learning."
As Susan Fairchild, chief knowledge officer for New Visions for Public Schools, states in a recent blog for Learning Deeply, "schools account for an average of less than 20 percent of a child's waking hours" making it all the more important to use those waking hours effective. Fairchild explains however that in order for teachers to get "off-track" at-risk students back on the right path, schools must among other things, "rethink traditional school structures and the alignment of teacher skill sets to student needs…."
In a two-part post for his Learning Deeply blog, Alliance senior fellow Robert Rothman considers a new report from Stanford University that examines the factors which can support or hinder performance assessment. With the state level interest in performance assessment  growing, Rothman suggests that lessons from the 1990s wave of interest in this particular set of testing might act as a guide moving forward. Rothman looks to a district in Colorado whose focus on testing deeper learning skills spans decades as an example for schools.
Journalist Suzie Boss considers in this Edutopia blog how traditional lesson plans might be redesigned to supply students with more authentic, memorable, and project-based learning, using the examples of classrooms where students are taught to think critically and investigate deeply.
Getting Smart and Digital Promise collaborated in May to release Preparing Leaders for Deeper Learning, the fourth installment of a series of reports, to answer three key questions about deeper learning, including: What roles do leaders play to create and support deeper learning environments? Getting Smart's Carri Schneider lays out the conclusions reached following input from educators, organizations, and deeper learning leaders.