Deeper Learning Digest: Leading with Deeper Learning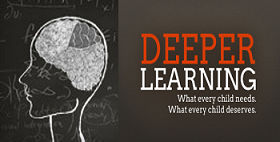 The 'Deeper Learning Digest' is a bi-weekly roundup of articles, blog posts, and other content around deeper learning. Make sure to add High School Soup to your RSS feed to stay up-to-date on all deeper learning news. Please be sure to follow @deeperlearning on Twitter for more on deeper learning.
---
Implementing Deeper Learning in the classroom starts with equipping school and district leaders with the 'know-how' to create deeper learning environments, that's according to a new report released jointly today from Getting Smart and Digital Promise. Preparing Leaders for Deeper Learning, the fourth installment of a series of reports, asserts that educators who engage in the same blended, competency-based, and deeper learning experiences as their students are the ones who will create the powerful learning environments of the future. Preparing Leaders describes 10 roles required of educators who wish to lead toward deeper learning, including: Change Managers, Conversation Leaders, Advocates for All Students, and Design Thinkers.
Every day is a day for a #DLfie celebration. That was especially true the week of May 25. Teachers, students, and education leaders were encouraged to take to Twitter to post selfies and share what they were doing to celebrate deeper learning. Aaron Brengard, principal of Karen Smith Elementary School in San Jose, CA, tweeted;
A gold panning experience designed by @KSmithFourth for 4th graders from other schools #DLFie @karmstrongPBL @pookyy pic.twitter.com/kPY7hoYH2T

— Aaron Brengard (@brengard) May 28, 2015
In the May 2015 issue of The State Education Standard, Monica R. Martinez and Dennis McGrath, authors of "Deeper Learning: How Eight Innovative Public Schools Are Transforming Education in the 21st Century," discuss eight schools from around the country that have demonstrated how to close the gaps for Latino and black students in beginning and finishing college degrees – with the help of deeper learning. They write: "Learners of all types can see achievement gains when schools remake themselves as centers of deeper learning."
A report released May 20 by New Tech Network (NTN) found a higher than national average rate of high school graduation and college enrollment from NTN schools across the country. NTN schools are grounded in three key design principles: teaching that engages (centered on project-based learning), a culture that empowers students and adults, and the pervasive use of technology to enable learning. The schools demonstrated a graduation rate of 93 percent in 2014.
Join the Alliance for Excellent Education June 4 at 2 p.m. EDT for the webinar Data Systems for Increasing Postsecondary Success. Robert Rothman, senior fellow at the Alliance, will sit down with Meg Long, president of Equal Measure, and Rochelle Nichols-Solomon, director of Postsecondary Success Portfolio at FHI360, to examine the Postsecondary Success Initiative that produced large gains in postsecondary attainment, particularly for historically underserved students. Register for the webinar at https://all4ed.org/webinar-event/jun-04-2015/
By asking students to "fake it," teachers of writing can help motivate students to succeed, writes Rafael Heller, principal policy analyst for Jobs for the Future. Writing instructors are in the business of teaching students to represent motivations on the page, says Heller, "crafting a persona and endowing it with motives of its own: the desire to prove a point, win an argument, describe a scene, tell a story, and so on."
High Tech High—the San Diego-based charter-school system comprised of five high schools and eight total elementary and middle schools— utilizes project based learning to prepare students for the last years of college—not the first. For educators who want to become change agents similar to the team at High Tech High, the school offers up its Education Leadership Academy. Under the umbrella of deeper learning, the program teaches educators to work with colleagues on projects to transform their school, working with students to put theories into practice.