Deeper Learning Digest: Keeping Pace with Tech Trends

October 17, 2019 12:47 pm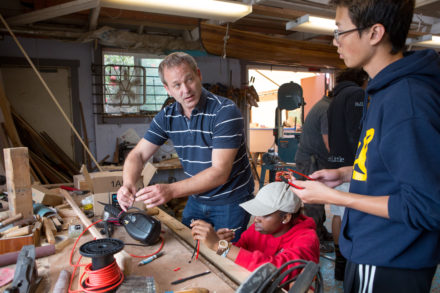 Digital displays. High-voltage battery cells. Computer controls. Repairing a car is not what it used to be, so how are career and technical education programs (CTE) preparing students to keep pace with electric and self-driving vehicles?
Today's digest highlights how CTE programs are updating technology to keep on pace with industry trends, how to know when persistence is not working, and how one principal is bringing the world to her students.
How Are CTE Programs Keeping Up with Industry Trends?
When you think of car repair, do you consider it manual labor or complex engineering? With the increasing presence of electric and self-driving cars, what once required a wrench may now be a software fixe. That's why CTE programs are revving up their technology, curriculum, and equipment to keep current with industry trends, reports District Administration.
"Anybody who thinks that an auto technician doesn't have to be as academically prepared as a student bound for college is sadly mistaken," said Stephen Guthrie, superintendent of Sussex Technical School District in Delaware. "Cars are complex computers."
CTE programs across the country are putting a greater emphasis on math and science skills so students can deal with more complex problems involving mechanical systems, while also upgrading technology like computerized alignment racks, laser-guided hoists, scanners that detect tire defects, and other devices.
As a result, students are gaining the skills to handle new and changing technology, earning advanced certifications, and in some cases participating in apprenticeships with potential employers.
How to Stop Students from Spinning Their Wheels
As a middle school mathematics and science teacher in Baltimore, Neil Heffernan often relied on persistence to keep his students focused and manage his classroom. But reflecting now as a professor of computer science at Worcester Polytechnic Institute, he realizes this approach was not always productive.
"To be clear, persistence is an indispensable quality that can have a dramatic impact on success," writes Heffernan in EdSurge. "Trying something repeatedly can be productive under the right conditions." It's the under the right conditions that's the key phrase here, because "persistence can actually be counterproductive at times," Heffernan explains.
"If students are unprepared to take on a particular type of problem because they didn't understand the prerequisite concepts, persistence isn't helpful…we may make the same mistake over and over again until it becomes a habit. And students who continually find their efforts don't lead to improvements may become less likely to persist over time."
As a solution to this scenario, Heffernan looks to education technology tools that can provide teachers with early-warning signals for students who need additional information or guidance, or flag concepts that the whole class is struggling with.
"The goal is not to remove the obstacles from learning," says Heffernan. "Rather, we want to make sure the right kinds of obstacles are in place."
Building Cultural Awareness to Create Belonging
How can leaders build cultural awareness in schools where the student body is not diverse? In Litchfield, Maine, first-year principal Dani Finn decided to "bring the world" to her students through a new Cultural Competencies Series, reports the Sun Journal.
The series started when Finn, who is from the Philippines, wanted to share her culture with her students. Next up was a speaker from Somalia, who shared stories of cultural customs and cuisine with students. Finn continued the series with other guests from the increasingly diverse nearby city of Lewiston, including a reverend from a Greek Orthodox church, the owner of an Italian bakery, and a police officer who shared his Indian heritage.
The response to the series has been positive. "A lot of our students have not been exposed to different cultures," explained Superintendent Andy Carlton. Finn is also pleased with the change she has seen in students. "The conversations we have had have opened the door for them to talk about who they are," Finn said. "They are loving the fact that they are different and that they belong now."
"I love when my students can tell me that they feel at home here," said Finn to the Journal.
Deeper Learning in Action
Twitter can be a great place to see what's happening to promote deeper learning outcomes in (and out!) of classrooms across the country. Here are a few examples. Be sure to follow @DeeperLearning and check out #DeeperLearning for more!
Henrico MS and HS teachers went to the @VMHCeducation to learn about Virtual Archaeology. They also began writing lesson plans on how to incorporate 3D printing into their classrooms. #deeperlearning pic.twitter.com/VzsZ16fqe3

— HenricoHistory (@HenricoHistory) October 14, 2019
Thank you @coral_buff for being our guest speaker today! We learned a lot about coral reefs and the impact of climate change. #skypelesson #deeperlearning #studentengagement @LasLomasSchool 🐙🐠🦀🐟@LHSchools pic.twitter.com/hpxy8aiABJ

— Mrs. Arcineda (@TeachArcineda) October 16, 2019
Jigsaw! Ms Monroy's Seminar student experts compare and contrast theme, conflict and more across different literature. @WMSprincip #gpsct #PBL #deeperlearning pic.twitter.com/vNvPE2N21B

— Jennifer Bresler (@JenBreslerGPS) October 16, 2019
Linden Hall 7th graders spent the morning with Detective Gentzler of the East Lampeter Township Police Department. He spent the morning doing fun activities with our students related to their Forensic Science class. #ourlindenhall #lindenhallgirls #deeperlearning #girlseducation pic.twitter.com/yJuitAySd2

— Linden Hall (@LindenHall_PA) October 16, 2019
The 'Deeper Learning Digest' is a bi-weekly roundup of articles, blog posts, and other content around deeper learning. Be sure to follow @deeperlearning on Twitter, @deeper.learning on Instagram, and like Deeper Learning on Facebook to stay up to date on all deeper learning news.
Featured Photo By Allison Shelley/The Verbatim Agency for American Education: Images of Teachers and Students in Action.