Deeper Learning Digest: Increased Focus on Deeper Learning Approaches

September 16, 2016 01:42 pm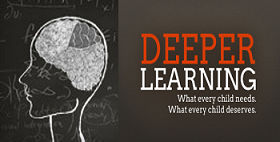 During the next two to three years, the education community increasingly will focus on deeper learning approaches, according to the 2016 K–12 Horizon Report developed by the New Media Consortium (NMC) and the Consortium for School Networking (CoSN). The annual report shares trends, changes, and important developments in education technology and is meant to aid school leaders with their strategic technology planning. According to the report, more school communities will emphasize critical thinking, collaboration, and self-directed learning, allowing students to understand how their education fits into their lives through problem-, project-, or inquiry-based learning. THE Journal reports: https://thejournal.com/articles/2016/09/15/newest-nmccosn-horizon-k12-report-emphasizes-kids-as-creators.aspx.

Fueling Tomorrow's Workforce
In a post for the Getting Smart Blog, Jim Postl, former president and CEO of Pennzoil-Quaker State and former CEO of Nabisco International, shares his perspective about the importance of a quality workforce  to the economy and how deeper learning can ensure that students have the skills they need to succeed in today's market. Postl, who has more than forty years of experience in the business world, highlights the pronounced skills gap in STEM fields (science, technology, engineering, and mathematics), which he calls a major growth sector. He suggests that high-quality career and technical education (CTE) programs can provide students the necessary training for STEM careers. He explains that deeper learning meshes "wonderfully" with CTE education, given the emphasis on "executive functioning" skills that employers value, including problem solving, thinking critically, and communicating effectively.
"Deeper learning gives students real-world know-how, often by creating direct connections between the classroom and workplace, with businesses and community partners frequently offering direct support for such programs," Postl writes. Read the full post here: http://gettingsmart.com/2016/09/project-based-learning-can-fuel-tomorrows-workforce/.
A "Softer" Side to Deeper Learning?
Social and emotional learning (SEL), or how students "manage emotions and deal with traumas in order to persist in their academic work" is critical as a foundation for students to experience deeper learning in the classroom writes Donique Reid, policy and research associate at the Alliance. SEL skills, such as the ability to form and manage relationships, manage complex academic tasks, and be responsible for decisionmaking and behaviors, go hand in hand with the development of deeper learning competencies. "When students learn to manage relationships and work through complex tasks, they develop skills to master core academic content, work collaboratively, and communicate effectively," Reid writes. "Similarly, as students learn to function independently of adults and become responsible decisionmakers, they become self-directed learners in the classroom."
So how are practices and policies changing to incorporate SEL into the classroom and support deeper learning outcomes? Read the full post to find out: http://deeperlearning4all.org/deeper-learning/a-softer-side-to-deeper-learning-building-students-social-emotional-skills.
Deeper Learning Through the Arts
In Greenville, South Carolina, the Metropolitan Arts Council (MAC) and TD Bank are joining together to support SmartARTS, an arts-integration program with Greenville County Schools that uses "arts integration intensively in classrooms to illuminate the natural connections between academics and the arts so student learning and teacher practice in all areas are enriched," Greenville Online reports. According to the article, the program increases student engagement, improves academic achievement, and leads to deeper learning and self-awareness for students, artists, and teachers. The article also notes that data indicates that students who participate in this type of approach to arts integration are more likely to graduate high school and pursue postsecondary education. Students also "develop the skills desired by 21st century employers—creative thinking, communication, appropriate risk taking and collaboration." More: http://www.greenvilleonline.com/story/opinion/contributors/2016/09/11/commentary-td-bank-mac-partner-promote-arts-education/89971192/.