Deeper Learning Digest: Incorporating Deeper Learning Practices into Common Core Standards

October 16, 2015 03:50 pm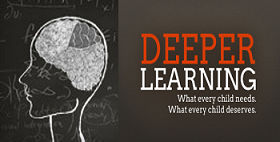 The 'Deeper Learning Digest' is a bi-weekly roundup of articles, blog posts, and other content around deeper learning.
The Washington Post explores schools that are integrating the arts into learning in the classroom to help students gain a deeper understanding of content and make the lessons more meaningful. This strategy is growing nationally, according to Sandra Ruppert, director of the Arts Education Partnership, who says that employing arts in the classroom is associated with improvement in math and English test scores, and that low-income students especially benefit from this approach. "The arts also do so much more," Ruppert said. "They engage kids in school, motivate them to learn, develop critical thinking, equip them to be creative." The article gives examples of this integration, including incorporating "dance into a science class, visual design into math learning and music into international culture and language studies."
One teacher discusses how her fifth-grade math students create designs with paper squares as they learn about decimal values. "A few of them have a hard time with the math, but the art piece allows them to see it visually," Taylor said. "It's more connection, an 'a-ha' moment for them." The article also quotes John Ceschini, arts integration officer for the Prince George's school system, on how the process increases student engagement: "They learn things deeper…They are actually able to get into depth with these concepts. That's how learning sticks. If they are acting something out, if they are singing a song about a content area, that content becomes real to them."
eSchool News takes a deeper dive into the story of how an Ohio district implemented a blended learning program for Common Core math. Gina Piero, student achievement coach at Worthington School District, discusses how the Common Core standards have shifted the landscape for math education, by demanding more focus, coherence and rigor. As a result, Piero explains that the district has "narrowed the amount of topics we cover at each grade level, diving deeper into each topic in order to gain solid conceptual understanding, a high degree of procedural skill and fluency, and the ability to apply math to solve problems inside and outside the classroom." She tells how their students are "encouraged and expected to work in pairs and small groups as they engage in math problems that build a deep conceptual understanding instead of basic memorization of algorithms."
To help facilitate this learning, the district is integrating technology and the Common Core through a new program that puts technology in the classroom and enables teachers to access the resources necessary to engage students in critical thinking. As a result, students are able to achieve a deeper understanding and mastery of the skills and concepts of Common Core math, by way of this blended learning approach.
In another discussion of using technology to enhance Common Core learning, The Hechinger Report explores how students can learn the Common Core through gaming. The article discusses how educational game makers have been aligning new products with the standards, especially when it comes to the standards' emphasis on deeper conceptual understanding in math and English. The piece gives examples of teachers working with game designers to incorporate elements of the standards into the game, and how the best games help kids to solve problems and work collaboratively, but cautions that games should be part of a bigger learning system instead of standing alone.
Over on Education Week's Learning Deeply blog, there are a few posts to highlight:
David T. Conley, the president of EdImagine and a professor at the University of Oregon and former CEO of the Education Policy Improvement Center, digs into what he calls the "Deeper Learning Dilemma," the balance between breadth and depth. Conley discusses how students should understand what they are learning at a deep level, so that they can retain and use the knowledge and skills they are taught. But this deeper learning often requires students to dedicate significant time on a topic or concept. AS a result, Conley argues, students are exposed to less of the curriculum as a whole. "This fundamental tug-of-war must be addressed for students to achieve the dual goals of acceptable performance on tests that cover the breadth of the curriculum and on assessments that plumb the depths of student understanding." Read the full article here.
The Alliance's Robert Rothman writes about rethinking accountability as it applies to deeper learning. Rothman notes how "Educators have long recognized that current accountability systems, which generally measure school performance solely on the basis of end-of-year reading and mathematics tests, are impediments to innovation because they create incentives to focus on a relatively narrow set of knowledge and skills. Moreover, such systems provide little information to enable school communities to examine practices and improve their own capacity to raise the level of student learning." He discusses accountability "dashboards" that incorporate several measures and outlined some of the issues to be considered in developing these systems as noted in an Alliance paper. Learn more about these recommendations.
Visit the Deeper Learning website deeperlearning4all.org  to learn more. Make sure to add High School Soup to your RSS feed and follow @deeperlearning on Twitter to stay up-to-date on all deeper learning news.