Deeper Learning Digest: How These High School Seniors Get Ready for College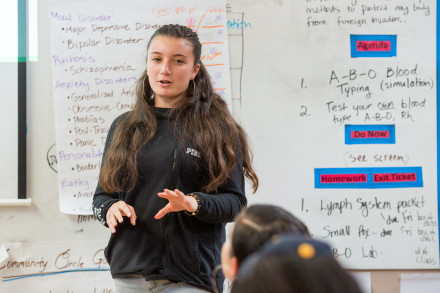 A yearlong performance assessment may sound like a lot for a high school senior. But in Oakland, California, seniors are using their capstone projects to solve problems facing their community while building critical skills for college and careers.
Today's digest highlights how Oakland's Graduate Capstone Project is making a difference for high school seniors and how Oakland Unified School District is empowering students through Linked Learning. It also covers a new book on deeper learning schools and the upcoming Deeper Learning Conference.
How can a yearlong performance assessment prepare high school seniors for the future? In Oakland, California, students embark on a high school graduation project driven by a guiding research question on a social issue that's important to the student. This could be homelessness, immigration, war, etc. The students conduct hours of online research, write essay drafts outlining their problems, and explore their issue through field research and interviews.
"It gives us an opportunity to improve the quality of the learning experience for students and develop some shared understanding of what we mean by a high-quality research paper, and a high-quality presentation, and what it means to be an Oakland graduate," says Young Whan Choi, the district's manager of performance assessments, in Education Week.
Not only do students collaborate, solve problems, assert agency, and share their learning with their classmates and teachers, they are given a taste of college-level work and opportunity to demonstrate their research, writing, and oral skills.
Empowering Youth Through the Linked Learning Approach
Speaking of Oakland, Oakland Unified School District (OUSD)'s success story with the Linked Learning approach is not one to miss. The district turned to Linked Learning to provide their young people with "real-world learning experiences and rigorous academic instruction coupled with social and emotional support to overcome many of the challenges they face in their communities," write All4Ed staffers Dr. Monica Almond and Hans Herman.  "It was a tall order to expect that one high school reform strategy would be the answer Oakland needed. As it turns out, though, it was."
All4Ed experienced the power and promise of OUSD in January when it led a team of staff members and several state and local policymakers from across the country on a day-long visit to Oakland High School (O-High) to learn more about how the school prepares students for life through the Linked Learning approach.
In Search of Deeper Learning
In their new book, "In Search of Deeper Learning: The Quest to Remake the American High School," author and researchers Jal Mehta and Sarah Fine explore three small public charter schools that are "among the most ambitious" when it comes to deeper learning, writes Washington Post columnist Jay Mathews.
Although these schools are "way too far from the mainstream to survive in traditional school systems," according to Mathews, there are some important takeaways for schools seeking to embed deeper learning. For example, the authors suggest making classes more like extracurricular activities by putting an emphasis on fun and engagement while also allowing students learn by doing and receive feedback from classmates and adults.
Coming Soon! Deeper Learning 2019
Deeper Learning 2019, the seventh annual gathering of powerful educators focused on creating more equitable outcomes by engaging students in deeper learning, is right around the corner! If you are attending the conference on March 27-29 in San Diego, California, be sure to use #deeperlearning in your tweets and tag @deeperlearning! Then, keep an eye out for a roundup in the next Deeper Learning Digest…you may be featured!
Deeper Learning in Action
Twitter can be a great place to see what's happening to promote deeper learning outcomes in (and out!) of classrooms across the country. Here are a few examples. Be sure to follow @DeeperLearning and check out #DeeperLearning for more!
Something feels good when you register for a conference and efforts are made to consider the identities of those attending! This feels like winning! Excited for @deeperlearning 2019!#Equity #Inclusion #DL2019 #OneDegreeShift #YourIdentityMatters #ClearTheAir pic.twitter.com/MGMTsjcv6L

— Katrice Quitter (@katricequitter) March 10, 2019
So proud of the connections these guys are making in #STEAM as we learn about electricity and circuits using @makeymakey #criticalthinkers #communicators @deeperlearning #hlp @Henrico_Steam thank you to our guests for stopping in! #iblamemyhaironthisunit https://t.co/ZC16NJUwcQ

— Dumbarton STEAM (@Dumbarton_STEAM) March 7, 2019
Yesterday filled my spirit with energy to continue building in this work! @EquityFellows @deeperlearning #SWSWEDU #HipHopEd pic.twitter.com/QyHxwftCce

— @ermartin89 (@ermartin89) March 6, 2019
Sixth grade science students watched a demonstration regarding convection currents.
Warm air rises and cold air sinks. The black solar bag absorbs heat and the air inside will warm up slightly more than outside.
(Note: solar bag is on fishing line)#hlp#deeperlearning pic.twitter.com/27zZB1vyhL

— Short Pump Pumas (@SPMSPumas) March 13, 2019
Reflecting on the feedback from our past meeting. Staff want to go deeper, address race, implicit bias, and white supremacy culture. #deeperlearning also involves racial equity work and looking more deeply inside. pic.twitter.com/uucY1v3r98

— Joe Truss – Culturally Responsive Leadership (@trussleadership) March 12, 2019
The 'Deeper Learning Digest' is a bi-weekly roundup of articles, blog posts, and other content around deeper learning. Be sure to follow @deeperlearning on Twitter, @deeper.learning on Instagram, and like Deeper Learning on Facebook to stay up to date on all deeper learning news.
Featured Photo By Allison Shelley/The Verbatim Agency for American Education: Images of Teachers and Students in Action.