Deeper Learning Digest: How One High School Integrated Deeper Learning Into Its Curriculum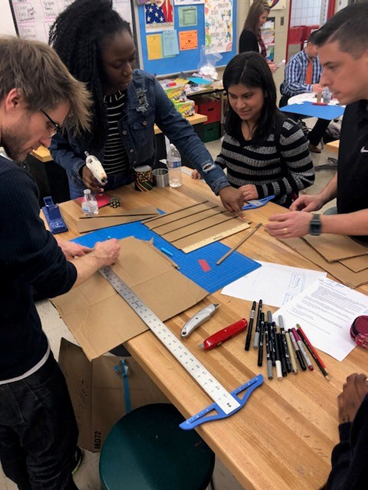 "We wanted to increase rigor and our students' academic abilities, so I thought [deeper learning] would make sense for our school setting."
That's Jennie Canning, lead STEAM (science, technology, engineering, arts, and math) teacher at Pittsburgh Brashear High School, explaining why she and Brashear's principal, Kimberly Safran, reached out to the Alliance for Excellent Education (All4Ed) to help rethink their approach to instruction.
In this week's Deeper Learning Digest learn how All4Ed provided direct technical assistance to teacher leaders at Brashear on implementing strategies that support deeper learning.
Elsewhere in this week's Digest, what happens when schools are linked together in networks that share models, tools, and professional learning experiences? Expanded access to deeper learning experiences for more students.
This week's Digest also explores dynamic math instruction and how to make project-based learning stick through professional development. And if you want to learn more about how adolescents' tick, do we have a resource for you.
Deepening Students' Learning at Pittsburgh Brashear High School
After the Pennsylvania Department of Education identified Pittsburgh Brashear High School as a priority school for improvement, the school's educators began to rethink their approach to instruction.
Teacher leaders wanted to identify promising practices that would improve engagement for the school's 1,230 students, most of whom are African American or come from low-income families. They also were looking for ways to increase academic rigor and promote cross-curricular instruction to enable all students to achieve academic excellence. So what did they do and which tools and resources did they use?
Expanding Deeper Learning When We're "Better Together"
A new book, Better Together: How to Leverage School Networks for Smarter Personalized and Project Based Learning, outlines the formal and informal ways that educators can work smarter together to benefit all students, writes Tom Vander Ark, one of the authors of the book.
The other author, Lydia Dobyns, explained at a recent conference that activating school networks can form a "knowledge ecosystem network" where the shared purpose centers itself around closing the opportunity gap.
Everybody Can Learn Math
Writing in the Washington Post, Jessica Lahey dives into math education in the United States, including where we've been, where we are, and where we are headed. She writes that shifting instruction from memorization to focusing on understanding the processes behind mathematics, with an emphasis on inquiry, can help teachers—and parents—change a students' outlook on math.
"The highest achieving kids in the world are the ones who see math as a big web of interconnected ideas, and the lowest achieving students in the world are the kids who take a memorization approach to math," said Jo Boaler, professor of mathematics education at Stanford University, to Lahey. "When teachers are armed with the research about brain growth and [the reality that] everybody can learn math, it changes what they do. Teachers that are empowered with this research are doing amazing things. Really amazing things."
How to Make Project-Based Learning Stick
 How can you make project-based learning (PBL) stick in your school? The key is interactive, participant-driven, on-going professional development (PD), says eSchool News. "PBL emphasizes depth over breadth, depth over superficiality, and the ability to think, solve problems, and tackle real-life issues," writes John Larmer. This means a different kind of instruction that involves rethinking what students should learn.
Learn how to "guarantee your PD for PBL is on point" in these five steps.
What Does Deeper Learning Sound Like?
"When we reflect individually on our own most impactful learning experiences, the ones we remember tend to be deeply social, to make us feel like we belong in a community, and to connect with our goals and aspirations," writes Tony Siddall, Program Officer for Next Generation Learning Challenges in Education Week's Learning Deeply blog.
Siddall explains that despite this knowledge about learning experiences, structures of public education push instruction and learning in the opposite direction. So, how can we find a common language about learning and align education systems with what we know and value about learning?
Siddall says "it requires listening, together, to the sound of learning–in the voices of learners themselves." He explores how to "listen" to the sound of learning in this blog post.
Ever Wonder What Makes Adolescents Tick?
And if you'd like to learn more about how adolescents learn, you have appointment viewing on Wednesday, August 1 at 3:00 p.m. (ET). That's when All4Ed welcomes Dr. Jesse Washington, a practitioner, and Dr. Richard Clark, a researcher, to examine biological changes that occur during adolescence, both in the body and the brain. In this webinar, Washington and Clark will discuss how to ensure that learning opportunities support adolescents' development during this critical time.
The webinar will also feature the release of the first of All4Ed's four-part series on the science of adolescent learning, How Body and Brain Development Affect Student Learning. The report highlights five essential findings about adolescent learning and development and includes recommendations for how educators, policymakers, and advocates can support adolescents' academic, social, emotional, physical, and health needs.
And if you're booked at 3:00 p.m. on Wednesday, don't worry. We'll record the webinar and make the video available to registrants "on demand."
Deeper Learning in Action
Twitter can be a great place to see what's happening to promote deeper learning outcomes in (and out!) of classrooms across the country. Here are a few examples. Be sure to follow @DeeperLearning and check out #DeeperLearning for more!
The innovation/creative thinking of teachers of Moonshot Academy is inspiring. Courses for HS students on happiness, motivation, big data & media, and scientific thinking. Now to support them in designing high quality assessments that measure specific outcomes. #deeperlearning pic.twitter.com/dgZD09z1km

— Abby Benedetto (@AbbyBenedetto) July 24, 2018
Thanks, @TwoRiversPCS, for inviting us into your school to see the amazing assessment work you're implementing. Great to see #P21Exemplars leading the charge. #rethinkassessment #4Cs #DeeperLearning pic.twitter.com/P6FhOcjXSn

— P21 (@P21Learning) July 25, 2018
Enjoyed presenting at the #TNCharterConference today & talking about using #designthinking to build a culture of literacy for social impact. @DesignEdToday #relevantlearning #deeperlearning #professionaldevelopment #edchat pic.twitter.com/NpuVutbP6B — Lauren Sikes (@SikesL) July 24, 2018
The 'Deeper Learning Digest' is a bi-weekly roundup of articles, blog posts, and other content around deeper learning. Be sure to follow @deeperlearning on Twitter, @deeper.learning on Instagram, and like Deeper Learning on Facebook to stay up to date on all deeper learning news.