Deeper Learning Digest: How Deeper Learning Practices Take Students to the Next Level

October 02, 2015 04:56 pm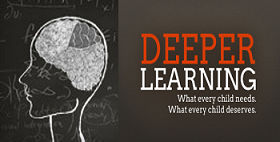 The 'Deeper Learning Digest' is a bi-weekly roundup of articles, blog posts, and other content around deeper learning.
This week, Big Picture Learning and International Network for Public Schools announced the Deeper Learning Equity Fellows, a cohort of ten emerging leaders who will design and conduct a capstone action project over the next two years on a major challenge related to equitable access to deeper learning. They also recently announced the Equity Fellow Mentors who will guide the Fellows, working with them as they implement their projects. Two of the Mentors are former Alliance staff members. Learn more about the Fellows as well as the Mentors.
Education Week raised some key questions about how teachers' questions can guide students to think more critically about complex literary and information texts. Getting students to dig into texts to build interpretations, analyze, and construct evidence-based arguments requires teachers to move beyond asking students to name examples or find an answer in the reading, the article says. In order to reach this goal of thinking critically and applying their knowledge to real-world experiences, and therefore engaging in deeper learning, teachers must "learn to ask better questions in connection with reading assignments or activities."
To continue on the critical thinking train, writer and School Designer for Expeditionary Learning Anne Vilen wrote a guest post on Education Week's Learning Deeply blog about how critical thinking requires empathy to transform into compassionate action. Although the connection might not be obvious, Vilen writes that "if critical thinking involves seeking, analyzing, and evaluating multiple perspectives on a complex question or issue, then being able to 'see' through someone else's eyes is essential." She argues that students need opportunities to hear from and discuss the views of those who differ from them, and the empathy gained from this "perspective taking" becomes a precursor to nuanced thinking, communicating effectively, and taking positive action in the real world. Read the full post here.
Also on Education Week's Learning Deeply blog, Henry Jones, a high school senior from Maine, shared his story of how deeper learning practices changed him for the better. After months of engaging in a deep, cross-curricular study of climate change, where he and his classmates experimented with the properties of carbon dioxide in chemistry class and wrote research papers on ways to enact legislations to slow climate change, Jones had the opportunity to take his studies to into the real world. He visited Queens, New York to meet victims of Hurricane Sandy and learn first-hand about the experience of one student and a story that would change his perspective on school and the world. Read his post and check out the documentary he created on the project.
We can do better than one-size-fits-all education, implores Boston Globe Magazine. For students to succeed in today's world, they need to graduate high school armed with a new set of basics, the article claims, including a combination of deep content knowledge, complex problem-solving skills, and dispositions of perseverance and confidence. The piece encourages not thinking about high school graduation as an end point, but as a transition, with more needing to be done to prepare students for what comes next. "Given the demands our children face after high school, we must fundamentally rethink what it will take to get more students to achieve deeper learning outcomes."
Visit the Deeper Learning website deeperlearning4all.org  to learn more. Make sure to add High School Soup to your RSS feed and follow @deeperlearning on Twitter to stay up-to-date on all deeper learning news.