Deeper Learning Digest: How Can Students Prepare for Jobs?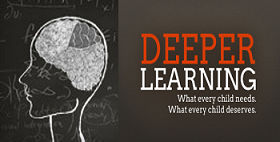 This week's digest features several stories on how students are gaining real-world experience and building the necessary skills and competencies to prepare them for success in their jobs and careers.
On the Job in Vermont
In Vermont, students are gaining experience in job settings while still in high school. The Hechinger Report tells the story of how work-based learning programs are gaining traction in the state and across the country as an attempt to address needs for more skilled and prepared employees.
One of the main goals of these programs is to help students make the connection between their academic education and real-world jobs. "I think for a lot of students, they can start to see the relevance in their education," said Rachael Potts, who oversees the program at Harwood Union High School in Vermont. "Students who have been in the classroom for years can start applying some of their content knowledge in real world settings, and that's real exciting for students."
Job Training for High School Grads in Colorado
Colorado Gov. John Hickenlooper recently called for a bipartisan effort to rethink how states are working to prepare high school students for jobs in today's economy, reports Chalkbeat Colorado.
"It's not a Republican or Democratic issue to say we want better jobs for our kids, or we want to make sure they're trained for the new generation of jobs that are coming or beginning to appear," said Hickenlooper on CBS's Face the Nation.
Hickenlooper emphasized the need to look into apprenticeships and internships as possible options to prepare students.
Manufacturing Internships Prepare Youth for Workforce
The Arconic Global Internship Program in Tennessee is helping prepare young adults for careers in the manufacturing industry through workforce readiness instruction and internship experiences. The Daily Times reports that students leave the program with resumes, the ability to point to real-world experience when talking with job recruiters, as well as skills including collaboration and leadership.
The article explains that there's a need to prepare candidates for the manufacturing jobs of today, which can be high-tech and clean environments, not the "dirty jobs" that people often associate with the industry.
Building Competencies for Careers
So what are the most valuable skills and competencies that students need to succeed in 21st century jobs?
An upcoming webinar on August 23, hosted by the Alliance for Excellent Education, Center on Education Policy (CEP), and Council for a Strong America, will feature new research from CEP on these most valuable skills and competencies required for more than 300 occupations nationwide.
It will also examine the role that external partners, including business, higher education, and community organizations, can play in helping students develop expertise in the field to supplement the academic content and learning that takes place in schools.
Learn more and register for event.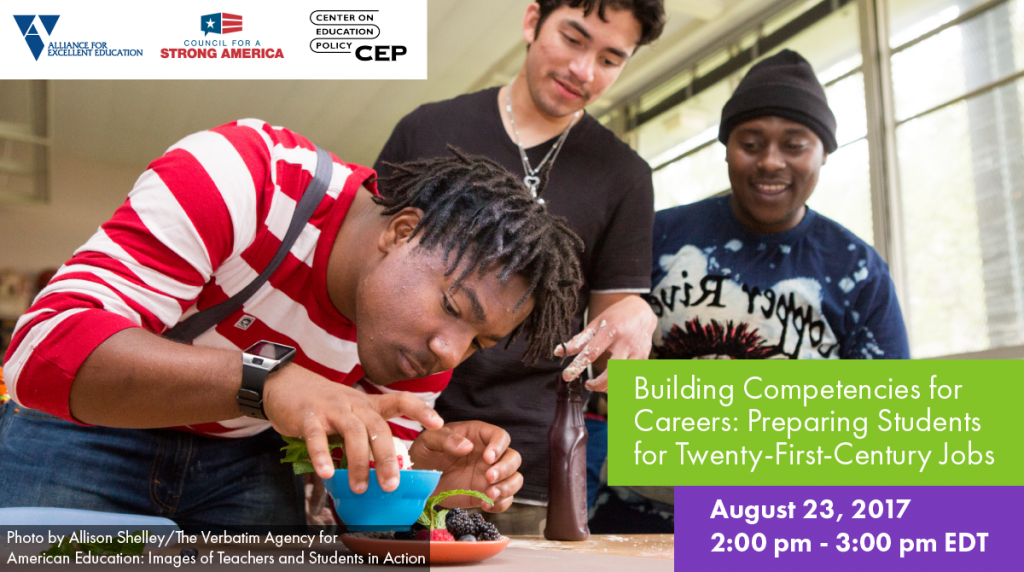 Back to School: Deeper Learning PD
As the end of the summer dawns and schools prepare for the return of their students, many educators are engaging in professional development opportunities focused on deeper learning. Get a peak at what's happening in schools across the country though the tweets below, and see more at @DeeperLearning and #DeeperLearning.
So inspired by our teachers digging deep to learn to plan rigorous and amazing #pbl experiences for our scholars! #pblchat #deeperlearning pic.twitter.com/sckMxGCdh9

— Marin's Community Sc (@MarinScholars) August 17, 2017
"What kind of work are we asking students to do?" Where are the opportunities for COMPLEXITY, AUTHENTICITY & CRAFTSMANSHIP? #deeperlearning pic.twitter.com/g6Ow3fvLKw

— Dr. Kaleb Rashad (@kalebrashad) August 9, 2017
Thankful for teachers who want to grow and learn #deeperlearning#lex1literacypic.twitter.com/Y98dacM0vL

— Nat Ozzy Smith, EdD (@smithno2) August 17, 2017
ICYMI: Deeper Learning Photos
In case you missed it: check out the new deeper learning photo gallery of nearly 300 original print-quality, royalty-free images of teachers and K–12 students of all ages and backgrounds. The images are openly licensed stock photos, meaning they can be used by educators, journalists, non-profit organizations, and others.
See the gallery at deeperlearning4all.org/images.
The 'Deeper Learning Digest' is a bi-weekly roundup of articles, blog posts, and other content around deeper learning. Be sure to follow @deeperlearning on Twitter and like Deeper Learning on Facebook to stay up to date on all deeper learning news.