Deeper Learning Digest: Have You Seen This New Deeper Learning Video?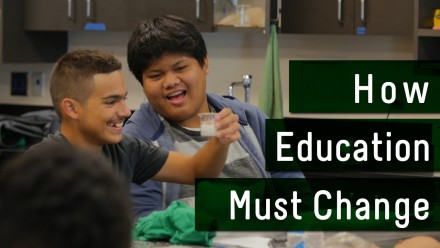 How must education change to prepare students for success in today's jobs—and for the jobs that haven't even been invented yet? This week's digest features a brand-new video from the Alliance for Excellent Education on how deeper learning is preparing students for the jobs of today and tomorrow. Also check out new policy briefs on supporting teachers, a deeper learning showcase in Kentucky, and a "self-paced" learning model in Wyoming.
Watch Video: How Must Education Change?
The way that America works is changing – and to keep pace, education must change, too. What are the skills students need, and how can high schools prepare them for life after graduation?
Watch this new video to see how education must change and to see what dynamic learning looks like in the classroom.
Click to Tweet: New video from @All4Ed on how education must change to prepare students for a changing economy. https://youtu.be/ZUic8WiiEnM #deeperlearning
Increasing Teachers' Capacity for Fostering Deeper Learning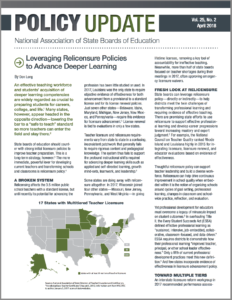 How does a well-prepared teacher workforce affect students' opportunity to master deeper learning skills? Two new policy briefs from the National Association of State Boards of Education (NASBE), focus on how state boards of education can use policy levers to increase teachers' capacity for fostering deeper learning in the classroom.
One brief zeros in on relicensure policies, focusing on supporting teachers throughout their careers and including requirements like work portfolios, individual learning plans, and microcredentials.
The other suggests "embedding philosophy instruction in teacher preparation programs," with the goal of allowing teachers to model the deeper learning skills that they want students to master.
Showcasing Innovation and Deeper Learning
Elementary to high school students at Caverna Independent Schools in Kentucky spent a day showcasing innovative projects and demonstrating their knowledge and passion for learning to each other and community members, reports Glasgow Daily Times.
From utilizing virtual reality to explore new places, to using a 360 camera to create a virtual version of the school gym, to making doorstops with a 3D printer, the students showed that engagement and excitement can drive learning to new levels.
In the Times article, Caverna High School Principal Chase Goff explained that educators "can't teach today the same way we taught for year's past." By transforming instruction to focus on projects that interest students, Goff explains that "what we've found is when you take students and you give them real-world problems to solve, a lot of hands-on things, and you can make things very applicable to life, then that engages them."

Overcome Pitfalls in "Self-Paced" Learning
"Today's world demands workers who can think critically and creatively, and quickly learn new skills—and the old education model isn't necessarily delivering," says Weston County School District Superintendent Summer Stephens in District Administration. Upton High School is changing the way they educate their students by using a self-paced learning model. Now in its second year, the model "helps students make choices, set priorities and accomplish things that are meaningful to them."
But, as District Administration reports, this model of self-paced learning is not without challenges. Learn how schools and districts are overcoming six potential pitfalls.
Deeper Learning in Action
Twitter can be a great place to see what's happening to promote deeper learning outcomes in (and out!) of classrooms across the country. Here are a few examples. Be sure to follow @DeeperLearning and check out #DeeperLearning for more!
Combining #passions, #realworldexperiences, and #coding is what @deeperlearning is all about for our 5th grade Advanced Coding Club learners! #APSIsAwesome #APScodes @APS_STEM pic.twitter.com/BQ4RdGjZC2

— Dr. Lynne Wright (@OakridgeConnect) April 12, 2018
@RonBergerEL So inspired by your Beautiful Lesson workshop at @deeperlearning 2018 Put the challenge in the hallway – caused major traffic jams. So Fun! pic.twitter.com/geXusrJisG

— Jean Kaneko (@jeankaneko) April 17, 2018
Struggling with project inspiration? Here are 10 places to get some ideas! https://t.co/tOBBHTdFkB#pbl#pblchat#hqpbl#newtechnetworkpic.twitter.com/ewftTMq6OD
Struggling with project inspiration? Here are 10 places to get some ideas! https://t.co/tOBBHTdFkB#pbl#pblchat#hqpbl#newtechnetworkpic.twitter.com/ewftTMq6OD — New Tech Network (@newtechnetwork) April 17, 2018
The 'Deeper Learning Digest' is a bi-weekly roundup of articles, blog posts, and other content around deeper learning. Be sure to follow @deeperlearning on Twitter, @deeper.learning on Instagram, and like Deeper Learning on Facebook to stay up to date on all deeper learning news.