Deeper Learning Digest: Hands-On Learning Takes Hold from New York to North Dakota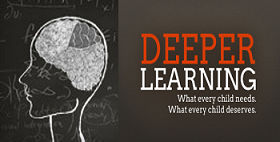 This week's digest features project-based learning for all students in a New York district, individualized instruction in North Dakota, a new study on improving academic performance, an expedition to colonial times, and more.
Expedition to Colonial Times
Students at Capital City Public Charter School in Washington, DC, recently took an "expedition" back to colonial times. Part of the EL Education network, Capital City engages students in projects known as expeditions to master core academic content by applying it in authentic learning situations while also building deeper learning skills such as problem solving, communication, and collaboration.
On their expedition, students created rules to guide colony life, tracked resources to bring to the New World, created a colony flag, and more.
Power of Project-Based Learning
A new study shows that project-based learning (PBL) in schools with high concentrations of students from low income families can produce "statistically significant" gains in academic performance, reports Edutopia. Researchers at University of Michigan and Michigan State University found that significant gains were made in the areas of social studies and informational reading when students from high poverty, low performing schools engaged in PBL instruction.
Hands-On Learning in Bronx District
An entire school district in the Bronx, New York, where 36 out of 38 schools serve primarily students from low income families, is moving to a school-wide enrichment model that puts project-based learning (PBL) at the forefront. DNAinfo reports that these schools are borrowing the idea from the city's gifted-and-talented programs, which use hands-on, PBL models, but instead of offering this learning style to children based on academic performance, the district will enable all students to engage in this deeper learning opportunity.
Individualized Learning in North Dakota
Deeper learning was a hot topic at a recent innovation in education summit in Bismarck, North Dakota. At Bismarck's Legacy High School, students engage in deeper learning opportunities, including problem-solving as part of hands-on projects, flexible and individualized schedules, and through connections with the community. It's more about connecting students to the real world, reports Prairie Public News.
"That might look like internships, it might look like project based learning that happens around real world topics, that might look like students engaged in design challenges," said Susie Wise, director of the d-K12 Lab Network at Stanford University. "The big piece of the work to do is to help leaders and teachers feel empowered to make those changes."
ICYMI: Deeper Learning Photos
In case you missed it: check out the new deeper learning photo gallery of nearly 300 original print-quality, royalty-free images of teachers and K–12 students of all ages and backgrounds. The images are openly licensed stock photos, meaning they can be used by educators, journalists, non-profit organizations, and others.
See the gallery at deeperlearning4all.org/images.
Deeper Learning in Action
Twitter can be a great place to see what's actually happening to promote deeper learning outcomes in (and out!) of classrooms across the country. Here are a few examples. Be sure to follow @DeeperLearning and check out #DeeperLearning for more!
Internship Realization by Student: "I don't want to sit in an office hour after hour, looking at screens. I want to build"🙌 #realwork #pbl pic.twitter.com/3jzpqp6BSE

— Dr. Kaleb Rashad (@kalebrashad) June 20, 2017
.@Ready_Nation member @artrolnick44 discussing #FutureWorkforce:"I want you to think of early childhood development as economic development" pic.twitter.com/UUQKtc0WQV

— ReadyNation (@Ready_Nation) June 21, 2017
How #PBL supports creative and innovation thinking. #pblchat#newtechnetwork#K12ed#edchat#deeperlearningpic.twitter.com/ItDhPb0IrO — New Tech Network (@newtechnetwork) June 15, 2017
 The 'Deeper Learning Digest' is a bi-weekly roundup of articles, blog posts, and other content around deeper learning. Be sure to follow @deeperlearning on Twitter and like Deeper Learning on Facebook to stay up to date on all deeper learning news.