Deeper Learning Digest: Getting Workforce Ready Through Deeper Learning

October 14, 2016 03:39 pm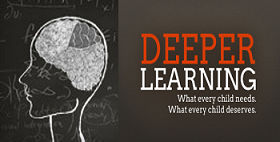 How does deeper learning translate to workforce readiness? Council for a Strong America has launched a new blog series on how deeper learning competencies, including collaboration, thinking critically, communicating effectively, enable students to apply their knowledge not only in the classroom, but on the job. "Deeper learning can help build the 'executive functioning' skills that employers value," the series introduction says. "This, in turn, makes a stronger workforce that can meet the demands of the modern job market, particularly in growing sectors like STEM professions."
The six-part series will feature posts from a business leader, an Olympic athlete, a retired military leader, a teacher, and a researcher on how deeper learning approaches in the classroom can strengthen the nation's economy.
In first post, which is focused on collaboration, a prominent educator and business leader from Maine writes about how few adults are prepared to work with others in teams. Throughout his career, Steve Pound, Ph.D., tried to solve this problem first-hand, and shares his experience in this can't miss blog post: https://www.strongnation.org/articles/287-employers-need-young-adults-who-can-collaborate.

Work-Based Learning in Sonoma
Sonoma Country schools are working to prepare more students for the real world through a work-based learning approach. By integrating career exploration, technical and soft skills training, and industry-related project work with academics, students are gaining exposure to careers at a young age and experiencing deeper learning. The Career Technical Education (CTE) Foundation Sonoma County and the Sonoma County Office of Education (SCOE) are creating a new model of work-based learning for schools that is "informed by local economic development factors and deliberately designed to prepare students for the high demand, high skill and high wage careers currently and projected to be available in the County."
So what does this program hope to accomplish? "Our goal is to increase the number of high quality work-based learning opportunities available to students at all levels of secondary education while also ensuring that those opportunities are fully integrated in the classroom," Kathy Goodacre and Stephen Jackson of SCOE write in North Bay Business Journal. "We need to transform the classroom learning experience in such a way that educators are clearly connecting coursework to work life situations and students immediately get the relevance of it." Read the full article: http://www.northbaybusinessjournal.com/opinion/6158311-181/career-technical-education-work-based-learning?artslide=0
STEAM Takes Hold in Pennsylvania
Another local example of career preparation in high school is happening in three Pennsylvania districts.   Mt. Lebanon, Bethel Park, and South Fayette school districts recently participated in a Science, Technology, Engineering, Arts, and Mathematics (STEAM) showcase to share the work of each district in STEAM fields. South Fayette, for example, has developed STEAM programs in each level within the district and is transforming middle school instruction to encourage deeper learning through STEAM innovation practices. Bethel Park has recently opened three new innovation studios for design making, performance-driven, and project-based learning.
"It's very rewarding to see kids more engaged in their learning," Frank Kruth, South Fayette Middle School STEAM coordinator told The Almanac. "I truly believe in this and it's great to see teachers take steps outside their comfort zone to try it. We need to prepare our students for life and all of the challenges it brings. We want our students to be interdependent thinkers and apply that knowledge. If we prepare students to be good problem solvers, any job that is created they will be able to accomplish."
Deeper Learning in Action
Twitter can also be a great place to see what's actually happening to promote deeper learning outcomes in classrooms across the country. Here are two examples. Be sure to follow @DeeperLearning and check out #DeeperLearning for more!
@OfficialSHSPack Engineering students design temporary emergency shelters… In the SHS cafeteria. #deeperlearning pic.twitter.com/1z5VOeX0Bx

— Margaret Harris (@MHarrisEdu) October 4, 2016
Students play the role of red blood cells in this Kinesthetic journey through the circulatory system #deeperlearning#hsdlearnspic.twitter.com/UJj1Hwqf09

— Landmark Collegiate (@lcsixers) October 13, 2016
The 'Deeper Learning Digest' is a bi-weekly roundup of articles, blog posts, and other content around deeper learning. Be sure to follow @deeperlearning on Twitter and like Deeper Learning on Facebook to stay up to date on all deeper learning news.