Deeper Learning Digest: Getting the Student Perspective

February 03, 2017 04:30 pm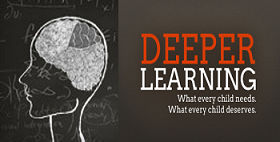 Understanding the student experience in school is critical to adults who are working in education, writes Devon Young, community lead at the K12 Lab Network in the Stanford University d.school. One way to accomplish this goal is to shadow a student, a "hack" or small experiment that can lead to big change. Born out of School Retool, the Shadow a Student Challenge is a hack to help school leaders understand the student experience.
Last year, over 1,500 school leaders and educators took off their administrator or teacher hats to truly immerse themselves in the student perspective. "This Challenge builds on this deep empathy practice and provides permission, agency, tools and resources to help understand not just how to shadow, but how to turn their insights into actions," writes Young. Learn more about this event and the experiences of participating school leaders in this Getting Smart blog post.
Career Readiness
Adriana Martinez, a senior program associate with the Innovation Lab Network at the Council of Chief State School Officers discusses the "other C" in college and career readiness in Education Week's Learning Deeply blog. For Martinez, this other, often neglected "C" is career.
"Too many students graduate without the skills they need to build successful careers that afford them a quality of life," writes Martinez. "In my opinion, too many young people get funneled into low-skill, low-paying jobs, or worse, remain unemployed, while our industries continue to create high-skill, high-wage jobs that they can't fill."
She discusses the need to close the persisting skills gap by making education more relevant for students and to help them meet the expectations of the workforce, and deeper learning is an answer. To help provide more deeper learning opportunities for all students, Martinez shares the work of the Council of Chief State School Officers (CCSSO)'s Career Readiness Initiative. Learn more.
Making Assessment Meaningful
Assessments like the Programme for International Student Assessment (PISA), administered by the Organisation for Economic Co-operation and Development (OECD), ask students to apply their knowledge to real-world problems, measuring not only academic performance but their deeper learning skills. While PISA is an international assessment that provides important country-level information about the performance of fifteen-year-olds, the OECD's Test for Schools is a school-level, PISA-based assessment that provides actionable data for superintendents, principals, and teachers to develop strategies for improving student learning outcomes.
University Academy in Kansas City, Missouri, one of many schools that have participated in the OECD Test for Schools, was featured in a new case study developed by the Alliance and the Johns Hopkins Institute for Education Policy (the Institute) to examine how schools are using this test to monitor student academic outcomes and inform teaching practice to meet student learning needs.
"The beauty of the OECD Test [for Schools] is that it models for teachers what questions written to elicit higher-order thinking should look like," said Dr. Clem Ukaoma, upper school principal at University Academy in a webinar about the case study. "We want to teach our students to think critically and solve complex problems, rather than give them easy cram-and-recall questions that are often popular with textbook publishers and with some teachers."
Learn more and find the case study here.
Deeper Learning Gathering
Deeper Learning 2017, the fifth annual gathering of educators focused on creating deeper learning opportunities is coming up next month, March 29-31 in San Diego, California. Program, registration, and more information is available at http://www.deeper-learning.org/dl2017/.
Deeper Learning in Action
Twitter can be a great place to see what's actually happening to promote deeper learning outcomes in (and out!) of classrooms across the country. Here are a few examples. Be sure to follow @DeeperLearning and check out #DeeperLearning for more!
MS Ss show off #deeperlearning @hightechhigh #chulavista #allkidsthrive @CWMS_office pic.twitter.com/i0tSkADe9q

— Michele Timmons (@EnvisionEdPlus) February 1, 2017
Deeper Learning, Design Thinking, and Hack-tivities with the Stanford D School!  @deeperlearning @stanforddschool pic.twitter.com/XEx7ckoKU4

— EmSTEAM (@EmSTEAMCVUSD) January 26, 2017
Are you preparing your students for the world's fastest growing #jobs? #makered #makerspace #deeperlearning #innovateBPS @autodesk pic.twitter.com/r4reo1HT66 — Sujata Bhatt (@SujataBhatt) January 25, 2017
The 'Deeper Learning Digest' is a bi-weekly roundup of articles, blog posts, and other content around deeper learning. Be sure to follow @deeperlearning on Twitter and like Deeper Learning on Facebook to stay up to date on all deeper learning news.