Deeper Learning Digest: Getting Outside of Classrooms – and Comfort Zones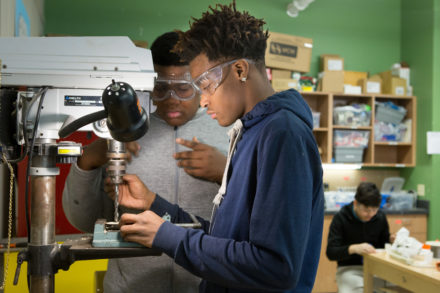 Taking students outside of the classroom can help bring lessons to life – and get students out of their comfort zones.
Today's digest highlights how students are building tiny houses for geometry class, how mixing core subjects leads to robust project-based learning, and an upcoming event on whole child education.
Hard Hats for Geometry Class
Students in geometry class at Battle High School in Columbia, Maryland, have "swapped their compasses and protractors for hammers and hard hats," writes Sarah Schwartz in Education Week, spending a portion of their math class building tiny houses.
The class is following a curriculum called Geometry in Construction, which focuses on applied-math with a career and technical education component. Through hands-on projects, students are learning practical trade skills and problem solving alongside math and economics.
"I want it to be a class where kids can go experience something they've never done before and get outside of their comfort zone," said Scott Burke, a teacher and curriculum designer of Geometry in Construction.
Mixing Disciplines for Project-Based Learning
Instead of solely focusing on separate, core subjects, this Massachusetts school blends academics together in an interdisciplinary, project-based environment, writes Tara García Mathewson for the Hechinger Report. Different components of projects require students to dig into science, math, history, or language arts, creating well-rounded learning experiences that allow students to engage in higher-order thinking skills and collaboration.
Students are also exploring topics that interest them, creating a greater sense of engagement around their school work. "There is direct instruction that takes place, but the work is being driven by the students' passion and their ability to collaborate with each other," explained Christopher Chew, principal at Stony Brook School in Westford, Mass. "Their ability to articulate and communicate has been profound, and the families and the students are quick to reflect that."
It seems like the students agree. "You're learning it more deeply because you're actually the one finding information," said seventh grader Meghan Gardner to García Mathewson. "It's not looking in a textbook that just gives it to you."
How to Get Started with Personalized Learning
Wondering how to get started with personalized learning? You're in luck. Getting Smart and the Learning Accelerator compiled a great list of resources for personalized learning models, high school redesign, data-driven instruction, professional development strategies, and more.
DC Event: Providing Whole Child Education For All Students
Whole child approaches to learning, which emphasize a positive school climate and the integration of social-emotional learning into instruction, can reduce the negative effects of poverty on achievement and are essential to students' academic and life success.
If you are in the DC area, join this event on Tuesday, May 22, to learn how federal policy can support whole child education. Panelists, including All4Ed President Deb Delisle, will share the research, key lessons, and recommendations for developing whole child education environments and advancing social emotional and academic learning.
Deeper Learning in Action
Twitter can be a great place to see what's happening to promote deeper learning outcomes in (and out!) of classrooms across the country. Here are a few examples. Be sure to follow @DeeperLearning and check out #DeeperLearning for more!
This is why teachers love to hoard! Here we have students using everyday materials to plan, design and create aqueducts during one of their lines of #inquiry. #ib #edchat #iteachscience #lrnchat #scichat #stem #pblchat #deeperlearning #ntchat pic.twitter.com/zSXoW6coZn

— Suganya Chandrakumar (@MsSChandrakumar) May 16, 2019
When learners are inspired to ask questions and experiment, a culture of learner agency and equity becomes a reality. Thank you #BillieMartinezElementary (Greeley, CO) for the tremendous peek into your learning environments. @PBLWorks pic.twitter.com/qropuHpyaX

— Virgel Hammonds (@VirgelHammonds) May 9, 2019
Ss are provided with the opportunity to reflect on their learning and offer meaningful feedback to their peers. @courtneyrudder #Selfreflection #ownership #meaningfulfeedback #deeperlearning pic.twitter.com/b5y2n88kBv

— Nikia Davis (@Ndavis615) May 15, 2019
Great week of teaching and learning in the D! Thank you @PBLWorks @WAYProgram! #HQPBL #DeeperLearning #PBLspace #JorgeDoesPBL #EdChat #LifelongLearningDefined pic.twitter.com/dtvBcObzyk

— Jorge Valenzuela (@JorgeDoesPBL) May 14, 2019
The 'Deeper Learning Digest' is a bi-weekly roundup of articles, blog posts, and other content around deeper learning. Be sure to follow @deeperlearning on Twitter, @deeper.learning on Instagram, and like Deeper Learning on Facebook to stay up to date on all deeper learning news.
Featured Photo By Allison Shelley/The Verbatim Agency for American Education: Images of Teachers and Students in Action.