Deeper Learning Digest: Gathering the Deeper Learning Community

December 16, 2016 03:43 pm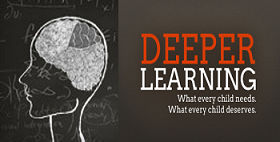 This week, organizations supporting deeper learning gathered for an "(un)convening" to dig deeper into educational equity in the "Big Easy." Hosted by the Hewlett Foundation, the convening focused on how educators in New Orleans provide deeper learning opportunities for students in the city, as well as the challenges they face. Participants learned about the educational history in New Orleans, interacting with local educators and leaders by visiting schools and hearing directly from education leaders about access to deeper learning in the community.
Participants also shared where they go to get their deeper learning information. Have anything to add? Tweet it to us at @deeperlearning.
Where do you go for #deeperlearning info? Here's the crowdsourced list from our HUDL session. Anything to add? pic.twitter.com/Lk4hURz2hv

— Deeper Learning (@deeperlearning) December 13, 2016
The event had some lively elements as well, including some New Orleans jazz and a Mannequin Challenge!
#deeperlearning HUDL (UN)Conference kicks off with an amazing second line band! pic.twitter.com/jwSii6uxGy

— Deeper Learning (@deeperlearning) December 13, 2016
#HUDL2016 Mannequin Challenge! #DeeperLearningpic.twitter.com/kTgLEAgnf4

— Marc Chun (@HFMarcChun) December 14, 2016
Creating Conditions for Deeper Learning
Getting Smart's Tom Vander Ark shares a new piece on how school and community leaders can support deeper learning. He asks "What kind of leadership makes it possible for students and teachers to thrive in this new environment?" and continues with the question theme by highlighting key questions that systems leaders should be asking and answering.
Several of the questions are depicted in the graphic below.
Vander Ark goes on to discuss how policymakers and system heads can create conditions for deeper learning in schools. Read the full post: http://www.gettingsmart.com/2016/12/school-community-leaders-support-deeper-learning.
Personalized Learning → Deeper Learning Outcomes
A personalized learning program in Ohio's Fairview Park City Schools district is gaining the attention of educators and administrators across the state. In an article on Cleveland.com, one of the school's superintendents discussed how he views individualized instruction as "the future of education," and noted that during the process the students were engaged and the teachers acted as facilitators. The article also notes that "the platform helps students prioritize their work, learn content at their own pace, complete deeper learning projects that apply real-world situations and reflect on their learning." Learn more: http://www.cleveland.com/fairview-park/index.ssf/2016/12/fairview_park_city_schools_per.html
Inquiry-Based Learning
Teacher and Instructional Coach Trevor MacKenzie shares his experience adopting an inquiry-based learning (IBL) approach in his classroom to help increase student agency in learning. He describes the experience in edutopia as the most meaningful change he has made in his teaching, and highlights some of the benefits of this learning style, including increased connection between academics and the world outside the classroom and adoption of 21st century skills.
To help others consider this leaning style, MacKenzie outlines a four-step approach to student inquiry and highlights the different types of inquiry-based learning. Read the full post: https://www.edutopia.org/article/bringing-inquiry-based-learning-into-your-class-trevor-mackenzie
The 'Deeper Learning Digest' is a bi-weekly roundup of articles, blog posts, and other content around deeper learning. Be sure to follow @deeperlearning on Twitter and like Deeper Learning on Facebook to stay up to date on all deeper learning news.