Deeper Learning Digest: Fostering Deeper Learning Through Teaching Strategies and Support

February 19, 2016 05:17 pm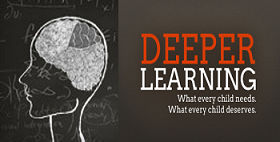 To achieve deeper learning outcomes for students, teachers must exchange the "instructor" role for that of "learning strategist" says a new white paper from the National Commission on Teaching and America's Future (NCTAF) and ConsultEd Strategists. eSchool News reports on the new paper, explaining how it describes a new vision for teaching, and outlines strategies for how teachers' roles and conditions can support and enable deeper learning for students. Teachers have successfully achieved deeper learning with students when they "personalize learning experiences, apply real-world knowledge to learning, and use technology in a way that enhances and empowers student learning," the article notes.
The paper focuses on four conditions that support deeper learning, including:
1) Establishing a learning culture
2) Creating shared responsibility for student learning
3) Establishing a culture of trust and professionalism
4) Preserving time for teachers to collaborate.
Two of the report's authors, Dr. Monica Martinez, NCTAF commissioner and senior fellow, William and Flora Hewlett Foundation, and Elizabeth Foster, vice president for strategic initiatives, NCTAF, participated in a webinar Teaching for Deeper Learning for All Students, hosted by the Alliance and NCTAF. During the webinar they dove deeper into these conditions and also the necessity of having time for professional learning and collaboration.
Here are some highlights of the webinar conversation shared on Twitter:
@MelindaGeorge2 notes high standards, #deeperlearning & personalized learning are complementary. #OECDTALIS pic.twitter.com/yBlYg6Dk4C

— NCTAF (@NCTAF) February 12, 2016
@deeperlearning @NCTAF @BobWise48 #DeeperLearning largely focuses on students! Also see my @ASCD blog https://t.co/KKvn1z4vE4 #all4ed

— Bren Martin (@Bdrumartin) February 9, 2016
#Deeperlearning schools shift the focus from teaching to learning. @drmonie #all4ed — NCTAF (@NCTAF) February 2, 2016
Teaching should be inquiry-based to advance #deeperlearning outcomes for all Ss including traditionally underserved Ss @drmonie#all4ed — Deeper Learning (@deeperlearning) February 2, 2016
Watch the webinar and check out the report How Deeper Learning Can Create a New Vision for Teaching. Over on Education Week's Learning Deeply blog, Robert Rothman explores a new report from Organization for Economic Cooperation and Development (OECD) of the lowest performing students on the Programme for International Student Assessment (PISA). Although PISA does not measure all the deeper learning competencies as a test in a single sitting, Rothman says, it is designed to measure a key deeper learning skill: whether students can apply their knowledge to solve real-world problems. The new report shows that students who perform on the lower levels, and therefore do not demonstrate this ability, are more likely to "drop out of school…their skills are not likely to improve as they grow older…are less likely to enter high-paying jobs…and [have] lower levels of social and political participation." Rothman explains that the first step to reduce low-performance is to recognize that it is a challenge. "As schools, districts, and states move to provide opportunities for deep learning for all students, they need to ensure that all students, particularly those who are struggling in the current system, receive the support they need," he writes. Read the full piece: http://blogs.edweek.org/edweek/learning_deeply/2016/02/what_to_do_to_turn_low_performance_around_lessons_from_pisa.html.