Deeper Learning Digest: Equitable Access to Deeper Learning

December 18, 2015 05:32 pm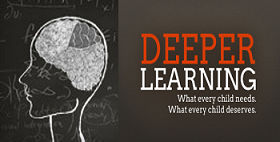 In a Huffington Post blog post, Linda Darling-Hammond, president and CEO of Learning Policy Institute and an Alliance board member, calls on parents, educators, community members, and society to "ensure that all young people have equal access to a high quality, world-class education." Darling-Hammond explains that "the top skills needed for employment in 2020 are the abilities to make sense out of complex information and events, to think creatively to solve real-world problems, to work well with others, to engage effectively in cross-cultural contexts, and to manage many forms of media as well as quantitative data in sophisticated ways." Therefore, she explains some of the actions that must be taken to create equitable access to deeper learning for all students. Read more: http://www.huffingtonpost.com/linda-darlinghammond/now-we-confront-the-real_b_8783332.html.
A teacher in Arizona addresses why schools need more technology in The Arizona Republic. Allison Paul tells the story of how her school, where 94 percent of the students qualify for free or reduced price lunch and many do not have access to technology at home, is helping to connect students and integrate technology into teaching. Paul explains that "technology enables students to receive real-time feedback: moving faster, but also progressing toward deeper learning." At her school, Paul says, the data shows that this approach is working, with students who were once one to three years behind now performing at grade level. Check it out: http://www.azcentral.com/story/opinion/op-ed/2015/12/14/arizona-tech-students/77148992/.
Edutopia takes us to an elementary school in Colorado that is incorporating departmentalization and integration in their teaching methods to bring deeper learning experiences to all students. The school combines two subjects into one lesson, integrating the two together to show students connections. "By applying their learning from one subject to another, the students begin to see its relevance." In certain grades, science and math are taught together in one class, and social studies and language arts are also combined into one class. Learn more: http://www.edutopia.org/practice/departmentalization-and-integration-deeper-learning-elementary-students.
In a post on High School Soup, Alliance intern Kelly Teshima-McCormick shares her experience of deeper learning during her senior year of high school in California. Teshima-McCormick dives into the specifics of the WISE Program, which allowed her to design a project exploring one of her interests. However, she notes, this type of experience is not available to all students. "Access to opportunities for deeper learning vary widely, often by race and socioeconomic status, even though research shows that deeper learning benefits traditionally underserved students." Read her full post: https://all4ed.org/wanted-deeper-learning-practices-for-all/.
Looking ahead to 2016, be sure to check out Deeper Learning 2016, an annual gathering of educators focused on developing more opportunities for deeper learning for all students. The event will take place in March 2016 in California. Find more info at http://www.deeper-learning.org/dl2016/.
Also, be sure to head over to Education Week's Learning Deeply blog and take a look at some of the recent pieces, including a piece by a high school senior who asks What Will Be Our Legacy, an article on Why Public Education Needs an Innovation Mindset by Jennifer Poon at Council of Chief State Officers, and posts on college access for all and college-bound culture as part of The College March.