Deeper Learning Digest: Diving Deep for Reading Comprehension

November 14, 2019 01:54 pm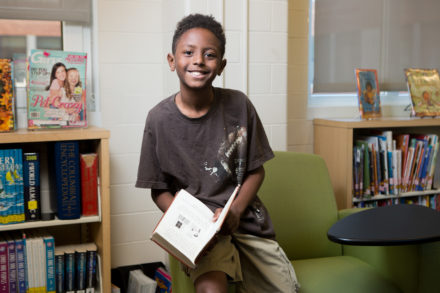 Reading scores on the Nation's Report Card may be low, but one education journalist says rich content could be the key to improving reading comprehension.
Today's digest highlights the need for content-rich curriculum to advance reading skills, the benefits of authentic problem-solving opportunities for kids, how to design a profile of a high school graduate, and the use of makerspaces to personalize learning.
How Rich Content Drives Reading Comprehension
Recent scores from the National Assessment of Educational Progress (NAEP) show that only one-third of fourth-grade students are proficient in reading. The scores also show double-digit gaps between Black and Latino students and their White peers. That's why the Alliance for Excellent Education (All4Ed) joined eleven other major education groups to call on policymakers and schools to prioritize evidence-based reading instruction and content-rich curriculum.
"In an economy where strong reading and writing skills are paramount and higher levels of education are required than ever before, we must provide focused and research-based instruction to ensure all students gain essential literacy skills," said Deb Delisle, president and CEO of All4Ed.
To understand these low NAEP scores and the persisting achievement gap in literacy, Katrina Schwartz of KQED MindShift turned to Natalie Wexler, education journalist and author of The Knowledge Gap: The Hidden Cause of America's Broken Education System–and How to Fix It. In her book, Wexler explores the cognitive science of reading and why knowledge and vocabulary are so important for reading comprehension.
"If kids don't have the vocab and knowledge to read the passage in the first place, they're not going to be able to find the main idea," said Wexler in MindShift. This gap highlights the need for content-rich curriculum. "If schools are not providing [content-rich curriculum] in a systematic way, [students] can get to high school with huge, really crippling gaps in their knowledge," Wexler said.
Podcast: Solving Authentic Problems Leads to Deeper Learning
On the latest episode of Getting Smart's podcast, Loudoun County Public Schools Superintendent Dr. Eric Williams shares how the district empowers students to contribute to the world by solving authentic problems. "Having students focus on authentic problems can be a game changer," said Williams. "Ownership leads to persistence. Learning will be deeper."
He shares an example from a Loudoun high school where students tested alternative de-icing materials for the local roads to reduce the chemical impact on the environment. "When learners see themselves as an entrepreneur now, when there is a real audience for work, they see a future for themselves," said Williams.
Four Steps to Design a Profile of a High School Graduate
How are high schools defining what success looks like for their graduates? Eric Hudson, director of learning and design for the Global Online Academy (GOA), suggests using graduate profiles as "a way to focus your community on a core set of learning goals, goals that support the development of skills and habits of mind that matter in school and beyond."
For the GOA, there are six core competencies that successful learners have. These focus on communication with people who have different perspectives, taking responsibility for their learning, leveraging digital tools, and more. Hudson encourages schools to adopt a similar vision for learning to "(re)define success" at your school. He shares four essential steps for creating and using a graduate profile.
How New Makerspaces Are Personalizing Learning
After the successful implementation of a one-to-one initiative in Deer Lakes School District in northern Allegheny County, Pennsylvania, students had access to technology anytime and anywhere during the school day and no longer needed computer labs. That's when school leaders started redesigning the old computer labs and other unused or underutilized spaces into makerspaces to promote project-based learning experiences for students.
For instance, the district converted the library at Deer Lakes Middle School into an innovation center that now offers all the benefits of a traditional school library along with multi-use open spaces and moveable furniture to foster student collaboration, white board walls for group brainstorming, and a makerspace for projects.
Deeper Learning in Action
Twitter can be a great place to see what's happening to promote deeper learning outcomes in (and out!) of classrooms across the country. Here are a few examples. Be sure to follow @DeeperLearning and check out #DeeperLearning for more!
Happening today in Alexandria! @AASAHQ and @UWCEL Principal Supervisor Academy Institute convenes its 2 meeting to discuss how to build the capacity of principals as instructional leaders. #PrincipalsPipeline #GrowingthePipeline pic.twitter.com/446YX2HLzP

— AASA (@AASAHQ) November 14, 2019
some say they don't have time…but I say we can't afford NOT to be doing #STEM and #STEAM These #deeperlearning activities allow ALL Ss an opportunity to be PARTICIPANTS and not just observers/bystanders #dumbartonES #hlp #lifeready #criticalthinkers pic.twitter.com/rF6DttbgIm

— Elem_InnovaSHAN (@Elem_InnovaSHAN) November 13, 2019
WOOHOO! @ShareYourLearn has reached 2 MILLION students publicly sharing their learning! Thank you for your commitment to sharing authentic #studentvoice! Help us reach our goal of 5 MILLION students by JUNE 2020!
Spread the word + sign up today: https://t.co/fcQh3k99XH pic.twitter.com/0VVqkWavKt

— HTH GSE (@hthgse) November 13, 2019
Ss interviewing immigrants/first generation citizens today to gain better understanding of what it means to be a migrant and the experiences it involves. Excited to read their reflections of this experience and what products they'll create from it. #pbl #deeperlearning pic.twitter.com/ez1LNNZesl

— Nick Baltzell (@MrBaltzell) November 13, 2019
The 'Deeper Learning Digest' is a bi-weekly roundup of articles, blog posts, and other content around deeper learning. Be sure to follow @deeperlearning on Twitter, @deeper.learning on Instagram, and like Deeper Learning on Facebook to stay up to date on all deeper learning news.
Featured photo by Allison Shelley/The Verbatim Agency for American Education: Images of Teachers and Students in Action