Deeper Learning Digest: Destination Deeper Learning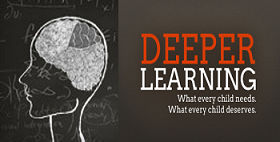 In this week's digest, take a tour of deeper learning then and now, check out next generation learning in Colorado, see how competency-based learning will transform an Illinois school, and find out how states can use the Every Student Succeeds Act to enable deeper learning for all students.
District Administration takes a tour of deeper learning, diving in to the background of the deeper learning movement and taking stock of how it has grown. Although the movement has grown, the need still remains, since many low-income students are still not getting the deeper learning experiences they need to prepare them for success in careers and postsecondary education.
The article checks in on what's happening at different schools across the country that are doing deeper learning, including King Middle School in Maine and Central Coast New Tech High School in California, as well as the School Retool program that works to increase project-based learning through small "hacks."
Read the full piece: https://www.districtadministration.com/article/school-district-destination-deeper-learning.
Next Generation Learning in Colorado
A visit to Colorado schools enabled a contingent of education professionals to see "next generation learning" in action. Visitors saw students at several elementary schools and a middle school taking charge of their own learning and engaging in critical thinking in a personalized learning setting. Colorado was one of six Next Generation Learning Challenges grantees in the country, and received funds to support the implementation of next generation learning.
"The compelling thing about the story in Colorado is how far the schools have come – they are traditional public schools that are doing redesign work, changing the old paradigm to innovative practices, within the confines of the current system," said Paul Beck, manager of Next Generation Learning at CEI in the Pagosa Daily Post.  "Equity is at the heart of the work – students are receiving what they need when they need it, and students are in charge of directing their learning."
Competency-Based Pilot Program in Illinois
Huntley School District in Illinois is among ten districts in the state participating in the Illinois' Competency-Based High School Graduation Requirements Pilot Program, reports the Northwest Herald. Huntley High School, which already uses a blended learning program, will now implement a competency-based program, where students are measured on their academic mastery of skills rather than seat time.
"The goal of the program is to let students work at a personalized pace, Rowe said. Teachers will aim to guide students' progress and offer seminar-like instruction, and students can demonstrate mastery of learning standards across subject areas rather than completing courses."
Learn more: http://www.nwherald.com/2017/04/12/huntley-school-district-158-among-10-in-state-selected-for-competency-based-pilot-program/ae8q80r/
States Can Use ESSA to Enable Deeper Learning
How can states take advantage of the Every Student Succeeds Act (ESSA) to create a policy culture of improvement and provide more opportunities for deeper learning outcomes for all students? Adriana Martinez, interim director of operations for the Innovation Lab Network (ILN) at the Council of Chief State School Officer's (CCSSO), shares her thoughts in Education Week's Learning Deeply blog.
"ESSA provides different opportunities to create an environment that is more closely aligned to deeper learning–from including indicators of school quality and/or student success in accountability metrics to piloting innovative assessment models," Martinez writes. "One of the key paradigm shifts focuses on bringing together accountability systems with school improvement efforts, many of which are modeled by the schools and educators who attend the deeper learning conference."
Martinez shares examples of indicators states are considering in their ESSA accountability plans that may help states to "create policy environments in which the deeper learning salmons don't feel like they have to constantly swim against the current." Check it out: http://blogs.edweek.org/edweek/learning_deeply/2017/04/with_essa_states_lead_for_deeper_learning.html.
Deeper Learning in Action
Twitter can be a great place to see what's actually happening to promote deeper learning outcomes in (and out!) of classrooms across the country. Here are a few examples. Be sure to follow @DeeperLearning and check out #DeeperLearning for more!
What drives change? Student & parents collaborating with educators on their school's vision and mission. #deeperlearning #cougarpride pic.twitter.com/1pCvvVVnnb

— Oakton High School (@OaktonHS) April 17, 2017
86% of parents and students both want real-world, hands-on opportunities as part of their high school experience https://t.co/lcHQSEfM9o

— Deeper Learning (@deeperlearning) April 20, 2017
Fabulous student-led showcase of @hthgse and @hightechhigh for @wascsenior#2017ARC#deeperlearningpic.twitter.com/yHVQbL9BUf

— Melanie Booth (@boothmelanie) April 21, 2017
The 'Deeper Learning Digest' is a bi-weekly roundup of articles, blog posts, and other content around deeper learning. Be sure to follow @deeperlearning on Twitter and like Deeper Learning on Facebook to stay up to date on all deeper learning news.