Deeper Learning Digest: Deeper Learning and the Every Student Succeeds Act (#ESSA)

January 15, 2016 04:10 pm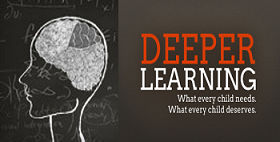 The Every Student Succeeds Act (ESSA), the new education law that replaced No Child Left Behind (NCLB), provides opportunities for deeper learning. A new section on the deeperlearning4all.org website outlines these key deeper learning wins, including that:
ESSA specifically outlines that students can be assessed using portfolios, projects, and performance tasks. This means that states will have the resources and flexibility to develop high-quality assessments, as well as competency-based assessments, that support student-centered approaches.
Multiple measures are required and states have the flexibility to incorporate indicators of deeper learning into their accountability systems.
States and districts can use funds to help teachers learn how to implement high-quality project-based learning, integrate career and technical education and rigorous academics, and use other methods to make learning more personalized and engaging.
The website features fact sheets and five minute video segments on areas within the new law, including accountability, assessments, high schools, and teaching and learning. Check it out: http://deeperlearning4all.org/policy-brief/new-opportunities-for-deeper-learning-in-the-every-student-succeeds-act-essa.
In Accountability for What Matters, the Alliance's Robert Rothman discusses how, under ESSA, states will be using a range of indicators of school performance for their accountability systems. The article appears in NASBE's latest issue of State Education Standard. These "data dashboards" function like a car's dashboard, Rothman explains, displaying multiple measures at once, and "just as a driver will fill up his tank before the gas gauge turns to 'E' to keep the car operating effectively, a school using a data dashboard can work on improving, say, school climate before it affects how well students learn." Read the full piece to learn more about these dashboards and how they work for states.
In an interview with Education Dive, Ted Fujimoto, founder and president of the Landmark Consulting Group, which is dedicated to scaling innovations in learning, discussed ESSA as it relates to deeper learning. Fujimoto, who has worked with Big Picture Learning, a network of deeper learning schools, said: "I'm for any policies that make it easier for schools and classrooms to implement personalized, deeper learning pedagogy such as project-based learning," he continued: "What I like is the recognition of the need for the creation of personalized learning environments that can support things like project-based learning, workplace learning, and internships, as well as innovative assessments that are more competency-based versus seat time."
And finally a quick, non-ESSA related shout-out:
Envision Learning Partners announced the first Deeper Learning Leadership Forum (DLLF) cohort members. The DLLF "seeks to address the questions and issues of educational inequity, by bringing together education leaders and providing them with learning and networking opportunities to help them lead reform efforts in their local systems and around the country." Learn more about each member at: http://www.envisionlearning.org/dllf-cohort-members/.  Congratulations to all members!