Deeper Learning Digest: Changing Pedagogy, Beliefs to Expand Deeper Learning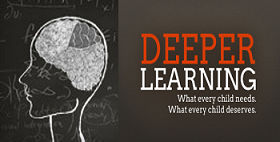 Joey Hunziker, senior associate at the Innovation Lab Network at the Council of Chief State School Officers (CCSSO), writes about states' opportunity and "responsibility" under the Every Student Succeeds Act (ESSA) to ensure that communities and stakeholders are involved in decisions that support personalized learning approaches and effective practices on the ground. Hunziker stresses the need for a clear pathway between schools and districts, and stakeholders and states, to communicate and share what's working in schools. "Letting experiences in the classroom inform the way state education agencies support schools and districts" would help support innovation in teaching and learning at a local level, Hunziker writes. He shares the example of Colorado, where the state education agency has been learning about the competency-based, deeper learning practices in local schools. Read more: http://blogs.edweek.org/edweek/learning_deeply/2016/07/how_better_engagement_can_support_innovation_and_deeper_learning.html.
The Math Isn't New, but the Pedagogy Is writes David Flowers in the West Fargo Pioneer. He breaks down the current hot topic of "new math," which requires students to solve, discuss, and provide multiple solutions and different entry points to problem solving, often frustrating parents who are unfamiliar with this method of instruction. The "new" way of teaching math seeks to make these concepts "stick" in students' minds, with increased application to real world scenarios that "produces deeper learning and more lasting mathematical understanding that can be built upon and transferred to new learning." Flowers writes that this style of pedagogy, which is a deeper method than many parents were taught, allows students to "learn some of the traditional algorithms that now make sense to them, rather than just being a detached, mechanical exercise."
In EdSource, Jennifer Peck, executive director of Partnership for Children & Youth and David Plank, executive director of Policy Analysis for California Education, write about California's Common Core standards and how they aim to teach students in more dynamic ways, resulting in deeper learning outcomes. In addition to a focus on "the four C's:" communication, collaboration, creativity, and critical thinking, they explain that the standards pave the way for a focus on social-emotional learning. This area of work is essential for student success. "Without skills like the ability to manage stress, to empathize with people from diverse backgrounds and perspectives, and to engage successfully in the small-group work required for deeper learning, students cannot be successful," they write. Check out the full article for how they believe summer and after-school programs can promote this social and emotional learning.
In Georgia, a grant will allow the state to develop social-emotional learning standards, reports the Coosa Valley News. The state will participate along with seven other states in the Collaborating States Initiative funded by the Collaborative for Academic, Social, and Emotional Learning (CASEL), and seeks to focus on this area to help improve school climate in the state. State School Superintendent Richard Woods explains that "Focusing on social and emotional learning is absolutely essential as we work to ensure safe, healthy, and positive learning environments for Georgia's students…Developing K-12 social-emotional standards will ensure a smoother transition for early learners and complement Georgia's existing school climate efforts." Learn more: http://coosavalleynews.com/2016/07/georgia-receives-grant-to-develop-social-emotional-learning-standards/.
Donique Reid, policy and research associate at the Alliance for Excellent Education, breaks down how beliefs can impede students' exposure to deeper learning opportunities. This topic was a main theme at a recent summit hosted by Jobs for the Future (JFF). Participants at the summit explored how pre-existing beliefs about what traditionally underserved students can achieve can hamper their educational experience, and how educators and leaders must believe that all students can be college and career ready to have programs, such as early college high schools, succeed. In her post, Reid shares strategies learned at the summit to provide deeper learning opportunities in schools that have not typically challenged underserved students. Read the full post: http://deeperlearning4all.org/deeper-learning/doing-the-impossible-shifting-beliefs-to-enable-deeper-learning-for-all-students.