Deeper Learning Digest: Celebrating Deeper Learning Milestones

November 10, 2017 12:01 pm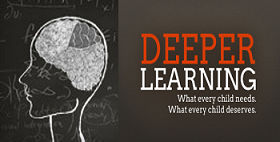 This week's digest features a dive into what deeper learning looks like, a big anniversary and milestone for EL Education schools, information on the future of work, and how schools can learn from each other when implementing competency-based education.
WATCH: What is Deeper Learning?
Students in deeper learning classrooms graduate from high school as confident, life-long learners, equipped with the knowledge, skills, and mindset they need to succeed and lead productive, fulfilling lives. But what, exactly, does deeper learning look like?
Dive into deeper learning in this short video.
Have You Heard? One Million Students Have Undertaken Learning Expeditions
As EL Education, formerly known was Expeditionary Learning, hits the 25-year mark, the network celebrates reaching one million students with their inquiry-based model focused on discovery and creativity. As The 74 reports, the network's teachers and leaders in more than 160 EL schools in 30 states emphasize the whole child and embrace a project-based learning approach that takes students on year-long expeditions in a particular subject area.
In this approach, students are engaged, they explore areas they are interested in, and easily see the connections between their academics and the real world.
Read more about EL schools in The 74.
Skills to Succeed in Future of Work
As the future of the labor market indicates more healthcare and clean energy jobs, and less manufacturing positions, educators are readjusting curriculum to prepare students, says an article in the Hechinger Report. What skills are educators looking to equip their students with? You guessed it. A "combination of soft skills," or as we call them, deeper learning competencies, including "the ability to solve problems, communicate effectively and work with others," along with technical capabilities.
In the article, Anthony P. Carnevale, research professor and director of the Georgetown University Center on Education and the Workforce, says, "It's a different world…the demand for skills has increased and the effect of technology during the recession was to kill off the high school jobs. The trend line is a shift toward postsecondary education or training."
Read more in the Hechinger Report.
Scaling Competency-Based Education
How can schools learn from each other to implement competency-based education (CBE)? With so many schools trying to implement this learning approach, there's no sense to try and reinvent the wheel. That's where a new report from CompetencyWorks comes in, explains THE Journal. The report outlines a course for scaling and sustaining a competency-based approach to instruction and focuses on four main areas within a CBE approach: equity, quality, meeting students where they are, and policy.
Deeper Learning in Action
 Twitter can be a great place to see what's actually happening to promote deeper learning outcomes in (and out!) of classrooms across the country. Here are a few examples. Be sure to follow @DeeperLearning and check out #DeeperLearning for more!
Equity conversations in Edtech bring out passion in our Ts! Circles are a great set up for these kinds of PDs! #ilearnnyc @deeperlearning pic.twitter.com/XvDETlMdTQ

— iZone NYC (@InnovateNYCedu) November 7, 2017
Creating text features. Students=Teachers. If you teach it, your understanding is so much greater! @GHPrincipal @greathouseAP @GreathouseElem @AssistSupArea4 #deeperlearning #ghlionpride pic.twitter.com/nVwh0seYWz

— Sarah Vidourek (@SarahLu0311) November 10, 2017
5th graders are playing their compositions on instruments. They did an awesome job! #proudteachermoment @BloomBulldogs #DeeperLearning ❤️ pic.twitter.com/SNaGS3HSUQ — K. Michelle Lewis (@jcpsbloommusic) November 10, 2017
Transformative learning experiences are…@GOAlearning@MastTranscript@ejhudson#powerful#deeperlearning#realworldlearningpic.twitter.com/kmDAzl7jd4 — Bonnie Lathram (@belathram) November 10, 2017
The 'Deeper Learning Digest' is a bi-weekly roundup of articles, blog posts, and other content around deeper learning. Be sure to follow @deeperlearning on Twitter and like Deeper Learning on Facebook to stay up to date on all deeper learning news.