Deeper Learning Digest: Building Students' Success Skills

February 15, 2019 10:57 am
What happens when you change the learning experience to focus on solving extended challenges? You may just prepare students for the complex workplace that awaits them.
Today's digest highlights how educators can focus on problem solving, deepen classroom discussion, and hone their project-based learning skills.
Solving Complex Problems
Preparing students for future success includes readiness for careers and citizenship. This means developing deeper learning skills like critical thinking, collaboration, communication, etc. It means going beyond "basic literacies" and focusing on these "success skills," explains Tom Vander Ark in Forbes.
"Agency and collaboration are the opposite dispositions of routine and compliance," writes Vander Ark. "If we take these 21st-century priorities seriously, they require a different learner experience." There are many different frameworks out there for instruction that shifts the learner experience by focusing on growth mindset and taking ownership over one's learning. One model is project-based learning.
"Traditional teaching asks students to learn because the teacher said to. Project-based learning brings students into contact with new concepts and skills through a problem, context or scenario that makes those new ideas worth knowing," writes Vander Ark. By introducing extended projects, students can grapple with tough problems and complex challenges facing their communities.
Deepening Class Discussions
Different types of texts, from articles and textbooks to diagrams and even film, make up the bulk of how students experience learning, writes Jennifer Gonzalez for Cult of Pedagogy. But often students don't experience texts with engagement and depth, regardless of how interesting the content can be.
One teacher sought a different approach to teaching texts that puts the student in control. Giving power to students to lead discussions and formulate questions resulted in a much deeper experience. Listen to high school English teacher Marisa Thompson explain her method and share her success story.
Earn Your Project-Based Learning Certificate
Are you looking to up your project-based learning game to better support and engage your students? Penn Graduate School of Education is offering a Project-Based Learning Certificate program designed for current educators who are creating rich, meaningful, and rigorous learning experiences for their students. Join this week-long summer institute to hone your skills alongside some of the most skilled and experienced student-centered learning practitioners from across the country.
Big News Coming from Deeper Learning Equity Fellows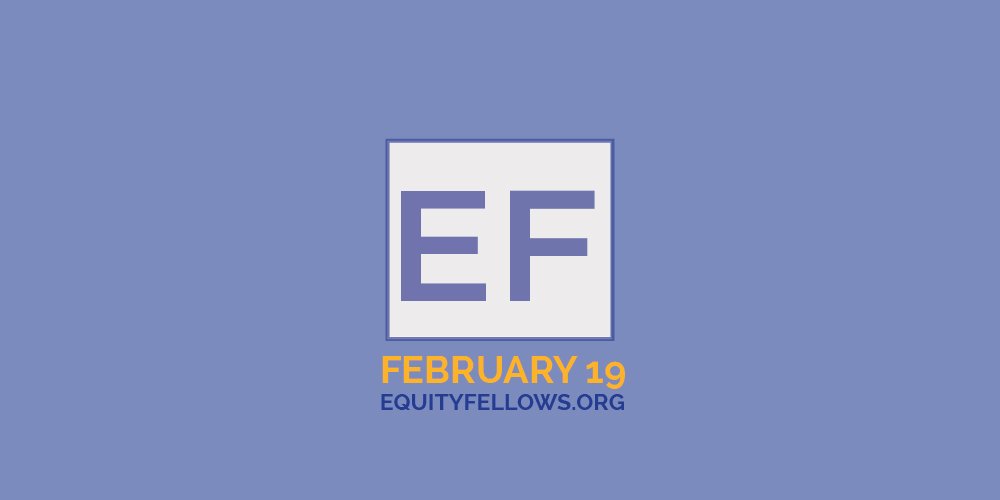 There's big news on the way from the Deeper Learning Equity Fellows. Be sure to mark your calendar for Tuesday, February 19 and visit equityfellows.org to find out!
Deeper Learning in Action
Twitter can be a great place to see what's happening to promote deeper learning outcomes in (and out!) of classrooms across the country. Here are a few examples. Be sure to follow @DeeperLearning and check out #DeeperLearning for more!
When learning feels like playing @WheelerElem @JCPSScience #ScienceIsFun #Magnets #OppositesAttract #InquiryBasedLearning #WritingAboutScience #TalkingAboutScience #DiscoveryLearning @JCPSDL @deeperlearning @CoachMeredith @jcpsforward pic.twitter.com/Wa7R7qPhAY

— The Barker-Finck Crew (@BarkerFinckCrew) February 11, 2019
Round 2 of training student presenters on how to present to adults. Getting ready for more student led PD at our next faculty meeting on #PBL experiences! @RBMS_Official #lcps19 #deeperlearning pic.twitter.com/Y99rMFUhAe

— Juliet Kenny (@juliet_kenny) February 13, 2019
Graphic novels are easy to overlook if you've been teaching novels/short stories. Consider having your students preview the text by having them analyze the visuals. GN are great for critical thinking because kids have to read both text and visuals! #EDU #DeeperLearning pic.twitter.com/7t6E6RnE9H

— Mrs. Robinson Is Reading (@mrsrisreading) February 8, 2019
@ShareYourLearn Interactive Wax Museum exhibition at Holman Middle. #LifeReady#DeeperLearningpic.twitter.com/E2ImOytJm9

— Andrew Neiburg (@ANeiburg) February 14, 2019
The 'Deeper Learning Digest' is a bi-weekly roundup of articles, blog posts, and other content around deeper learning. Be sure to follow @deeperlearning on Twitter, @deeper.learning on Instagram, and like Deeper Learning on Facebook to stay up to date on all deeper learning news.
Featured Photo By Allison Shelley/The Verbatim Agency for American Education: Images of Teachers and Students in Action.