Deeper Learning Digest: Building Foundations for Student Success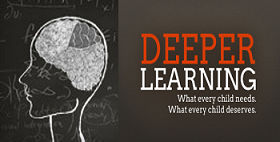 This week's digest features social and emotional learning as a foundation, going beyond basic reasoning skills to prepare students for future jobs, project-based learning questions and answers, and the story of how one school keeps deeper learning afloat.
Social and Emotional Skills as a Foundation
"School was where I built my identity and discovered my true self." Chris Harried, an incoming graduate student at Johns Hopkins University's School of Education and a commissioner for the Aspen Institute National Commission on Social, Emotional, and Academic Development, shares his story in Education Week's Learning Deeply blog.
"I have no doubt that if it weren't for the investment of my teachers and mentors, I would not have continued my studies and become a first-generation college graduate. As a nation, we need to ensure that more students get support to learn, flourish, and grow as young people."
So how do we get there? Harried suggests that social and emotional learning builds the solid foundation needed for students to learn deeply, fulfill their potential and achieve academic success.
Basic Reasoning Skills are Not Enough
Basic recall and reasoning skills will not be enough to help students thrive in a future job market, writes Stacy Teicher Khadaroo in Christian Science Monitor. Students also need critical thinking, collaboration, communication, and problem-solving skills, Khadaroo explains. But although schools are undergoing a shift to provide students with these skills, it's not happening fast enough. "Education researchers and business leaders say deeper learning is still relatively rare in schools," Khadaroo writes, "They'd like to see the pace accelerate."
Deeper Learning as a "Long-Term Trend"
Deeper learning approaches have "endured" over the years, and will continue to be on the rise, according to a sneak peak of the 2017 Horizon Report, revealed at  ISTE's 2017 Conference & Expo in San Antonio, Texas. EdTech Magazine shares some of the report's findings, which predicts top trends moving the classroom forward and accelerating tech adoption. Deeper learning was included among the list of long-term trends, which are predicted for adoption in five or more years. Even though deeper learning approaches have been around for years, it's still good to see they are sticking around.
How One High School Keeps Deeper Learning Afloat
Early on a Friday morning in May, Dale Fiess and his students took to the water. For the students, it literally was a sink or swim moment. The time had come to launch the solar-powered boat the students had built and see whether it could compete against the other teams entered in the California Solar Regatta.
How did the boat fare and how did its creation exemplify an approach to transforming high school education that combines rigorous academics, career-based learning in the classroom, work-based learning, and integrated student support services?
Read the full post.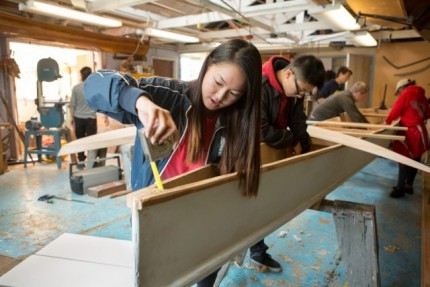 Project-Based Learning Questions?
Do you have questions about project-based learning? Getting Smart has put together a handy project-based learning Q&A based on questions asked at a recent conference. The questions and answers focus on areas including starting PBL in a school with a very traditional environment, how to help students build teams, suggestions for protocols that support effective project work time, and more.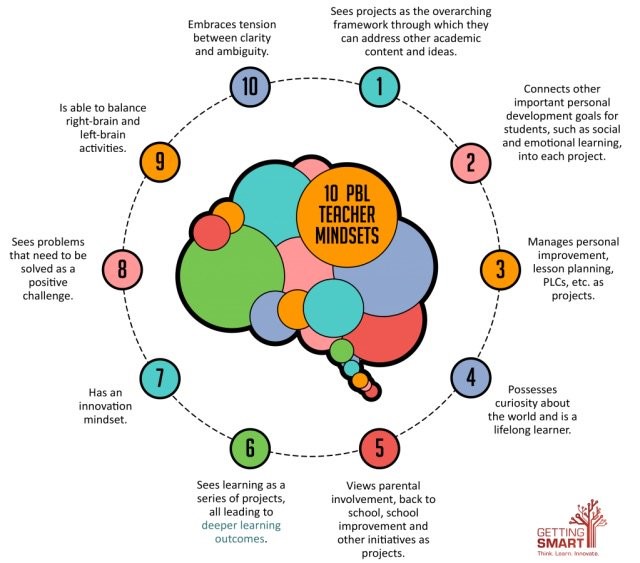 Check out the full list.
ICYMI: Deeper Learning Photos
In case you missed it: check out the new deeper learning photo gallery of nearly 300 original print-quality, royalty-free images of teachers and K–12 students of all ages and backgrounds. The images are openly licensed stock photos, meaning they can be used by educators, journalists, non-profit organizations, and others.
See the gallery at deeperlearning4all.org/images.
Deeper Learning in Action
Twitter can be a great place to see what's actually happening to promote deeper learning outcomes in (and out!) of classrooms across the country. Here are a few examples. Be sure to follow @DeeperLearning and check out #DeeperLearning for more!
"It's a Zoo" @ACELeadershipHS students exhibitions. Creatively designing zoo to support their animal habitats & community. #DeeperLearning pic.twitter.com/lyQY7B6DFZ

— NM Center (@NM_Center) June 27, 2017
Psst…we may or may not have started loading the new #equityfellows Cohort onto our website. https://t.co/Xo8CejoSW9 cc: @AbbyBenedetto

— Equity Fellows (@EquityFellows) July 6, 2017
Implementation plan for #DeeperLearning@kdbostainpic.twitter.com/0XEe32TwKY

— Doug Saunders (@dasaunders199) June 27, 2017
The 'Deeper Learning Digest' is a bi-weekly roundup of articles, blog posts, and other content around deeper learning. Be sure to follow @deeperlearning on Twitter and like Deeper Learning on Facebook to stay up to date on all deeper learning news.