Deeper Learning Digest: Broader visions of accountability can support higher and deeper levels of learning for students

October 24, 2014 11:45 am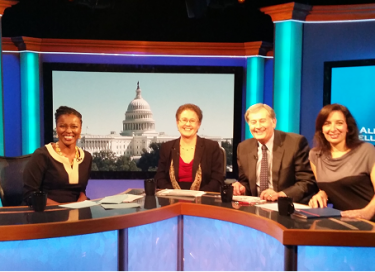 The 'Deeper Learning Digest' is a bi-weekly roundup of articles, blog posts, and other content around deeper learning. Make sure to add High School Soup to your RSS feed to stay up-to-date on all deeper learning news. Please be sure to follow @deeperlearning on Twitter for more on deeper learning.
---
Highly effective educators know what deeper learning is; it is rich core content, delivered in engaging ways that allow students to learn and apply their learning and enable them to graduate from high school ready for college, a career, and life. On October 16, the Alliance hosted a webinar in conjunction with a new report issued by the Stanford Center for Opportunity Policy in Education (SCOPE) and the Center for Innovation in Education at the University of Kentucky that focused a broader vision of accountability to support higher and deeper levels of learning for all students. Check out the archived webinar, "Rethinking Accountability to Support College and Career Readiness," to hear from experts in education on rethinking accountability in schools.
CompetencyWorks, a collaborative project that pulls together multiple organizations to advance competency education as a replacement for "seat-time" schooling, published a new report that points to many of the learning practices around the world that the organization feel improve education. Many of these reflect the very trends we now see in the United States towards personalized education, including curriculum redesign and the integration of performance-based learning assessments. Read the report, An International Study in Competency Education: Postcards from Abroad, to find out which countries are setting the bar for competency education.
When it comes to classrooms today, students want more than the lectures and quiet classrooms of the past. They want technology to use as learning tools, they want to collaborate, and they want to work on projects that are relevant to their learning and the real world. Through project-based learning (PBL), students achieve a deeper understanding of lessons as they investigate and attempt to solve real-world problems. eSchoolNews
Over the course of two weeks in May, students, advisors, and community members came together across six Detroit area high schools to experience what many have described as a "transformative" event for the community. More than 700 high school seniors from the city's lowest-income neighborhoods stood confident, ready to demonstrate deeper learning skills, and ultimately to defend their readiness for college and career. Learning Deeply
In the diverse and ever-changing world of educational technology, the term "personalized learning" seems to be everywhere, though there is not yet a shared understanding of what it means. A number of education and technology organizations are seeking to forge a clearer understanding of what this concept really means. Education Week
With deeper learning comes the need for a strong and trusting relationship between students and the educators around them. Those at High Tech High school in San Diego, CA are attempting to build that relationship. "Home visits give me a window onto their world, so when I talk to them about how things are going, we can have a real conversation that balances the reality of their home and their experience as a student," writes Dean of High Tech High Media Arts Melissa Agudelo. At Agudelo's school, advisers pay students and their families' home visits, gaining insight to the students' life outside of the classroom that can help with how they learn in the classroom.
High Tech High, along with Manzanita SEED in Oakland, CA, is creating project-based experiences that equip English learning students with deeper learning skills. Teachers follow six design principals – Authenticity, Academic Rigor, Applied Learning, Active Exploration, Adult Relationships, and Assessment – that culminate to form a unique learning experience for students.
At High Tech High, where project exhibitions are part of the annual calendar, students feel a weight of expectation not only from their soon-to-arrive audience, but also from the exhibitions put on by their predecessors. But that's no reason not to include them in the curriculum. Exhibitions are stressful because they matter. Learning Deeply