Deeper Learning Digest: Bringing Deeper Learning Experiences to All Students

November 13, 2015 01:59 pm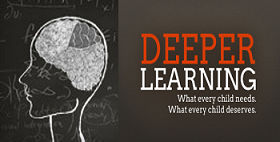 The 'Deeper Learning Digest' is a bi-weekly roundup of articles, blog posts, and other content around deeper learning. For more frequent updates, follow @deeperlearning on Twitter.
In the Washington Post, executive producer of the film Most Likely to Succeed Ted Dintersmith discusses the more than 500 "Deeper Learning" schools in the United States, which he notes are mostly found within the nation's poorest communities. He notes that these schools do not all take the same approach, but do all deliver exceptional learning based on a few shared principles, including self-directed learning, a sense of purpose and authenticity in student experiences, a focus on essential skills (collaboration, communication, creativity, critical analysis), and lots of project-based challenges and learning, among many others.
The Alliance hosted a screening of selections and unseen footage from Most Likely to Succeed on Monday. The event also included a panel discussion on how schools can provide all students with a twenty-first-century education to prepare them for success. View the Most Likely to Succeed clips and other video from the event at: https://all4ed.org/webinar-event/nov-9-2015/.
Meanwhile, on Education Week's Learning Deeply blog…
Jobs for the Future hosted an event convening researchers, practitioners, policymakers, and others from the education world to discuss what new opportunities and challenges are likely to be in store for the deeper learning movement as the balance of power shifts from Capitol Hill to states and school districts. Attendees were asked what new policy strategies should be recommended to state and district leaders, especially in the areas of curriculum and instruction, teacher development, equity, accountability and assessments. In advance of a Jobs for the Future report on the major themes discussed, the blog post shares perspectives from a few participants on priorities in secondary school improvement. Read more: Voices on Policy to Promote College and Career Readiness.
Rafael Heller, principal policy analyst for Jobs for the Future and former Alliance for Excellent Education staff member, also shared two new resources for deeper learning and equity coming out of their Deeper Learning Research Series. The first paper, Equal Opportunity for Deeper Learning, explores how to ensure that all children benefit from research into social-emotional learning, inquiry-based pedagogy, performance assessment, and more. The second, The Implications of Deeper Learning for Adolescent Immigrants and English Language Learners, touches on how the deeper learning movement can highlight the distinct strengths and assets that English Language Learners bring to the educational experience, including bilingualism, cross-cultural understanding, resilience, and optimism.
On the Getting Smart blog, Bonnie Lathram explores 23 Questions that Cultivate Deeper Learning Mindsets. These questions, meant to be asked of educators in professional learning environments, can help educators create deeper learning opportunities for their students. "Professional learning opportunities that include time to wrestle with big questions and to reflect on our own learning will help educators model what deeper learning advocates call academic mindsets, loosely defined as the skills, dispositions and mindsets positively associated with academic success, and help cultivate deeper learning experiences they seek to create with students," Lathram writes. Some of the questions include:
Are students seeing adults that are intellectually engaging with – and wrestling with – complex problems?
When reflecting on something that you have learned recently, what kind of impact has it had on you and by extension your students?
How can students connect the dots between what they are learning now and their own experiences? How are you helping them to see those connections?
Visit the Deeper Learning website deeperlearning4all.org  to learn more. Make sure to add High School Soup to your RSS feed and follow @deeperlearning on Twitter to stay up-to-date on all deeper learning news.