Deeper Learning Digest: Are Your Students "Life Ready?"

October 12, 2018 02:16 pm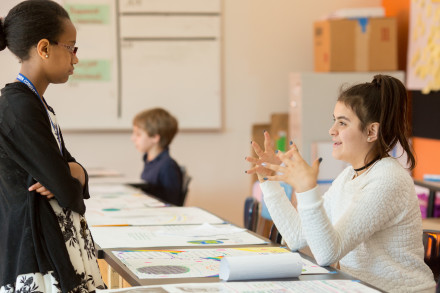 What skills do students need to be considered "life ready?" For Virginia high school graduates, they may sound familiar: "critical and creative thinkers, excellent communicators and collaborative and civic-minded citizens." So what steps can states take to give their students opportunities for deeper learning?
This digest features stories of deeper learning in Virginia, the importance of collaboration in personalized learning, some key lessons in competency-based education and an upcoming event in Tennessee.
What does deeper learning look like in Virginia? To find the answer, education leaders Atif Qarni, Virginia secretary of education in Virginia, Daniel A. Gecker, president of the Virginia State Board of Education, and James F. Lane, Virginia superintendent of public instruction, looked outside of the classroom to learn what skill students needed to be ready for success in life.
"Today's economy requires Virginia graduates who are critical and creative thinkers, excellent communicators and collaborative and civic-minded citizens," they write in an op-ed for the Washington Post. Developing work-based learning programs and ensuring students receive exposure to career paths during high school were just some of the steps in Virginia's education reform to provide more deeper learning opportunities for all Virginia students.
Collaboration Matters in Personalized Learning
When learning is personalized to individual students' needs, it can run the risk of emphasizing individual learning over collaboration with other students. "By equating personalize learning with individual learning, the field could be running the risk of adopting a one-size-fits-all approach to personalization that does not meet the needs of each individual learner for social support, exchange and feedback from peers," write Wendy Surr, senior researcher; Kristina Zeiser, senior researcher; and Kimberly Kendziora, managing researcher, American Institutes for Research (AIR), in Education Week's Learning Deeply blog.
Opportunities for collaboration with other students is an important part of student learning, according to a new study by AIR.  "The study found that opportunities for high-quality collaboration were strongly and positively related to students' perceptions of the classroom environment, particularly personalization." In other words, students felt that their own learning needs were met when they had the chance to learn with others.
Four Important Lessons for Competency-Based Learning
How can school-wide practices support competency-based learning? For schools to shift to a competency-based education, changes must be made in teaching and learning systems to make the learning experience more student-centered. This means placing a stronger emphasis on relationships between the student and their teacher, developing a shared understanding of what student success looks like, making room for flexibility around curriculum choices, and incorporating feedback from partners into the process.
Upcoming Event! iNACOL Heads to Tennessee
iNACOL will bring its annual conference of experts, practitioners, educators, policymakers, and researchers to Nashville Tennessee on October 21-24. The theme is "Driving the Transformation of Learning," and will feature sessions on personalized, competency-based learning and opportunities for attendees to network, engage with experts and learn about analysis and trends in K12 education.
Deeper Learning in Action
Twitter can be a great place to see what's happening to promote deeper learning outcomes in (and out!) of classrooms across the country. Here are a few examples. Be sure to follow @DeeperLearning and check out #DeeperLearning for more!
Something is happening and there is a definite shift … we are seeing more and more #hqpbl student experiences in schools across the country. #pbl and #deeperlearning on! Most recent examples seen at @dvschools and @SantaAnaUSD pic.twitter.com/DsRRh7wYdR

— High Quality PBL (@HQPBL) October 11, 2018
"What makes us want to be here if you don't want to be here?" Student led knowledge from @hightechhigh #deeperlearning @GlenbardDist87 @GBNPanthers pic.twitter.com/fYxlEMu5vp

— Brian "Vote Nov 6" Melton (@beezy_melt) October 9, 2018
Ts exploring #visuallearning & the #deeperlearning power of #sketchnotes. #ACTEM18 #edchatme pic.twitter.com/32SSrgcAlO — Matt Drewette-Card (@DrewetteCard) October 11, 2018
4th grade students collaborated with Mr. Stein on designing a website that contains content from their Native American Unit. #Deeperlearning#Collaboration. pic.twitter.com/iFt5VzwpAU — Greenwood Elementary (@Greenwood_Elem) October 10, 2018
The 'Deeper Learning Digest' is a bi-weekly roundup of articles, blog posts, and other content around deeper learning. Be sure to follow @deeperlearning on Twitter, @deeper.learning on Instagram, and like Deeper Learning on Facebook to stay up to date on all deeper learning news.
Photo By Allison Shelley/The Verbatim Agency for American Education: Images of Teachers and Students in Action.