Deeper Learning Digest: Applying Lessons from Afterschool Programs in the Classroom

September 19, 2019 01:31 pm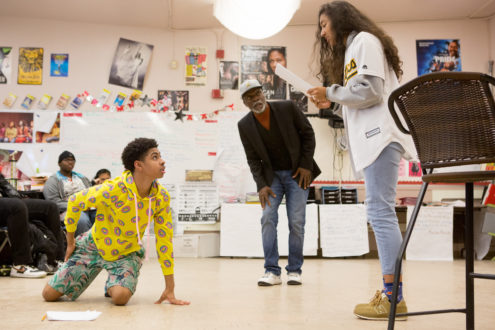 To improve student engagement during the school day, don't ignore what happens after the final bell rings.
Today's digest explores how to apply lessons from afterschool programs to build deeper learning opportunities during the school day, how to generate authentic engagement through questions, the importance of signature learning experiences in schools, and a webinar on lessons from brain science.
Playing the Whole Game for Deeper Learning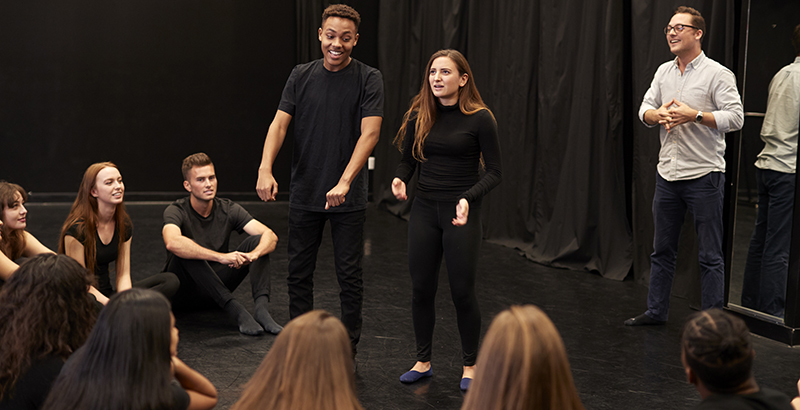 PDuring afterschool activities, kids often engage in something that Harvard Graduate School of Education professor emeritus David Perkins calls "playing the whole game." In team sports, drama club, debate teams, or even in marching bands, students engage in a type of project-based experience that they may not have access to during the school day unless they are in a project-based learning school.
What does "playing the whole game" look like? "Let students do something big and useful, from start to finish — perhaps a simplified version, but keep it intact. Give them extra help and lower stakes and they'll work harder, learn more and come up with creative applications and solutions that adults couldn't imagine," writes Greg Toppo in The 74.
If this is how we want students to engage in learning – in a real, meaningful, and authentic fashion – how can schools apply these components of after-school programs to their classroom activities?
Learn More: https://www.the74million.org/article/after-school-students-are-playing-the-whole-game-in-activities-from-drama-to-sports-to-debate-backers-of-project-based-learning-ask-why-cant-all-of-education-look-like-th/
Authentic Engagement Through Questions
"Allowing real curiosity—the kind that fuels philosophers, artists, scientists, historians, explorers, and innovators—is the most fundamental change we can make in our teaching practice," writes Shanna Peeples, the 2015 National Teacher of the Year, in Mindshift. "When we step back and allow students to step forward with their own inquiry, it throws a switch in their brains that changes everything."
Students' brains engage when asked a question, and if sculpted correctly, these questions can direct students towards the content they need to learn and create opportunities for deeper learning experiences. "These experiences then, in turn, develop their vocabulary; their speaking and listening skills; their writing skills; their reading; and, most importantly, their critical thinking," writes Peeples.
Read More https://www.kqed.org/mindshift/54378/how-to-create-deeper-student-learning-experiences-through-questions
Does Your School Have a Signature Learning Experience?

"Good schools have intentional—not inherited—features," writes Tom Vander Ark in Getting Smart. One such "intentional feature" is a signature learning experience. Vander Ark describes how schools can incorporate unique aspects of different learning models together in a signature learning experience that also meets a school's priority learning goals. For example, a senior project, a high-value internship, or an after-school program offering entrepreneurship experiences.
What schools are doing this well, and what are the building blocks to get this started?
Learn More https://www.gettingsmart.com/2019/09/why-schools-need-signature-learning-experiences/
WEBINAR TODAY: Transforming Schools with Lessons from Brain Science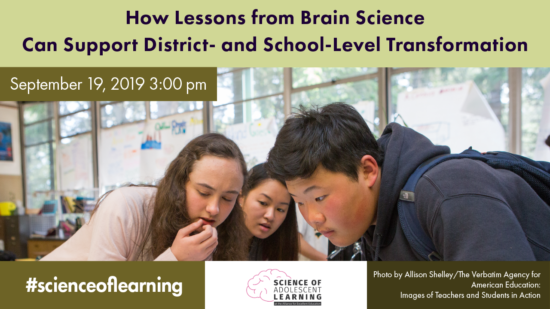 Don't miss this All4Ed webinar on how to drive student engagement using lessons from brain science. In the webinar, Dr. Mary Sieu, the superintendent of ABC Unified School District in California, will share some of the profound changes in student engagement as a result of district's efforts to align its strategic vision with research on how students learn and develop. She will also share ideas for how the science of adolescent learning can be used to support systems-level change in every school and district, no matter its size, location, or composition.
Register Now https://all4ed.org/webinar-event/how-lessons-from-brain-science-can-support-district-and-school-level-transformation/
Deeper Learning in Action
Twitter can be a great place to see what's happening to promote deeper learning outcomes in (and out!) of classrooms across the country. Here are a few examples. Be sure to follow @DeeperLearning and check out #DeeperLearning for more!
The 'Deeper Learning Digest' is a bi-weekly roundup of articles, blog posts, and other content around deeper learning. Be sure to follow @deeperlearning on Twitter, @deeper.learning on Instagram, and like Deeper Learning on Facebook to stay up to date on all deeper learning news.
Featured Photo By Allison Shelley/The Verbatim Agency for American Education: Images of Teachers and Students in Action.