Deeper Learning: Challenging Work is Essential to Deep Learning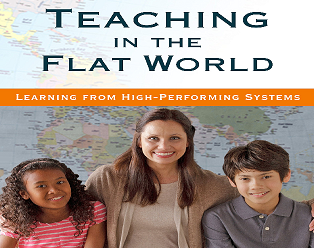 The 'Deeper Learning Digest' is a bi-weekly roundup of articles, blog posts, and other content around deeper learning. Make sure to add High School Soup to your RSS feed to stay up-to-date on all deeper learning news. Please be sure to follow @deeperlearning on Twitter for more on deeper learning.
---
In the forthcoming book, Teaching in a Flat World, Robert Rothman, senior fellow at the Alliance for Excellent Education, and Linda Darling-Hammond, director of the Stanford Center for Opportunity Policy in Education (SCOPE) exam the of policies in Finland, Ontario, and Singapore, and the United States, offering lessons for strengthening instructional quality in efforts to help school systems improve their teacher workforce by drawing important lessons from nations with high-performing educational systems. Rothman writes "These lessons can apply to any state that is serious about strengthening instructional quality. Educators and policy makers might want to look beyond the U.S. borders for ideas." Learning Deeply
In the March 10 webinar, "Transforming Schools Using Project-Based Learning, Performance Assessment, and Common Core State Standards" The Alliance's Robert Rothman was joined by Bob Lenz, Justin Wells, Tiana Alba, and Kaleb Lawson to explore how innovative schools can use performance assessment and project-based learning to transform education and improve learning for all students, taking a look at a highly effective school network that has demonstrated how a new approach can enable all students to graduate from high school and succeed in college.
Robert Rothman, senior fellow at the Alliance, discussed recently why he, as a parent, would not be opting out of the Partnership for Assessment of Readiness for College and Careers (PARCC). Despite on-going debate over the new assessments that are aligned with the Common Core State Standards, Rothmans argues that the information PARCC and Smarter Balanced Assessment Consortium will offer both educators and parents will allow for a deeper understanding of a student's competencies with material. Rothman writes, "If I opted out of the test, I wouldn't have that information, and the school's results would be skewed. And what would that accomplish?"
'Challenging work is essential to deep, meaningful learning.' Students and educators at Springfield Renaissance School in Springfield, Massachusetts understand that struggling with a particular task is part of learning. Teachers have high expectations of students, expect a positive classroom culture and are willing to gently prod students to dig deeper and reveal more. Click the embedded link to see how deeper learning is building academic courage for students at Springfield.

Students in an Integrated Math I in class in Putnam County, Tennessee are working together to solve math problems in ways that incorporate deeper learning practices. Integrated math involves the same concepts Tennesseans always have learned in high school math sequences, but in a different order, which teachers say is more logical and helps their students make connections and solve complex problems. Chalkbeat TN
Students and adults at schools that invite students to flourish present by addressing real-world problems and tackling complex topics work together to ask questions, conduct research, and create beautiful and useful products. This, according to Tim McNamara, a humanities teacher at High Tech High Chula Vista in California, believes that these innovative approaches do not deter students from developing college and career ready skills, offering ways for deep learners to stay alive while developing "college prep" skills. Learning Deeply
As a 10-year-old enjoying engaging learning experiences that took her to museum exhibits on Ramses the Great, Melissa Daniels, the Director of High Tech Middle Chula Vista in California, wondered why all of her classmates could not enjoy the same opportunities. Daniels argues that diverse gifts and talents emerge when students engage in deeper learning, therefore all students "should have been able study plants like real scientists, examine history like real historians, and create art like real artists." Learning Deeply
Tom Vander Ark, founder and CEO of Getting Smart, recently discussed why expanding definition of what high school graduates should know to include productive habits of mind, competency-based progression, and preparation for citizenship among other performance indicators would education to work in the favor of students and educators. Vander Ark states, "Districts can't rely solely on graduation requirements and state test scores as a proxy for quality education aims and measures. Students and community members deserve a more compelling and complete set of goals and metrics."
Are you an educator who "cares deeply about preparing students for college and the careers of tomorrow" with the use of the deeper learning model? From April 1-3, High Tech High in San Diego, California will host Deeper Learning 2015, an annual conference where leading organizations in deeper learning can convene to collaborate and push each other's thinking on deeper learning competencies. Based on concept of 'digging deep,' and 'daring greatly' DL2015 totes the idea that "Deeper Learning is everywhere. Register now for the event.