Daily Dish: Unequal Access to Rigorous Math Content Widens Achievement Gap for Low-Income Students

September 30, 2015 02:28 pm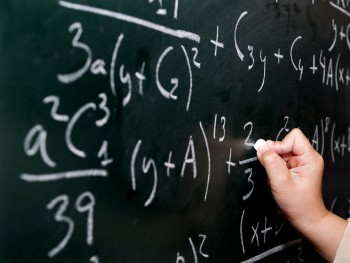 Today The Washington Post ran an article on how the achievement gap in math performance between students from low-income communities and their wealthier peers can be partially attributed to a difference in the content taught to one group versus the other. This finding was included in a new study published by American Educational Research Association based on the test scores from the 2012 Programme for International Student Assessment (PISA), which is given by Organisation for Economic Co-operation and Development (OECD).
The study estimated that in the United States, nearly 40 percent of the gap in math performance can be attributed to the unequal access to math content, and that 60 percent is caused by family and community background. An example given is "tracking," where groups of students are taught different levels of the material (such as Algebra A, B and C). William Schmidt, one of the authors of the study, names Common Core State Standards, a uniform set of academic standards in math and reading, as a potential solution to the inequality in content. Schmidt tells Post reporter Lyndsey Layton that the key is "how the standards are applied to the classroom, and whether all students get access to the same content, particularly in the middle school and high school years, when grouping by 'ability' is most prevalent."
A similar issue exists surrounding Advanced Placement (AP) courses, which according to the Los Angeles Times, have a reputation of being "elite" and open to mostly white students, while low-income African American and Latino students are shut out. The article notes that with AP classes becoming almost a requirement for colleges, this is creating yet another divide between these student groups. In addition, the number of AP courses a school offers is becoming recognized as another marker of educational equity and opportunity. Los Angeles Unified is joining a number of districts nationwide to open access to AP classes. The Los Angeles Center for Enriched Studies (LACES), for example, solved the issue by making AP World History a requirement for all students. As a result, more kids who may never have even considered an AP course are taking them as part of their high school education.
In Texas, African American and Latino students face another challenge when it comes to entry into gifted and talented programs. An NPR piece tells the story of one Latino child who didn't qualify for the gifted and talented program, although he might have if he was white or Asian, and explores racial basis in the selection process. When Donna Ford, professor of education and human development at Vanderbilt University, looked more closely into Houston's gifted and talented enrollment program, she found that both Latino and African American students are underrepresented, and that half of the spots go to higher-income students, despite the fact that the majority of the district is poor. The piece shines a light on the entry and selection process with the goal of creating more fair access for eligible students, regardless of their ethnic background.
Categories:
Uncategorized