Daily Dish: Understanding the Every Student Succeeds Act

December 14, 2015 02:58 pm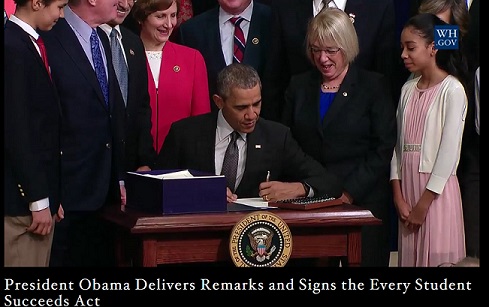 As the new education law, the Every Student Succeeds Act (ESSA), takes over for No Child Left Behind (NCLB), the Alliance has created several resources to get you up to speed on what's in the bill and the main differences between ESSA and its predecessor. But first, check out the most recent Federal Flash episode, with Alliance President Bob Wise, on what happens next now that ESSA has been signed into law.
There are a few key areas within ESSA that special editions of the Federal Flash explore, including accountability, assessments, high schools, and teachers and school leaders. If you prefer to learn via print rather than video, the Alliance has also created one-page fact sheets in each of the key areas, as well as a side-by-side chart comparing accountability provisions in NCLB, NCLB waivers, and ESSA.
All of these materials can be found on www.all4ed.org/ESSA, along with some additional information. Check it out!
For an email alert when the next episode of Federal Flash is available, email Alliance@all4ed.org.
Categories:
Uncategorized