Daily Dish: U.S. Department of Education Releases Testing Action Plan, Calls for a Limit on Assessments

October 26, 2015 04:28 pm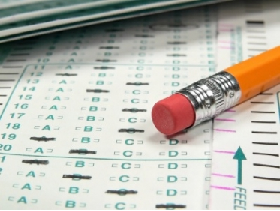 A new report released on Saturday by the Council of Great City Schools shows that students in the U.S. are taking tests that are redundant, misaligned with college and career readiness standards, and often don't address students' mastery of specific content, as Education Week reports. The study is the first in-depth look at testing in the largest urban school districts, and examined the types, frequency and use of tests administered in 66 of the Council's 68 member school districts. As Education Week notes, the findings provide data and evidence to the national debate about whether or not students are being over tested.
In a response prompted in part by the Council's report, according to the New York Times, the Obama administration announced on Saturday that testing has gone too far, and urged schools to step back to reduce testing and make exams more purposeful. The administration called for a cap on assessment, so that no child would spend more than 2 percent of classroom time taking tests, and for Congress to "reduce over-testing" as it works to reauthorize the Elementary and Secondary Education Act.
"In too many schools, there is unnecessary testing and not enough clarity of purpose applied to the task of assessing students, consuming too much instructional time and creating undue stress for educators and students," reads a Testing Action Plan released by the U.S. Department of Education on Saturday. "The Administration bears some of the responsibility for this, and we are committed to being part of the solution."
The New York Times article included responses from those who agreed that there is an over-testing issue, but who worry about the repercussions of having a cap on assessment that is mandated on a federal level.
Michael Casserly, the executive director of the Council of the Great City Schools, asked: "What happens if somebody puts a cap on testing, and to meet the cap ends up eliminating tests that could actually be helpful, or leaves the redundancy in the test and gets rid of a test that teachers can use to inform their instruction?"
Michael J. Petrilli, president of the Thomas B. Fordham Institute and "one of the most vocal proponents for higher standards and tougher tests" says in the piece: "There's plenty of agreement that there's too much testing going on," however, "we have to be careful, as with anything federal, that it doesn't lead to unintended consequences."
The U.S. Department of Education's Testing Action Plan is an attempt to correct the balance while protecting the role of good assessment in guiding progress for students and evaluating schools and educators. The narrative accompanying the plan said:
"Done well and thoughtfully, assessments are tools for learning and promoting equity. They provide necessary information for educators, families, the public, and students themselves to measure progress and improve outcomes for all learners. Done poorly, in excess, or without clear purpose, they take valuable time away from teaching and learning, draining creative approaches from our classrooms.  In the vital effort to ensure that all students in America are achieving at high levels, it is essential to ensure that tests are fair, are of high quality, take up the minimum necessary time, and reflect the expectation that students will be prepared for success in college and careers."
The plan offers a set of principles and steps for fewer and smarter assessments, to ensure that assessments are worth taking, high quality, and time-limited, among other measures. As the Times reports, these guidelines were kept vague, and the administration will issue "clear guidance" on testing by January. The plan also includes the Administration's actions to reduce over-testing, examples of state and local leadership that are working towards these goals, and the role of Congress in ensuring legislation reflects these objectives.
Categories:
Uncategorized