Daily Dish: The Graduation Rate Rises in New York City

January 12, 2016 04:07 pm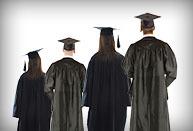 The graduation rate is up in New York City, hitting a record high at 70 percent in 2015, Chalkbeat New York reports. The four-year rate increased two points from the previous year and has improved by 24 points over the last ten years. Although the increase is good news, there are still graduation gaps, especially between underserved student groups, including African American and Latino students, who fall behind their white and Asian peers. Also, students with disabilities and English learners fall behind the city average, Chalkbeat notes, but across the board, these student subgroups did all see increases in graduation rates.
With the graduation rates rising comes concern about the meaning of the high school diploma, especially as an indicator of college and career readiness. Even though the overall graduation rate in New York City rose, "just over 49 percent of the city's high school graduates last year were prepared for college-level work, according to one measure based on students' standardized test scores," says Chalkbeat.
Alliance President Bob Wise discussed this idea in a testimony he gave yesterday at the U.S. Department of Education's public meeting on the Every Student Succeeds Act (ESSA), the new law that replaced No Child Left Behind (NCLB). Wise said: "Ensuring that more students graduate from high school is an important first step, but simply earning a diploma is no longer enough in today's society. Every student needs additional training or education after high school to compete for a good-paying job; therefore, a high school diploma must be the jumping-off point rather than the end point."
New York is also discussing offering more ways for students to earn a high school diploma, Chalkbeat reports. At a meeting of the Board of Regents, proposals were submitted by the state education department that would: "expand the appeals process for students who barely fail a Regents exam, allow students to substitute a skills-based certificate for a Regents exam, and push the state to develop new project-based assessments." The motivation behind this proposed action, according to the Regents and department officials, is "to make sure students aren't shut out of a traditional diploma as the state raises its standards." Learn more about the proposed options in the article: Regents offer support for new diploma paths, with tweaks.
Increasing the number of high school graduates in the New York City metro area would have a positive impact on the economy, according to new data released by the Alliance. If the graduation rate of the class of 2013 in the New York-Northern New Jersey-Long Island metro area had been 90 percent, which would mean 40,250 new graduates, there would likely be the following positive effects on the economy:
Create 5,000 new jobs
Boost gross regional product by $1.1 billion annually
Increase annual earnings by $700 million
Increase annual spending by $500 million
Increase federal tax revenue by $100 million
Increase state tax revenue by $94 million
Increase home sales by $1.7 billion
Increase automobile sales by $81 million
To discover more economic benefits of increasing the high school graduation rate for public school students in your state, metropolitan area, or for the nation as a whole, visit: impact.all4ed.org.
Categories:
Uncategorized