Daily Dish: The Effects of Poverty on Student Learning

November 02, 2015 05:23 pm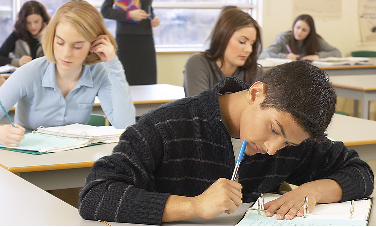 The Washington Post tells the story of the closing of a high school and a middle school in an impoverished Pittsburgh suburb. Students from the schools, which are both in Wilkinsburg, Pennsylvania, will be heading to a Pittsburgh Public School that the article claims is similar to the places they are leaving behind. "Both have a history of chaotic classrooms and academic failure. Students at both schools are overwhelmingly African American, and many suffer from the twin traumas of living in poverty and in violent neighborhoods. Both schools have seen enrollment dwindle as families with wherewithal have fled." This shift has sparked a conversation about the distance that remains between the ideal of public education as an equalizer and the reality that many children are consigned to schools that may limit their future, reporter Emma Brown writes.
Linda Darling Hammond, an emeritus education professor at Stanford University and founder of the Learning Policy Institute, calls this story a parable of contemporary American schooling. "There are levels and levels of underinvestment in the kids, in the families, in the communities, in the specific districts and the specific schools," she said in the article. "And yet here we are, closing school after school rather than building the schools that will make a difference."
The article also discusses that the Wilkinsburg school district receives about $2 million annually in federal Title I dollars, money that is intended to help educate low-income students in the district. However, the district officials have long directed the money to its elementary schools, despite the fact that the secondary schools have often had higher rates of low-income students, the Post reports. This withholding of Title I funding from the middle and high schools has deprived them of millions of dollars they could have received over the years. An Alliance report about this "Missing Middle" discusses this exact issue, that federal funding largely ignores the middle and early high school years of a child's education, despite the fact that academic performance during these years are critical turning points in whether students ultimately graduate from high school. Learn more: https://all4ed.org/press/new-alliance-report-uncovers-missing-middle-in-federal-education-funding/.
In Tennessee, educators met with U.S. Education Secretary Arne Duncan to discuss how to turn the trajectory of chronically underperforming schools, as Chalkbeat Tennessee reports. In his fourth visit to Memphis since becoming Education Secretary, Duncan applauded administrators for their dedication to school turnaround, saying: "I don't think there's any harder work, any more important work, than turning around schools that are historically struggling." In Tennessee's largest public school district, Shelby County Schools in Memphis, nearly 80 percent of the 93,000 students are low-income. The school turnaround work in Memphis is attracting national attention, including Shelby County Schools' Innovation Zone, a district initiative that is centered on moving schools out of the state's bottom 5 percent.
As Chalkbeat points out, Duncan's visit was fitting because the city's changing education landscape reflects part of his legacy as Education Secretary. "Under the Race to the Top competition announced by Duncan and President Obama in 2009, the administration's push to improve the nation's worst schools and close the achievement gap among their students helped to drive local, state, federal and philanthropic efforts to address the city's woeful K-12 public education system." During his visit, Duncan said iZone's gains in student scores demonstrate real progress, and that he would like to see more districts emulating the approach that Shelby County Schools has taken.
Hundreds of teachers, administrators, and other school officials from the Maine-Endwell and Windsor school districts in New York gathered last week for a conference on poverty and education. The poverty rates in Maine-Endwell have doubled in the past 12 years, and now 30 percent of students qualify for free and reduced price lunches, and nearly 50 percent qualify in Windsor. As a result of increasing poverty, staff in the districts are not fully accustomed to helping students who are dealing with the stress of poverty, reports the Press & Sun-Bulletin. At the conference, Dr. Eric Jensen, a nationally recognized expert on brain research and brain-based teaching, spoke about the effects of poverty on students' ability to learn.
Jensen showed how stress impacts the brain and explained that enriching activities can help to stimulate students' brain activity, emphasizing the role that teachers can play in helping students academically who are living in poverty. Reporter Shannon Hazlitt writes: "Students who grow up in poor environments suffer from more stress, differences in cognitive capacities and a lack of emotional support on the home front, Jensen said. Providing more input, choice and stress reducers in the classroom are all strategies Jensen recommended to help teachers connect with students in impoverished homes."
Categories:
Uncategorized