Daily Dish: The Benefits of Diversity in Integrated Schools

October 19, 2015 11:06 am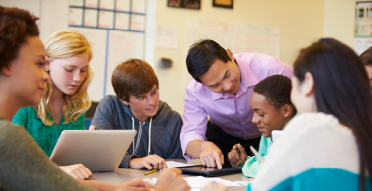 NPR's Anya Kamenetz broke down the reasons and research on how white students could benefit from the more diverse environment of an integrated school. Her article is framed in the context of a neighborhood in Brooklyn that recently made headlines due to overcrowding at a predominantly white elementary school and the city's desire to redraw zones, therefore sending these students to a nearby school with over 90 percent African American and Hispanic children. Kamenetz describes how the assumption is that sending kids to a majority-minority school is a sacrifice, when in reality, the evidence suggests otherwise.
To prove this point, Kamenetz calls on a recent study conducted for the U.S. Department of Education's National Center for Education Statistics (NCES) by the American Institutes for Research, which showed that "White student achievement in schools with the highest Black student density did not differ from White student achievement in schools with the lowest density."
Kamenetz goes beyond test score measures to other studies that show the benefits of diversity, including the work of Katherine Phillips, a professor at Columbia Business School who studies this area. "What the work tells us is that when you have people from the social majority in a diverse environment they work harder and focus on the task more," Phillips explains. "They think about problems more broadly." Although her research is conducted on business students, Phillips believes that it can be applied to a classroom setting. The article notes that this is potentially an important finding for schools, especially since the Common Core State Standards emphasize deeper learning, critical thinking and citing evidence.
Although Kamenetz focuses on the impact that diversity in the classroom has for white students, the benefits of diversity still align with the other side of the NCES study's findings, which were conducted because of increasing concern about resegregation in American public schools and as an attempt to understand how segregation affects the achievement of students of color. The study showed that African American males perform worse in schools that are majority African American students. We recently explored the effects of segregated schools on African American students in a Daily Dish post.
Kamenetz also includes commentary from Genevieve Siegel-Hawley, an education professor at Virginia Commonwealth University, who researches race, stratification and inequality in American schools, who says that diverse schools are linked to cross-racial friendships, and students' willingness to stereotype declines, leading to a reduction in prejudice. The article also notes that integrated public schools have long-established benefits for low-income students and those who comes from minority groups. Siegel-Hawley says: "Cities and schools need really strong leadership that articulates clearly the need for diversity and equity and why it's connected to 21st century skills."
Chalkbeat New York dives deeper into a real-world example of an attempt to integrate two New York City schools that are separated only by nine blocks but "occupy different universes." The account tells of one school with state test scores twice as high as the city average and the majority of students are white, with only 8 percent qualifying as low-income, and another nearby school whose test scores are below city average and 90 percent of the students are low-income. The article shares the perspectives of parents on both ends of the spectrum, those in favor of integration and those who oppose it, as well as possible solutions.
According to the piece, "Proponents say the plan would open 199 to some students from the housing projects and could send a larger number of affluent students to 191 than a traditional rezoning would. More importantly, they say, it could begin to chip away at the perception that one school belongs to rich families and another belongs to those who are poor."
Categories:
Uncategorized