Daily Dish: Technology Access Inside and Outside of the Classroom

September 24, 2015 03:29 pm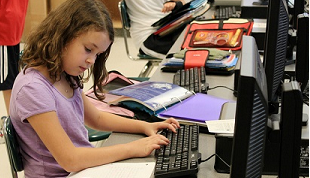 The Hechinger Report answered the question Should computer-assisted teaching expand its reach to more states? by exploring the positive experience of one Delaware school district in light of a new state-wide plan for the public school system. Personalized learning is a key strategy in the plan, and the article highlights how blended learning, defined in the piece as computer-assisted, in-person teaching, is a way to bring personalized learning into schools and classrooms.
Reporter Nichole Dobo interviews Susan Bunting, superintendent of Indian River School District in southern Delaware, a district with a large amount of low-income students and homes where English is not the primary language. Bunting believes that personalized learning is the wave of the future. "It allows us to maximize each child's potential and really deal with each child's abilities and challenges in a way we've never been able to before," she says. In her district, personalized learning began with the realization that technology can enhance the learning experience, so they began to explore incorporating it on different systems and platforms. They are using technology to enhance the student experience by broadening opportunities for their kids on both an individualized basis and as a whole student body.
Technology is also expanding opportunities for students who would be the first in their families to go to college and low-income students in the Los Angeles area, thanks to a new partnership that would give them access to online college and career planning tools in an environment where college and career counseling is lacking. The effort is funded by a grant from the U.S. Department of Education, according to an article in U.S. News & World Report, and is being overseen by a nonprofit organization and an education technology firm. The article emphasizes the importance of these types of partnerships between organizations and companies as federal and state money can be hard to come by, noting how districts utilize partnerships to increase access to technology, resources, staff and tools to help both students and communities in the most need.
Although partnerships are helpful to provide schools with the necessary resources and access to technology, there is also a demand for legislation to make digital learning resources more accessible for students outside of school. An eSchool News article, Digital equity bill targets 'homework gap', discusses new legislation, the Digital Learning Equity Act of 2015, introduced in Congress that would support "innovative strategies and methods to increase out-of-school access to digital learning resources" and call for a study on the "Homework Gap." The article quotes FCC Commissioner Jessica Rosenworcel, who said, "The Homework Gap is the cruelest part of the new digital divide. Today, too many students are unable to complete their school assignments because they do not have internet access at home. This means they fall behind in the classroom—and we all lose out when we have a generation ill-prepared to enter the digital economy." It also notes that those who don't have access outside of the classroom are often in poor or remote communities, therefore widening the achievement gap.
A recent Alliance article highlights how students from low-income families and students of color are noticeability less likely to own computers and use the internet than their peers, according to a report by the Alliance and the Stanford Center for Opportunity Policy in Education. The increase of funding for the federal E-rate program improved internet access in schools and libraries, but did not address what happens to students' connectivity at home. The goal of this current legislation is to close the "homework gap" and allow all students to access assignments and supplementary learning outside of school.
Categories:
Uncategorized