Daily Dish: Study Shows Graduation Advantage at Deeper Learning Schools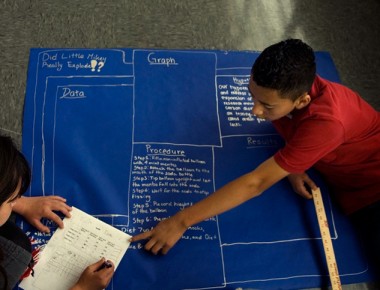 A new study shows that deeper learning approaches lead to higher graduation rates, reports Education Week. According to the study by the American Institutes for Research (AIR), students in schools that are part of the "deeper learning" network graduate in four years at rates about 8 percentage points higher than their peers. Deeper learning enables students to not only learn content, but apply what they have learned to other situations. Through this teaching style, which is "simply what highly effective educators have always provided," students master core academic content, think critically and solve problems, work collaboratively, communicate effectively, are self-directed, and are able to incorporate feedback.
The findings from Study of Deeper Learning: Opportunities and Outcomes, were released in a series of three reports. These latest findings are the second round of graduation data from the study, focusing on the graduation advantage of deeper learning schools, and are consistent with the findings from the original study. This new analysis included more school pairs and an additional cohort of students.
The Study of Deeper Learning: Opportunities and Outcomes found that in relative to students who attend comparison high schools, students who attend deeper learning network schools:
Reported higher levels of academic engagement, motivation to learn, collaboration skills, and self-efficacy
Attained higher scores on both the state achievement exams and the Organisation for Economic Co-operation and Development's Programme for International Student Assessment–based Test for Schools
Had higher rates of on-time graduation from high school, exceeding the comparison students by 9 percentage points
Were more likely to enroll in four-year postsecondary institutions and selective institutions
Check out the latest report: Graduation Advantage Persists for Students in Deeper Learning Network High Schools.
With this positive news about the success of the deeper learning approach, it is worth noting that the new education law, the Every Student Succeeds Act (ESSA), which replaced No Child Left Behind, includes several changes in support of a deeper learning agenda. Under the new law, states are given more flexibility in several areas that can be used to incorporate indicators of deeper learning into their accountability systems, utilize competency-based assessments that support student-centered approaches, and use funds for professional development for teachers to learn to implement project-based learning and other methods to make learning more personalized. Learn about all of the key wins for deeper learning within ESSA: http://deeperlearning4all.org/policy-brief/new-opportunities-for-deeper-learning-in-the-every-student-succeeds-act-essa.
Categories:
Uncategorized