Daily Dish: Students Gain Career Experience through School Partnerships with Local Businesses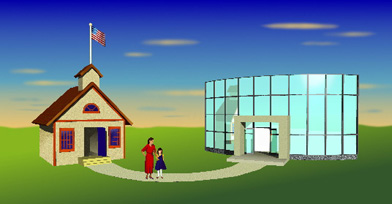 District Administration Magazine features several examples of partnerships between local businesses and schools to bring more real-life experience to students in the classroom. The article dives in to these local programs in Georgia, focusing on business, Florida, working towards entrepreneurship, Hawaii, zeroing in on STEM, and Iowa and Michigan, looking at manufacturing.
At one high school in Georgia, a Junior Achievement (JA) pilot program is working to integrate core academic subjects with business, marketing, and financial literacy. JA is a nonprofit that builds these workforce readiness programs across the country. This specific program in Georgia is called JA Magnet Business Academy (JA-MBA) and directly involves business representatives in curriculum formulation and teacher training, as well as engaging these leaders as mentors and coaches. Students visit local businesses and work through real-life case studies.
In Florida, one school district focuses on fostering a culture of entrepreneurship, building business literacy into lessons, ensuring teachers learn business concepts, and offering an entrepreneur elective to high school students. In the class, students have volunteer business mentors, learn interview skills, and develop business plans. Each school is also developing an "innovation lab," with conference tables and high-tech screens for business classes. The district is looking to formulate scholarships for students to study the subject at local colleges. "We know we will create economic development," said superintendent Kamela Patton, "so the students can reinvest right back into their own community."
Read the full piece for more: http://www.districtadministration.com/article/business-boost-education.
Yesterday the Alliance and the Linked Learning Alliance hosted a webinar to discuss opportunities for Linked Learning, an approach to high school transformation that combines rigorous academics, career-based learning in the classroom, work-based learning, and integrated student supports, within the new federal education law. California is implementing an innovative high school redesign strategy that features partnerships between schools and the business sector. The webinar explores how the Every Student Succeeds Act (ESSA) supports the implementation of Linked Learning pathways. Watch below: